Wealth management and financial services - sounds like a daunting job, but be assured, designing a logo for such a service isn't!
What comes to your mind when you think about managing wealth? What are the images that you think of? Finance obviously reeks of money and the color green - but what are the other creative objects you can associate with wealth and money? Use all these ideas to incorporate into your logo for making the perfect logo for a wealth management and financial services company.
Some famous companies have images such as that of the mighty lion, bank notes of money, or simply the names of their companies in bold green letters. These are ideas you could take inspiration from to design your logo.
We have put together some more ideas to keep in mind while creating the perfect logo for your wealth management and financial services company such as -
Perfect Font: Keeping a sophisticated and elegant font not only saves you time, but also creativity. You can simply jump the gun from the fancy and outlandish font options to the smart and professional looking ones - simply because you know who your target market is. You obviously want to cater to a more professional crowd - and if not, then you want your firm to come off as a professional full services firm. In order to give the customer this image, you need to ensure that your font is top notch. Imagine, having a childish font could actually drive away customers, making them think your firm is not 'serious' enough for them to invest their money.
Perfect Image: Along with the perfect font, it is also essential to have the perfect image. Having an image of a playground, sports equipment or nature (unless it has a reference to the color green which depicts money) is not going to help your customer associate your brand with money and wealth. Therefore, think of images for your logo that will best help the customer think of managing wealth and finances and they will flock to your service just because the brand and the logo makes a lasting impression on them.
Get your logo for Wealth Management & Financial Services today!! Get Your Logo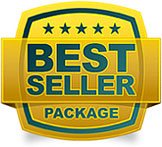 8 Original & Unique Designs
8 Logo Designers Will Work
48 hrs Turnaround Time
Unlimited Revisions
2 Redraws
Full Copyright Ownership