The project of a supermarket or mall starts with great enthusiasm & fervor, but many times this dream soon turns into a nightmare, when reality strikes, and it is realized that mistakes have been made which are irreversible.
One of the primary reasons for the decline of the mall is the improper Design & Planning. The Design & Planning of a mall is the foundation & spine of the structure, and it is one of the single most important contributing factors.
A Malls Brand design has to be custom made, to suit the specific retail needs. The developer has to have a clear thought process & vision of what he wishes to make & for whom.
Creating the right Brand identity for your Mall or Supermarket is the first step to success. Right Brand identity primarily requires an apt Logo for your Brand.
What factors do you need to consider for getting the Perfect Logo for Supermarket or Mall:
A logo should be distinctive. Ideally, the logo should stand out in a crowded field by its unique appearance.
VeVersatility is the first rule to apply to symbol and logo design unless finite usage has been defined. Whether the logo is applied to a sixty-feet-high oil tank or a ballpoint pen, it should read well." A good logo will reproduce well on most any surface, in color or black and white.
The logo should be long-term. One can only hope to design a logo that will be as effective two to fifty years from now. The best way to ensure the longevity of a logo is to stay away from trendy imagery, fonts, and colors that tend to date the logo.
Relevancy is the key. The inclusion of one or more relevant visual elements, providing they don't undermine the simplicity of the logo, adds layers of secondary information about the entity." In other words, it relates more closely to the entity it represents.
Get the best logo for your Supermarket or Mall today!! The Wait is Over! Get Your Logo
Want the Best and Simplest Way Out?
Get your perfect logo designed by Logo Design Team. Each of the design made by our expert logo designers has a brain behind it.
We're super fast, affordable and powered by the best logo designers in our creatively blessed team.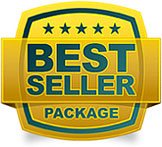 8 Original & Unique Designs
8 Logo Designers Will Work
48 hrs Turnaround Time
Unlimited Revisions
2 Redraws
Full Copyright Ownership