The retail industry is growing at an enormous pace. The last decade has witnessed a massive increase in the retail store count worldwide. Amidst a sea of stores, to make your brand count, little things make a big difference. One such very important element is your logo brand because this is what your customer instantly relates to.
It features on all advertising and packaging materials, uniforms of employees, self-brand products.
It caters to building the identity of your brand at every level. Whether you have a brick and mortar retail store or an e-commerce store, your sales logo is your silent ambassador everywhere.
Here are a few tips from our expert logo designers to design the best retail logo and sales logo:
Appropriate Imagery: Choose graphics that represent the product you're selling to instill the connection between your business and the products for your customers. You may also carve out your identity with unusual images to stand out. Abstract images are also a good idea to create brand recognition.
Harness the power of color psychology: Retail is one of the most versatile segments regarding the color palette in terms of the large array of plausible options. However, you must choose a color based on the connotation it carries as it will influence customer psychology. Moreover, it is important to ensure the retail logo looks good in black and white as well.
Relevancy of typeface: Cementing your credibility of your brand with a brand name mention in the icon along with a short tagline is always a good idea. Bold typefaces are always legible and memorable in all sizes. Script style typefaces denote a luxurious feminine feel. It is important to make that choice decision based on your target buyer persona. Moreover, it is essential to ensure the typeface goes well with all sizes as and when it is put to a different use.
Get the best retail logo for Business!! Boost your Business with Custom Logos! Get Your Logo
Want the Best and Simplest Way Out?
Ditch spending time trying to make your logo design online, trust the best – LogoDesignTeam.
We're super fast, affordable and powered by the best logo designers in our creatively blessed team.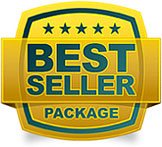 8 Original & Unique Designs
8 Logo Designers Will Work
48 hrs Turnaround Time
Unlimited Revisions
2 Redraws
Full Copyright Ownership