The importance of branding elements amplifies when it comes to real estate. People spend large proportions of their money when they're buying real estate assets. It is imperative to make them connect with the brand and its values so that they trust your brand.
Confused how to make a good logo design? Hear our experts break down some tips to remember for crafting the best real estate logo:
Stand Out: It is important for your customers to recognize you amidst the competition. Make sure your logo carves its mark of distinction always. Most real estate logos focus on common elements. Differentiation is what requires skill and also makes a difference in making your customer connect to your brand.
Inspire Trust in the right way: It is important to be appropriate in the sense people understand that the logo describes a realtor. A balance needs to be struck when between standing out and being appropriate in order to inspire trust. This can come from choosing the right colors, images, and fonts. They play a large role in affecting buyer psychology.
Simplicity is never out of style: It is the simplest logos that have the highest recall values. In little time, they give away a lot of information and make their way into the viewer's memory.
Get the best logo for Real Estate today!! Your Best Deal Is Here. Grab It! Get Your Logo
Want the Best and Simplest Way Out?
Ditch spending time trying to make your logo design online, trust the best – LogoDesignTeam.
We're super fast, affordable and powered by the best logo designers in our creatively blessed team.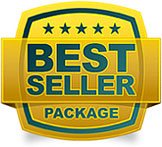 8 Original & Unique Designs
8 Logo Designers Will Work
48 hrs Turnaround Time
Unlimited Revisions
2 Redraws
Full Copyright Ownership