Gifts and souvenirs are items that come into everyday use – there's always an occasion to shower people with gifts and purchase souvenirs. A gifts and souvenirs store therefore, must have a fun and inviting logo that helps the customer easily walk in and purchase items.
Gifts and souvenirs are purchases we make to help ourselves feel better, and to bring a smile on to the recipient's face – this is something that must be kept in mind while designing a logo for a gift and souvenir business.
We have put together some important tips to keep in mind while designing a logo fit for a gifts and souvenirs business as follows -
Make it Fun and Fresh: Gifts and souvenirs are fun items – they may not necessarily be items of everyday use. They are items that are given to people to bring a smile to their faces – so why not have a logo that starts putting the smile on the customer's face upon purchase? The logo for a gifts and souvenirs business should thus be fun and fresh and emit excitement. While designing your logo, ensure that you use happy and positive fonts and images so that the customer gets the same message while making a purchase, and is excited about even entering your store, whether physically or digitally.
Attractive Font and Styling: As a gifts and souvenirs business, make sure that your font and styling of the same is attractive – you can make it as creative as you want, depending on the kind of products that you sell and the kind of customers that you ideally would like to attract to your store.
Identify your Products: As a gifts and souvenirs business, you may only specifically engage in selling particular items – perhaps you would want to make that clear on your logo so the customer knows exactly what kinds of gifts and souvenirs he will find in your store. For example, do you sell stationery items? Do you sell professional gifting items? Do you sell personal and intimate gifting items? Do you sell perishable gifting items like chocolates? Questions such as these are important to be answered so that not only do you identify your business, but so does the customer. In this manner, the customer gets a good first impression and knows exactly what he wants to purchase from you.
Get your logo for Gifts and Souvenirs business today!! Enough of Waiting! Get Your Logo
Ditch spending time trying to make your own logo design online, trust the best – LogoDesignTeam.
We're super fast, affordable and powered by the best logo designers in our creatively blessed team.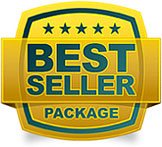 8 Original & Unique Designs
8 Logo Designers Will Work
48 hrs Turnaround Time
Unlimited Revisions
2 Redraws
Full Copyright Ownership