Landscaping and gardening is a beautiful service that helps people spruce up their outdoor spaces. People that provide landscaping and gardening services need to have the perfect landscaping and gardening logo to help their potential customers understand the very need for having a beautiful garden or a landscaped space.
Your logo needs to help people identify with the very need to engage in your services, as well as help them understand how the service will benefit them. Did you know that with a single glance at your logo, people can accept or reject your brand within a minute? We have put together some great ideas for coming up with the perfect logo for your landscaping and gardening service as follows –
What's in a name: Remember, a name is also part of your logo – make sure that your brand has an interesting name that can be incorporated into your logo in a creative way. For example, some popular gardening brands are Urban Garden, Indoor Jungle, GreenShine Landscaping, Johnson Gardening Services – all these names are very different and do not necessarily have words relating to the garden service in their name. However, these names easily help the customer understand the business.
Interesting Images: Make sure you use images of gardening tools and implements, leaves, the sun, garden animals etc. to incorporate into your logo to create the perfect logo for a landscaping and gardening business. Using these images will help the customer identify with your business and help him understand what services you offer.
Fonts and Typography: Using fonts that are 'leafy' to be creative, or simply using bold clear fonts (if you already have imagery on your logo) can help your logo stand out. Use a smart and professional looking font, depending on the customers you want to attract. If your business caters to luxury gardening, then make sure to use a font that attracts that kind of a crowd.
Color Scheme: Use colors such as green, white, yellow, brown – all these colors help to paint a beautiful picture of the outdoors in the customer's mind and give him a serene image of a garden. Not putting thought into the color scheme of your logo can destroy your logo and image in the minds of the customer. If you use random colors such as purple or pink, a customer can get thrown off with respect to your business and not understand it at the first impression. Using the right colors can make the perfect first impression on the customer's mind and help him pick your service over that of others.
Get your logo for Landscaping & Gardening today!! Grab'em Today! Get Your Logo
Ditch spending time trying to make your own logo design online, trust the best – LogoDesignTeam.
We're super fast, affordable and powered by the best logo designers in our creatively blessed team.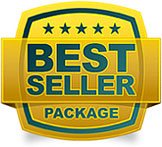 8 Original & Unique Designs
8 Logo Designers Will Work
48 hrs Turnaround Time
Unlimited Revisions
2 Redraws
Full Copyright Ownership