Kitchen and cookery items are used in all homes and offices – the business is vast and as a producer of these items, you can fall prey to the huge crowd of businesses in the field. So, what can you do to set yourself apart? Have a great logo!
The perfect logo for a kitchen and cookery business involves a lot of designing, thinking and creative application. We have put together some great tips to use while designing a logo for a kitchen and cookery business as follows –
Identify the business: Step one to making the perfect logo for your kitchen and cookery business is identifying the range of products that you sell. You may be selling only electronic kitchen items, you may be selling items used for cutting fruits and vegetables; you may be selling modern kitchenware – whatever the product, make sure to display it correctly on the logo so that your customer has a clear idea of what you excel in.
Imagery: Make use of fun images, such as that of pots and pans, or whatever utensils/kitchen and cookery items you are involved with. The images could be a part of your logo, or they could form a part of the font of the logo. If your brand name is a name and not a word that has a meaning, then make sure to put the name in a font that attracts your target customers. In case the word has a meaning ascribed to it, use the meaning to draw the attention of your customer. For example, a kitchenware brand with the name 'Pots n' Pans' makes an easy reference to the product as opposed to a brand name such as 'Max & Sons' which doesn't help to provide a clear picture. If your brand name does not define the product, then put in extra effort to make sure that your logo does.
Color Scheme: Whatever you do, make sure that you put a lot of thought into the color scheme of your logo because ultimately the colors of a logo can make or break it – this means that colors help to attract people and the wrong color can psychologically turn people off and not want them to look at your logo.
The way you design your logo goes a long way in how it is perceived by the market, so ensure that you hire a professional to assist you in designing the perfect logo for your kitchen and cookery business.
Get the perfect Kitchen & Cookery logo today! Hurry and Grab'em Now! Get Your Logo
Ditch spending time trying to make your own logo design online, trust the best – LogoDesignTeam.
We're super fast, affordable and powered by the best logo designers in our creatively blessed team.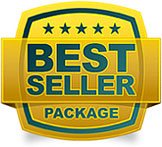 8 Original & Unique Designs
8 Logo Designers Will Work
48 hrs Turnaround Time
Unlimited Revisions
2 Redraws
Full Copyright Ownership