The fashion industry is all about weaving the perfect look and feel to make that lasting impression. When it comes to crafting impressions, the smallest details make a big difference.
Given the spirit needed to thrive in this dynamic industry dominated by style and differentiation, it is imperative for your brand to stand out. That is how your customers will remember you and your products.
The first step to brand recognition in the fashion industry is the ownership of a perfect logo design keeping with the unique point of the company. Whether you are a fashion designer with your label, a retail store selling retro concept apparel, or a fabrics outlet it is important investing in your identity with a custom business logo perfectly going with the spirit.
Before you embark on your journey to designing a good logo for your fashion brand, here are two cents from our expert logo designers.
Some Basic Points to remember to craft the best fashion logo:
Capitalize on your USP: It is important for you to recognize what sets apart your brand from your competitors and reflect this specialty in your logo. This will increase the recall value customers have of your brand and pave the path for loyalty.
Simplicity makes your logo stand out: With myriad niches fighting to be noticed, our professional logo designers swear by the simplicity mantra. Incorporate design elements to highlight your niche. Example, Calvin Klien, Guess, Macys
Harness the power of color psychology: Choose colors associated with emotions of your buyers when they are making buying decisions about fashion goods. For color psychology, click here. You can choose a single color or a combination of colors to make that statement. There is no fixed rule for the best logo color combination, except living up to the essence of your apparel brand.
Make sure it fits with black and white: As much as color plays a role, it is important for your logo designer to ensure that your logo looks good in black and white. Not all media can display the color capabilities of your logo. Whether your logo has graphics, icons or typography, it has to be flexible to look good in monochrome, across different size requirements.
Get the best logo for your Fashion business today!! Dress Your Brand Up! Get Your Logo
Want the Best and Simplest Way Out?
Ditch spending time trying to make your logo design online, trust the best – LogoDesignTeam.
We're super fast, affordable and powered by the best logo designers in our creatively blessed team.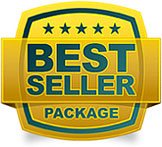 8 Original & Unique Designs
8 Logo Designers Will Work
48 hrs Turnaround Time
Unlimited Revisions
2 Redraws
Full Copyright Ownership