A logo is a silent ambassador for any brand. It communicates company values and ideologies without the use of any words. When designing a logo for your cleaning company, it is important to convey the right purpose to your customer in the first impression itself of developing that irreversible brand connection. A good icon with its color, font, shape, size and direction paints the viewer's perception and hence demands careful attention.
Here are some tips from our professional logo designers to craft the best cleaning business logo:
Narrow down on focus point: You should begin with detailing out what specific cleaning you do and represent that unique aspect in your design. It is important to ask yourself the right question – what is the intended message to be conveyed from the logo. Accordingly, your designer should incorporate that into the design with a message focussed on the consumer. A good design is not just an image with words on it. It is representative of the core company values.
Incorporate elements to be memorable: A simple design always finds a place in the memory of the viewers. It is simple, yet powerful. Make sure the choices of colors you pick are backed by appropriate color psychology in delivering the relevant message. Moreover, it is important to ensure the logo looks good in black and white because all situations do not permit reproducing your logo in color. Also, it is important to check if your logo looks right across sizes as that will vary according to the medium where it is placed.
Stand out from the competition: It is important to have a strict line of distinction between yourself and your competitor if you want to carve out that niche. An eerily similar logo dilutes your brand identity.
Get your unique and powerful Cleaning logo today!! Don't Sit Back! Hurry Up! Get Your Logo
Want the Best and Simplest Way Out?
Ditch spending time trying to make your logo design online, trust the best – LogoDesignTeam.
We're super fast, affordable and powered by the best logo designers in our creatively blessed team.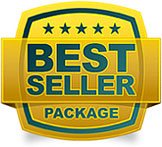 8 Original & Unique Designs
8 Logo Designers Will Work
48 hrs Turnaround Time
Unlimited Revisions
2 Redraws
Full Copyright Ownership