A logo is the face of the business and, it becomes the identity of the business even before anyone associates with the firm. Therefore, a good accounting logo design should be one which is aptly able to communicate traits like –effectiveness, advanced technology and they can set and achieve lofty goals.
Here are some tips for our professionals to help you design the best accounting logo:
Capturing Viewers Attention: In today's world, with the overabundance of advertisement on all platforms, be it online or offline causes sensory overload to the viewers. So, instead of a cluttered logo, a simple, easy to understand, yet powerful logo catches the attention of the audience easily. Therefore, a professional accounting logo should reflect the services offered by the firm, bookkeeper, or a certified accountant, it should be professional and powerful, but at the same time, should reflect prestige and integrity. The critical elements of logo designing like the combinations of shape and colors should reflect the individual personality of the firm. The logos should not be confusing or very intimidating; they should foster a sense of authority and respect among viewers.
Services and Personality: To convey the traits of a firm, the logo designers often use signs and signals which capture the attention of the audience quickly. A good logo design is one which portrays the characteristics of the firm simply with its design. The color of the accounting logo (usually bold colors) symbolizes various traits like intelligence, precision, authority, growth and stability. At the same time, less commonly used colors like red or orange make the logo design look approachable to the viewers.
Flexibility: Designers tend to make simple designs which are easy to translate to various formats rather than making elaborate logos. This is done because good logo design should be one who should look good on both, a huge sign board outside the office as well as on small scale advertisements or business cards. The logo designs should be such that they leave a lasting impression on the mind of the viewers. Viewers tend to remember simple and bold logos rather than complicated and colorful ones.
Want the Best and Simplest Way Out?
Ditch spending time trying to make your logo design online, trust the best - LogoDesignTeam.
We're super fast, affordable and powered by the best logo designers in our creatively blessed team.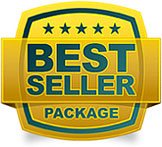 8 Original & Unique Designs
8 Logo Designers Will Work
48 hrs Turnaround Time
Unlimited Revisions
2 Redraws
Full Copyright Ownership