Medical practice and surgery is a field that demands constant care, attention and reassurance. Thus, if you are engaged in the business, then you must ensure that your brand has the perfect image, that emits these three emotions. No customer is going to want to engage in the services of a medical practice and surgery business that does not help them feel secure.
Having a logo for a medical practice and surgery business is not a very difficult task – and to make it easier, we have put together some smart tips to keep in mind while designing a logo for a medical practice and surgery business as follows -
Secure Images: Most medical practice and surgery businesses have logos that help the customer feel secure and understand that they have come to the right place and are placing their trust and faith in the right medical practitioners. Keeping this in mind, make sure to incorporate images that have trustworthy colors such as red, white, yellow. Additionally, if you have pictures that are part of your logo, then ensure that these are pictures of trust and care. Keep in mind some logos such as that of Fortis, Apollo etc. and understand why they work.
Care and Attention: Your logo should be the epitome of trust – as part of a medical practice and surgery business, a customer is going to look to you for reassurance and care and hope that he is getting value for the money he is spending. So, ensure that your logo does not throw the customer off that path.
Font and Typography: Keep the font simple and bold – remember that as a medical practice and surgery business, you want to attract all kinds of people. So, ensure that your font is easy to read and identify in the market, and helps people to relate to it. Having a font that is too fancy will not enable easy reading or identification; additionally, having a simple font is key as it also helps to recognize the business behind the font immediately.
Get the perfect logo for your Medical Practice!! Customized Top-Notch Logos. Get Your Logo
Don't waste time on your logo – use that time on your business instead.
Ditch spending time trying to make your logo design online, trust the best – LogoDesignTeam.
We're super fast, affordable and powered by the best logo designers in our creatively blessed team.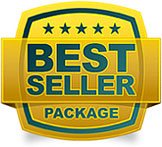 8 Original & Unique Designs
8 Logo Designers Will Work
48 hrs Turnaround Time
Unlimited Revisions
2 Redraws
Full Copyright Ownership