When you feel strongly for a good cause, it's important to convey it in the right spirit to the others.This necessitates for the proper branding of your NGO or charity organization. The first step to craft your brand identity is ownership of a custom logo reflecting your cause
Here are some tips from our expert logo designers for the best charity logo:
Reflect your cause: It is essential for your charity logo to tap into the emotions of the viewers. Simplicity combined with being specific is the key.
Keep flexibility alive: Make sure the logo looks good in all sizes and monochrome. The same logo will be used at different places, and your branding should fit the bill well everywhere.
Be timeless: Ensure the lifecycle of your logo is ready for a few years. Choosing buzzing trends sometimes requires a revision of logo too soon before your target audience can even fully connect to it diluting your brand retention.
Harness the power of color psychology: Every color evokes a certain emotion, and it is important to be careful when making that choice. Make your clients feel that connect with your brand with the palette you choose.
Choose correct typography: The selection of fonts impacts the feel of your logo. Based on your guiding thought and objectives, choose the ideal font to reflect that. For instance, a serif font seems respectable, whereas a serif typeface lends a modern touch.
Get perfect tailor-made logo for Non-Profit Organisations. Contact Today! Get Your Logo
Want the Best and Simplest Way Out?
Ditch spending time trying to make your logo design online, trust the best – LogoDesignTeam.
We're super fast, affordable and powered by the best logo designers in our creatively blessed team.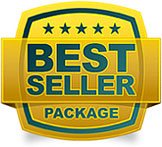 8 Original & Unique Designs
8 Logo Designers Will Work
48 hrs Turnaround Time
Unlimited Revisions
2 Redraws
Full Copyright Ownership