Doing something for "one's sake"- does that very well defines the term Leisure time? To a greater extent- Yes!! Leisure is a time well-spent away from Business, work, job hunting, education, etc. In real essence, it brings a sense of Relaxation to people.
Tourism on the other hand, for some people, means an exotic and luxurious holiday while for some other it may only mean relaxation. For some, it may mean a classic adventure, while for others it may be a safe and planned escape. No matter what it is, you always need a classy professional logo for your Travel and Tourism Business.
Why do you need a great logo for Travel and Tourism brand?
It will create a face and will explain the unique offerings of your brand. A good logo is must for a successful business- especially in a trade as competitive as Tourism.
If you want to create the best tourism logo, some key factors should be considered:
A self-explanatory piece of design always wins! Stay away from cluttered and overcrowded designs. Do not get carried away with numerous fonts, styles, and colors.
Colour element has a long-lasting implication. Choosing the best logo color for your business is not at all an easy task.
The logo for your travel business should depict the brand's story. For example, FedEx's iconic logo features an arrow which suggests the company's focus on speed, delivery, and moving forward.
Test the logo on every ground, in every manner. Reproduce it in black and white, with or without text, etc. Can you recognize it as a 16-pixel favicon? Does it still look harmonious and well balanced when blown up to billboard size?
Go for the one who stays memorable to the target audience. A logo which is easier to remember for your customers will convey your brand's message effectively and quickly.
Get your perfect logo designed by Logo Design Team. Each of the design made by our expert logo designers has a brain behind it.
Get the best logo for your Leisure, Travel and Tourism Business today!! Hurry! Get Your Logo
Ditch spending time trying to make your own logo design online, trust the best – LogoDesignTeam.
We're super fast, affordable and powered by the best logo designers in our creatively blessed team.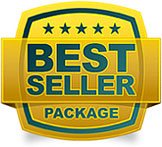 8 Original & Unique Designs
8 Logo Designers Will Work
48 hrs Turnaround Time
Unlimited Revisions
2 Redraws
Full Copyright Ownership