Event planning is an exciting profession – but there are so many aspects involved to it! From hiring the best of the best to ensuring that the event goes off smoothly, the profession is a demanding job. But wait – how do you, as an event planning company, make a first impression on the client? By having an attractive logo, of course!
An event planner may be a single individual, or part of an entire event planning company – whatever be the case, it needs to come out on the logo clearly. Event planning logos need to be fun and exciting – something that entices the client and draws them towards the company. An event planning logo also needs to be able to emit positive energy that would assure the client of the event having the same kind of vibe.
Here are a few things to keep in mind while creating a logo for an event planning and management company –
Exciting and Fresh: Make sure that your logo screams 'fun'! If your logo is boring, then the client will psychologically think that the events will be boring. In order to avoid this situation, ensure that your logo is as attractive as possible and helps the client understand that engaging your company or services is likely to fetch him the event of the year award.
What You See is What you Sell: Remember that as a party planner you will have ample opportunities to display your brand – you will be handing out your visiting card to prospective clients at the event as well as to various vendors whom you can create a network with for future engagements. So make sure that your logo creates a solid impression on both sets of demographics and they choose to contact you for the next event.
Fun Fonts and Typography: Make sure your logo has an interesting font and typography – you can ensure this by engaging a good logo design team. A fun font will automatically help to make our logo look interesting and engage the client at the first glance.
Creative: As an event planning and management company, you can play around with your logo and make it as creative as possible. Design a logo that best describes your business – do you have a specific set of events that you cater to? Or do you engage in all kinds of events? In case your answer is specific, then make sure to include imagery in your logo that best describes the kind of events that you specialize in. in case you are a wedding planner, you can include a reference to the same in your logo; in case you are a party planner, you can include a reference to party planning in the logo. Make sure you let your customer know who you are!
Get your logo for event planning today!! The Wait is Finally Over! Get Your Logo
Ditch spending time trying to make your own logo design online, trust the best – LogoDesignTeam.
We're super fast, affordable and powered by the best logo designers in our creatively blessed team.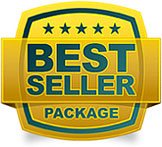 8 Original & Unique Designs
8 Logo Designers Will Work
48 hrs Turnaround Time
Unlimited Revisions
2 Redraws
Full Copyright Ownership