A salon and day spa business - as relaxing as it sounds - deserves the perfect logo. Most people look to a salon and day spa when they want to have a good day, destress their nerves and unwind from the hustle and bustle of daily life. Imagine if you had a salon and day spa business with a logo that displayed a running man, do you think people would be attracted to it?
As a salon and day spa business, it is important to create the perfect logo so that people can walk in to your business trusting that they will get value for their money.
We have put together some great ideas for creating the perfect logo for a salon and day spa business such as -
Understand the business: A huge step in creating the perfect logo comes from understanding the very business. Remember you are a service that provides salon and day spa treatments - people look to you to destress. Use this to incorporate into your logo. Ensure that your logo helps people feel relaxed just by looking at it. If it does this, then people are sure to walk in.
Use Relaxing Images: As provided earlier, an image of a running man isn't really going to flow well with the customers - instead use images that depict relaxing emotions. Images of leaves, flowers, calming and soothing shapes all help people feel relaxed even before they step into the salon or day spa. It doesn't matter if the name of your salon and day spa is not representative of a relaxing word / image. Even if the name is something like Johnson's, ensure that the font that you choose is a relaxing font - cursives and artsy fonts help to provide calming and soothing images to the customer's mind, and will surely help him choose your salon and day spa over that of others.
Know who to attract: Knowing your customer and knowing who you want to attract also goes a long way in helping you make the perfect logo. For example, having a very upmarket logo will deter the average person from walking into your salon and day spa even if your prices are economical. So make sure you put a lot of thought into the kind of image or font that you use.
Coming up with the perfect logo for an outsourcing and offshoring brand may be a difficult task - but there are professional designers who can easily help you get this done in no time.
Show your clients the value for their money. Try our custom-made Logos.Get Your Logo
Don't waste time on your logo – use that time on your business instead.
Ditch spending time trying to make your logo design online, trust the best – LogoDesignTeam.
We're super fast, affordable and powered by the best logo designers in our creatively blessed team.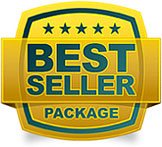 8 Original & Unique Designs
8 Logo Designers Will Work
48 hrs Turnaround Time
Unlimited Revisions
2 Redraws
Full Copyright Ownership