Mobile and computer games are all about visual design and graphics – these games are heavy with visuals that keep the players engaged and appeals to the player's senses. But what attracts that player to the game in the first place? The logo of the mobile or computer game.
A mobile or computer game logo is essential to giving information about not just the brand of the game but also the style of the game, who it is meant and suitable for, and also helps in giving a potential customer an idea about the game itself.
Visual components such as colours, icons and fonts help in providing the best gaming logos by harmoniously working together and creating a uniform element that attracts a consumer. Some tips to keep in mind while designing your gaming logo are as follows –
Design and decorate: The design of a logo meant for a computer or mobile application is extremely crucial to the very success of the game itself. The style of the logo gives the consumer a potential idea and understand how interesting the game could be. For example, having a racy design with a sharp font for a car game could attract the customer to the game immediately as opposed to a lazy cursive font which does not give a clear picture of the game.
Have different versions based on the target demographic: The same game could be meant for different demographics and could have different versions – in this case you need to ensure having different versions of the same logo. This does not mean the entire logo needs to change, but maybe the colour scheme could. For example, if the version is meant for teenage boys, then it could use a font colour of brown, blue, white, depending on the game. If the version is meant for older men, it could use deeper colours such as brown and black.
Build graphics: Your logo could also incorporate graphical designs on it – the computer or mobile game will be full of graphics anyway, so why not use your logo to depict that at the outset? For example, a game like temple run has a logo that depicts the name of the game with cool graphic images of the ruins of an old temple city. You can take inspiration from such ideas in the market and use them to enhance the beauty of your logo.
Refine your logo: Refining your logo means adding finishing touches – a line here, a colour there. These are things that logo designers are masters at, so make sure that your logo looks like art.
Get your logo for Mobile and Computer Games today!! Grab Today! Get Your Logo
Ditch spending time trying to make your own logo design online, trust the best – LogoDesignTeam.
We're super fast, affordable and powered by the best logo designers in our creatively blessed team.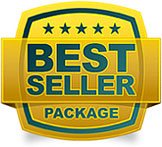 8 Original & Unique Designs
8 Logo Designers Will Work
48 hrs Turnaround Time
Unlimited Revisions
2 Redraws
Full Copyright Ownership