A strong logo in law and order is important as it helps to build the reputation of the company. The best legal logo should make your brand appear trustworthy and powerful to the audience.
Elements to Build Your Logo
The components that come together to create a complete and recognizable logo design are:
The Logo Mark
The Logotype
The Logo Descriptor
All these components come together to create the perfect, independent logo.
Here are some tips by our experts to help you create the best legal logo:
Use of colour: Playing with the colours in a logo helps the viewer to remember it their legal firm and the values associated with it.
Use the logo to show off your niche: One should design elements in such a way that it would relate with the niche of the said brand. Using images, gavels, badges work as great outliners for your logo.
Get the best logo for Legal Firm!! Hurry and stay ahead of your Competitors! Get Your Logo
Want the Best and Simplest Way Out?
Ditch spending time trying to make your own logo design online, trust the best – LogoDesignTeam.
We're super fast, affordable and powered by the best logo designers in our creatively blessed team.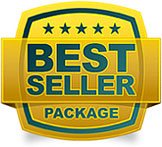 8 Original & Unique Designs
8 Logo Designers Will Work
48 hrs Turnaround Time
Unlimited Revisions
2 Redraws
Full Copyright Ownership