Reading Time:
4
minutes
If you need a design site or you are seeking professional advice on your design for your website or professional business logo, one place you might look is a design contest site. Not only will you find great design contests that you can enter as a would-be designer, but you may also be able to connect with potential logo designers who can help you with your business logo needs.
In this post, we will look at three well-known design contest sites and discuss which one may best meet your needs based on your individual goals and objectives for your business or corporation. Then you can decide which one you like best.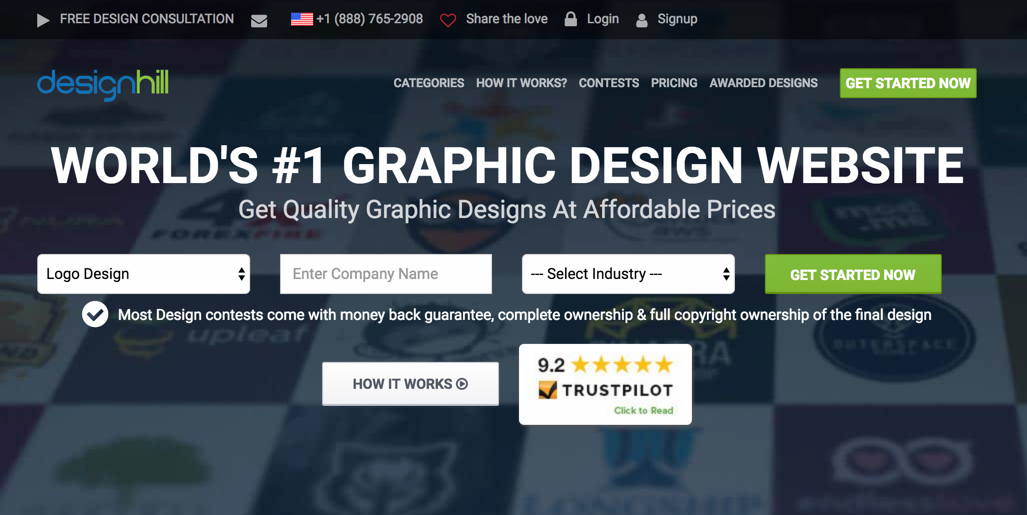 Designhill
Designhill.com is the first site we will take a look at that offers design contests as well as resources that will help you to connect to graphic design and logo design experts that will help you with your projects. Below are some of the main attributes of Designhill's site and logo design creation services.
1. Post a Brief– This section allows you to post a creative brief, including all of the essential information that you need to communicate to people who might want to enter your contest. Once you have listed your original summary, you can launch a competition that will attract the best designers to your project.
2. Get dozens of graphic design samples– You'll be able to browse through hundreds of colorful designs that are submitted by your content entrants that will allow you to pick and choose from individual graphic designs or artists that you want to pursue further.
3. Give feedback/get unlimited revisions– You can share your finished designs with friends via the "share" feature, create a poll where your friends and contacts can vote on the best model to get even further input, and more. You can also ask for unlimited revisions so you have a guarantee for success due to the excellent workflow system that you'll find on the Designhill site.
4. Choose the best design and finalize ownership– Once your design contest is over and your plan is completed, you'll be able to choose the one you want and then claim ownership. You need to make the logo or graphic design yours by purchasing full rights from the designer, and you can do all of that through the Designhill site, as well.
In addition to the above characteristics, you'll be able to look into the following services on the Designhill site:
Brand Identity
Logo design
Logo and business card design
Packaging design
Clothing design
Menu design
Book cover design
Email design
Check out these services when you go to their site to look into starting a design contest.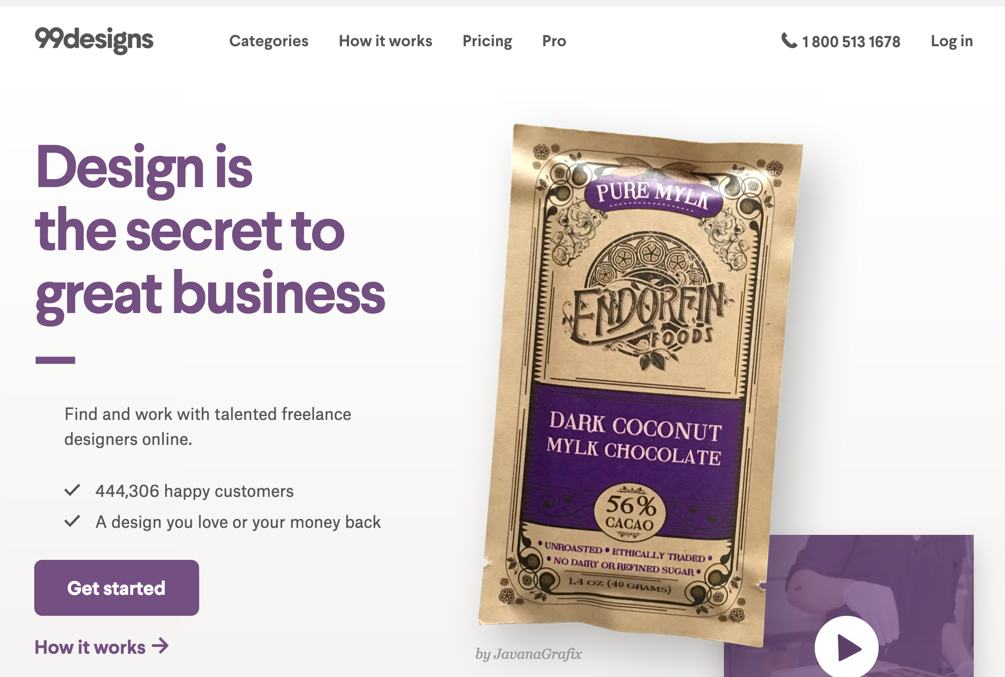 99 Designs
99 Designs is a viral site that allows business owners or anyone to hire a freelance designer, check out online design styles that they like, or to hold design contests. Thousands of people go to this site to find designers or designs that they can use for their brand or business or organization.
Some of the characteristics you will find on 99 Designs are:
Logo and identity
Web and app design
Business and advertising
Clothing and merchandise
Art and illustration
Package and labeling
Book and magazine design
Check out these services when on the 99 designs website. They offer a diverse range of services that will help you with your branding and logo design. They also have various price packages to fit any budget.
For design contests, you can contact them at 99 Designs and ask how to proceed. Having a design contest allows you to open up the door to a multitude of design and designers that will then let you get a broad idea of what you want to do to get the best design for your business.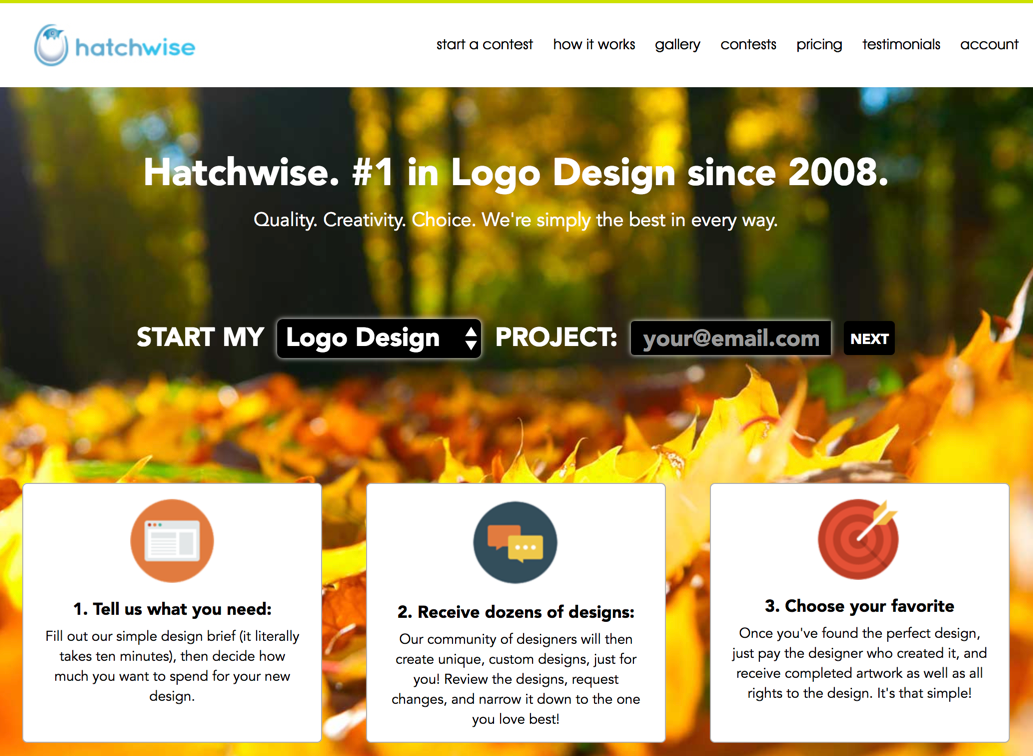 Hatchwise
Hatchwise.com is the third design contest site that also offers a wide variety of design and logo services and designs. To get a project or contest started on this site, just go to the main site and click the "Start a logo" link and put your email in so you can be contacted.
There is a straightforward process that you go through once you start your application. Just follow the natural 1-2-3 process below.
1. Tell us what you need.– Start by describing your project and letting Hatchwise know what you want. They'll return your email or message and get on your project as soon as possible.
2. Receive dozens of designs.– Once you start a project, you'll receive dozens of different designs to choose from. Look through several various types, styles, and options and then pick your favorite one.
3. Choose your favorite design.– Once you pick your favorite design, the next and final step is to contact 99 Designs and buy the full rights to the graphics or logo. You'll want to make sure you do this so that you will have full legal rights to your design and be able to use it in a variety of different contexts and materials.
In addition to the contests you can hold on this site, you'll also be able to purchase a logo design for a starting price of only $39. Look into the design contest and then browse their designs to get some ideas.
Which is best?
When it comes to choosing between these three design contest sites, we tend to prefer 99 Designs. One reason is that they have a solid reputation online for offering a wide variety of different types of designs. Their designs are all done by freelancers, but they all seem to have a professional quality from what we can gather.
We also like the variety of types of designs such as book covers, business materials, and another labeling you can get all in one place.
Freelance vs. Professional Design Firm
Checking out the above types of services will get you started with looking into various logo designs. You may be able to find a designer that does just what you want to create your professional design. But the question you need to answer is whether you want to use a freelance designer or a professional design team.
If you decide on a professional design firm, you'll get real colocation of services (all in one place), you'll be able to get your questions answered quickly by a professional team that is at your service, rather than being involved in various other projects that may distract from your project. There are some significant advantages to be gained from hiring a professional design team.
There's nothing wrong with checking out the freelance sites to get ideas. Feel free. You might get some ideas to share that may lead you to your ultimate professional logo idea.
Design teams like logodesignteam.com may charge a bit more when compared to freelancers, but the result you get may be worth it.
Take a look at our portfolio and contact us for more information. If you choose to go with a dedicated logo design, team, we can help with that at logodesignteam.com.
When you look good, we look good, and we're eager to help you get started with your professional logo design today.