Technology and graphic design are two fields that have always been associated with each other. As technology advances, so do tools and technologies used in graphic design. This has led to a shift and growth in the graphic design industry.
The past few years have seen the industry shift to the digital space, something that has changed how designers find jobs, employ the use of design tools, and use their skills. If you look at the technology used for graphic design a few years ago, you would realize that it is quite different from what is used today.
This can be attributed to technological advancement and the innovative solutions available to designers today. For instance, artificial intelligence (AI) and applications programming interfaces (APIs) are playing a major role in this transformation.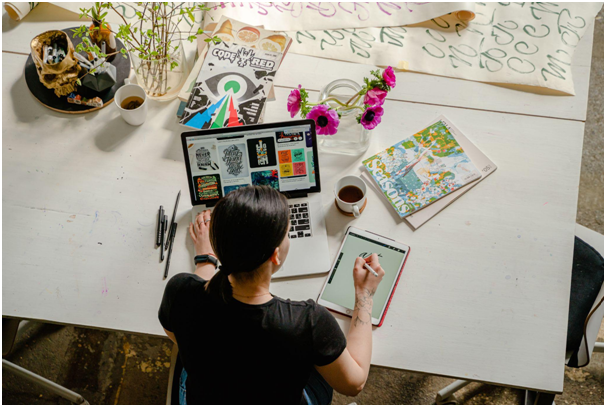 Image source: Pexels
But how are APIs and AI improving the graphic design industry?
Applications of Custom API Integrations
APIs have grown in popularity in recent years. One of their achievements can be seen in graphic design, especially logo design. Today, there are innovative tools used to produce unique and attractive logos for businesses.
Even though these tools cannot match the effort brought about by human knowledge, they are affordable, fast, and come with a host of features for logo customizations. In addition, they come with custom API integrations used by designers to pull font repositories and color schemes for logo design.
Using AI and APIs, these tools try to understand the design requirements of a designer and then mimic them to come up with a logo that meets those requirements. Designers do not even have to individually look for everything that they need.
This is because, with the API integrations, their design tools can communicate with other applications and get everything that the designers need. For instance, you can easily get any font without having to look for it on your own.
This was unheard of a few years ago when designers had not embraced the use of APIs and AI in graphic design.
Streamlining Tasks Using AI
Artificial intelligence has played a major role in transforming the graphic design industry. It has brought immense benefits, especially to designers when it comes to workflow simplification and automation.
Artificial intelligence is streamlining tedious processes in a bid to boost the overall experience of designers. For instance, designers are now using APIs to effectively analyze large sets of data within a short time.
A good example is when it comes to choosing the best stock image for your design. Let us take an example where you need to design a logo for a company that deals with software development.
You might have to scan through thousands or millions of stock images to see if any of them matches your needs. This might take a lot of time, and you might end up choosing one that is not even among the best.
Instead, using machine learning and artificial intelligence, you can scan through these images quickly and get one that meets your requirements. This way, you can focus on other creative needs.
Sensory Design in the Graphic Design Industry
User requirements and expectations have been changed by the use of APIs and virtual reality. For instance, users can engage and interact with their surroundings using multisensory interactions. This has been fueled by virtual and augmented reality.
This has led to the introduction of senses in graphic design. For instance, users are now able to feel colors and taste sounds among other things. This is the main reason why sensory design has gained momentum in the last couple of years.
For example, interior design is one area that has seen a lot of changes. Today, designers can create amazing virtual tours using AI in conjunction with APIs. This way, clients can experience their living spaces even before the design process starts.
In addition, designers are required to think about how users experience their work. This means that they need to make their designs more personal, cerebral, and emotional. With sensory design, things like websites are going to respond to the feelings of their users.
AI will also make things like adverts change depending on the feelings of the person in front of them. Imagine a situation where your screen shows a pizza when you are craving one! This is how AI and APIs are changing the graphic design industry.
Real-Time Communication
A few years ago, communication between teams, clients, and employers was done through platforms such as emails. This involved a lot of back and forth messages that would, sometimes, be difficult to understand. Some designers would not even understand the expectations, requirements, or needs of their clients.
This has been changed by AI and APIs. Today, technology has brought efficient collaboration tools that allow designers to communicate with their stakeholders in real-time to improve their design collaboration workflow.
Using these tools, designers can collaborate with all teams while at the same time getting feedback from their prototype designs. When it comes to things like getting feedback, idea approval, or even finalizing designs, these tools can streamline all processes for designers.
In addition to communication tools, APIs and AI have also given birth to management tools that increase the effectiveness of a project. Distributed graphic design teams can use these tools to streamline their operations during the design process.
For instance, when designing a logo, teams can use these tools to start the entire project, assign tasks, and add to-do lists. Every team member can easily handle their tasks and get insights into what everyone else is working on. This has been vital in changing the graphic design industry.
Holographic Computing in the Design Process
Holographic computing involves the use of AI programs – run through a consumer-grade computer – to give implications in 3D printing and virtual reality. It was introduced by a team at the Massachusetts Institute of Technology to generate holograms instantly.
But how does this improve the graphic design industry? Even though some people might think that holographic computing does not have a significant influence, it is becoming more affordable and accessible for people in the graphic design industry.
Today, graphic designers are using specialized headsets, for instance, to have a look at holographic projections of the design tasks they are handling. Using APIs in conjunction with AI, these headsets play a vital role, especially for designers working away from their offices.
For instance, when designing a logo for a client, graphic designers can work on designs even when they are out of their offices meeting their clients. This creates a free and dynamic working experience for the designers.
Can Graphic Designers be Replaced by Technology Advancements?
As discussed above, AI and APIs have improved the graphic design industry tremendously. Apart from automating and streamlining design processes, technology is also making it easier for graphic designers to come up with quality designs that meet the changing needs of their clients.
With this, should graphic designers be worried about their roles? Well, they should not. This is because AI and APIs can only streamline and simplify the work done by graphic designers.
Modern graphic design tools can perform some repetitive tasks for designers and reduce the legwork in a bid for them to focus on creativity. This means that these tools can only work as assistants – not replace graphic designers.
This can be attributed to some limitations with artificial intelligence;
Lacks Human Touch
Taking an example of the eCommerce world, technology has made it possible for people to shop from the comfort of their homes. However, a bigger percentage of people are still physically visiting their local stores when shopping.
This is because they prefer the human touch when shopping. They need that personalized experience offered by the store's workers because they understand their expectations and even offer recommendations.
Similarly, most entrepreneurs and investors want to talk to a graphic designer when looking for a particular design. For instance, when designing a logo, they need a designer who understands the logo design principles, a person they can talk to and explain the kind of logo they need.
Lack of Human Intelligence
Even though technological advancements have seen tremendous improvements in AI, it still cannot be compared to human intelligence. This is due to a lack of emotional intelligence in AI.
Human beings can understand changes in tone and voice, body language, and the messages generated from different actions. AI is not capable of doing this. This means that it can be difficult for graphic designers to let AI know the kind of logo, for instance, that is needed.
Lack of Originality
Human beings can imagine and come up with original products. A graphic designer can think about a certain design, and come up with something that has not been developed before.
If you look at things like poems, paintings, and music, they have all been created by human beings who just came up with an idea, implemented it, and created the final product. AI lacks originality and cannot do the same things as humans.
In conclusion, even though AI and APIs cannot replace graphic designers, they are doing a lot to improve the industry and streamline all design processes. As discussed above, modern graphic designers can rely on AI and APIs to improve their work.