Do you need a new logo for your brand? Analyze your logo and think about whether it is getting you the results you need. If not, what should you do to improve it? Creating experiments within Google Analytics and other tools may help you to analyze what is happening with your advertising strategies and assets.
One of the primary ways you can increase your engagement level and enhance your brand is with your graphic design. This includes the overall design of your website, as well as your logo.
There are some specific design skills and different types of designers that you could hire to do your logo. We have broken down the average cost of graphic designers based on their design skills below. Take a look at this and consider how much you are willing to spend and what you hope to achieve within your logo design.
Graphic Design
Graphic designers charge somewhere between $20-$350 per hour, based on their level of experience and tools that they have to create your logo. You can find different freelancers to do graphic design through sites such as Upwork.com, Freelancer.com, and other independent freelancer sites.

Entrepreneur Magazine has a series of freelance sites that you could use if you choose to outsource the job to independent contractors. You can look through these sites and check the rates of graphic designers there.
Font Creation
Font creators charge anywhere from $50 to $500 for font design. This depends on the designer, their level of experience and credibility and tools that they have to use to create fonts.
Photo Editing and Design
Some logos are created with actual photos or pictures that have been enhanced with assets or special effects. Photo editors and designers charge a variety of rates, again depending on their experience and tools. For example, photo editors who only do basic photo editing and enhancements may just charge $50 per hour or less. Those who use layering effects, special effects, and green-screen techniques may charge much more because it takes more of their time to complete.
Qualities of a Great Graphic Designer
When planning your budget for finding a graphic designer, you also need to consider the assets of a graphic designer that you prefer for your projects. Below are some of the qualities of a good graphic designer that you should keep in mind when looking for a logo designer.
Formal Training
Aside from specific skills, the price of designers may also depend on their level of formal training. While formal training is not necessarily the most important aspect in hiring a designer, you need to know that the designer you choose has some professional training that will allow them to have the skills needed to do the job right.
Years of Experience
The number of years of experience of the designer you choose is important too. When looking for a designer, look into the amount of time the designer has practiced their craft and look at their portfolio. A portfolio is one of the key aspects of design specialists, and any credible artist, or graphic designer will usually have a readily available portfolio that you can look over before you decide whether to hire them.
Creativity
Graphic design is a creative process. So is logo design. You need to find a creative designer that shows an ability to think outside of the box and create a customized logo for your brand. Check out different graphic designers and their portfolios and compare both price and artistic ability when making that decision.
Freelancers or Design Firms?
One of the key questions you need to answer when looking for a graphic designer is to ask yourself if you prefer to use an independent contractor or a professional design firm. A freelancer, as mentioned before, is an independent designer who is paid by the job and they tend to charge less in general than a professional design team.
However, a professional design team is usually going to be able to have a variety of services to offer you that enhance your logo and design projects with multiple services.
At LogoDesignTeam.com, we take pride in our ability to create the perfect logo that fits your business by using both creative and technical tools and strategies.
We also listen to you about where you want to go with your business and brainstorm with you to work together as a team on your projects.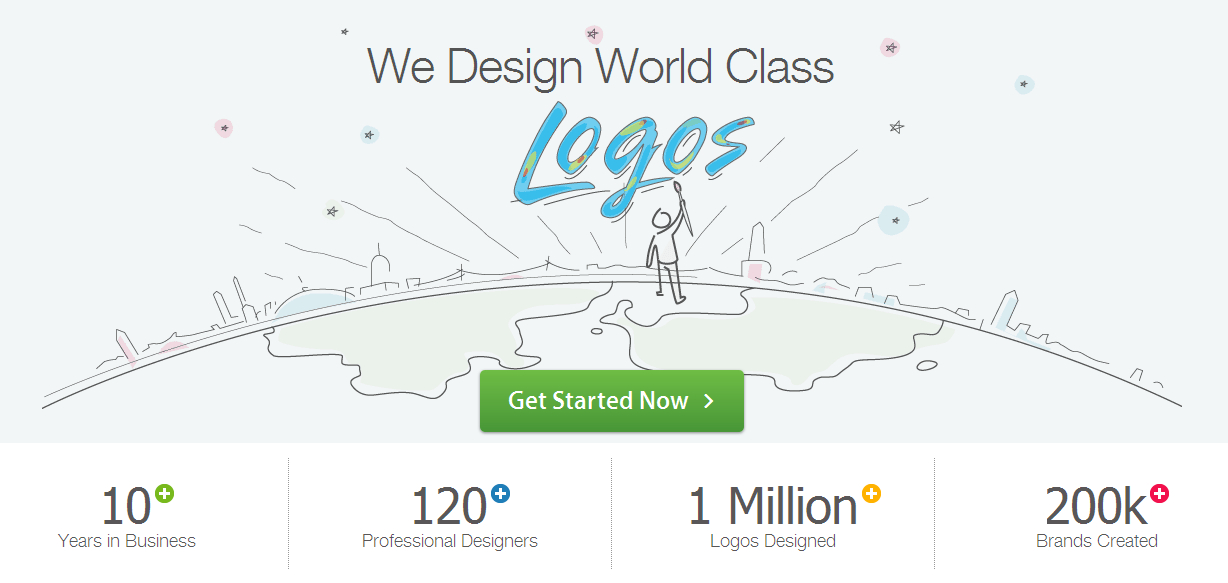 Other Services
In addition to logo design, we also implement your logo into a number of other formats including:
Stationery design– Stationery design can be implemented using the logo that we design for your business. Many communications are done electronically nowadays, but with stationery design, we can incorporate your logo within your stationery that you can use with either real paper or online in email communications.
Animated logos– Do you like the idea of an animated logo? You can implement an animated logo that will work with your website, email campaigns, and other online platforms. The animation aspect of your logo will improve the level of engagement of viewers and customers and allow you to incorporate animation within your company brand.
Logo repair– We offer logo repair that will allow you to repair a logo that needs to be rejuvenated or enhanced. We can help you change your colors, add assets that will appeal to more customers, or create a completely new logo instead.
Brochures/flyers– You can include your logo with your brochures and flyers that you distribute to your "real world" customers and leads as well as your online customers.
Web design– Web design is yet another service we offer at LogoDesignTeam.com. We can incorporate your logo into your website and make it a part of your branding on your main websites and other online platforms.
IllustrationsDo you have an eBook or other publication that you need illustrations for? We also offer illustration services. We can incorporate your logo within your eBook or other publication and create dynamic illustrations that will engage your audience.
Budget for Success
Remember that you can either use your time or money to create your logo. If you decide to do it yourself, you are going to be spending a large amount of time learning the software and using the tools needed that will take away from your productivity time in your business.
When you hire a freelancer, you may spend a bit less, but the quality you get may be less than with a professional design team.
By using LogoDesignTeam.com to create your logo and other projects, you are going to save both time and money.
Check out our work and contact us to let us know how we can help. We love helping businesses grow through carefully planned logo design and creative technologies.
We have the resources. We have the skills. We do it right. Contact LogoDesignTeam NOW!