If you need a new logo or want to create a logo from scratch, you may want to try the method of using logo design templates first. There are several "free logo design sites" online that you can use to experiment with your ideas.
Indeed, these logos are not free. However, it's a good start if you are looking for new logo design online or want some inspiration before hiring a logo design team. Just make sure you consider the essential things such as trademarking your logo and creating a truly unique design. All these will ensure that you don't step on the uniqueness & exclusivity of someone else's brand identity.
Tailor Brands
Tailor Brands is one of those free logo design sites that you can check out if you are looking for a free logo creator site. You can get started right away simply by going to their website and typing in your logo name to try out various logos.
This site offers a way to try out a business logo design idea for free and without being obligated to purchase a logo.
It's a great place to experiment with different logos and look into what you might want to do with yours. But you may not want to stick to just this option as it is limited in scope. Also, they tend to make you feel that you are getting a "unique and original logo." But as you are using a tool that many others also use, your logo will not be totally unique. It's okay to try out some ideas on this site; it may give you some clarity on how to proceed.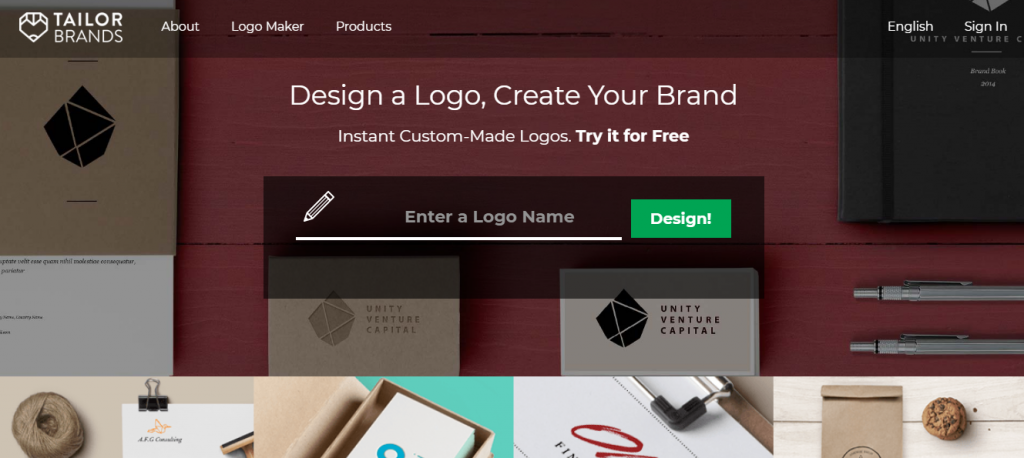 Logo Joy
Logo Joy is another site you can visit to play with logo ideas and try them out. Like Tailor Brands, you can go directly to the site and try out different logo ideas to see what might work for your brand.
Although this company is not totally free, yet it offers free option to try while you experiment with different logos. Once you find a logo you like, you may purchase it through their site for a price.
Pricing on this site ranges from only $20 for a basic design logo to $195 for an Enterprise package that includes only one hour of design time, high-resolution images, and much more. It may pay off to experiment with this site to get an idea of what you want. Then you always have the option to purchase if you like the results.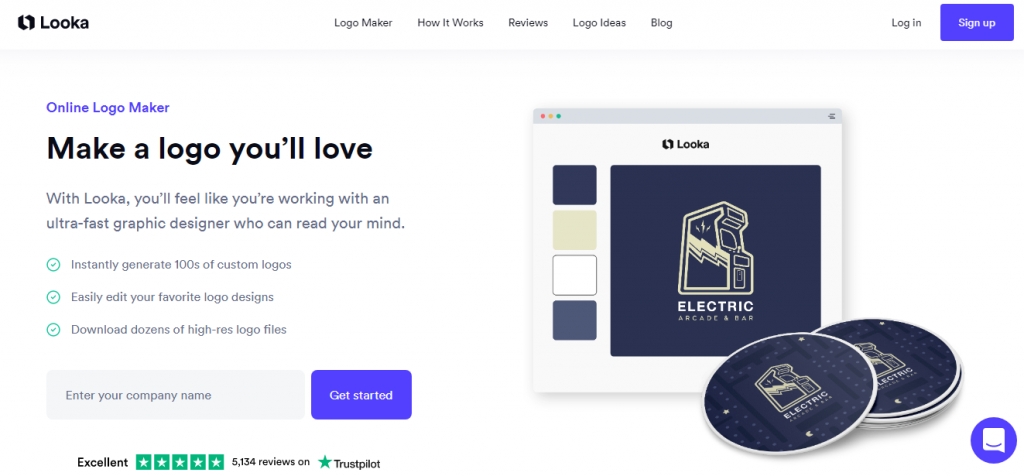 Designmantic
Designmantic.com is also a great place to start if you want to try out a few design ideas. You can start with a basic logo design and just type in your company or brand name to see the results. There are several logo design templates and plenty of web graphics to choose from that you can implement into your design.
There is one significant advantage to this site. This company has a step-by-step tutorial on the site to show you the process to designing and creating an original logo. Unlike the previous two logo design sites we mentioned above, this site really does offer some custom-designs that would be original, which can be tailored to your specific tastes and brand preferences.
There are also several extra perks on this site, such as wedding monogram design services and business card designs. So this makes it more like a custom-design type logo business. We can very well term Designmantic as the best logo maker. Once you find a design you like, you'll need to contact the company and see what the pricing will be for your specific design.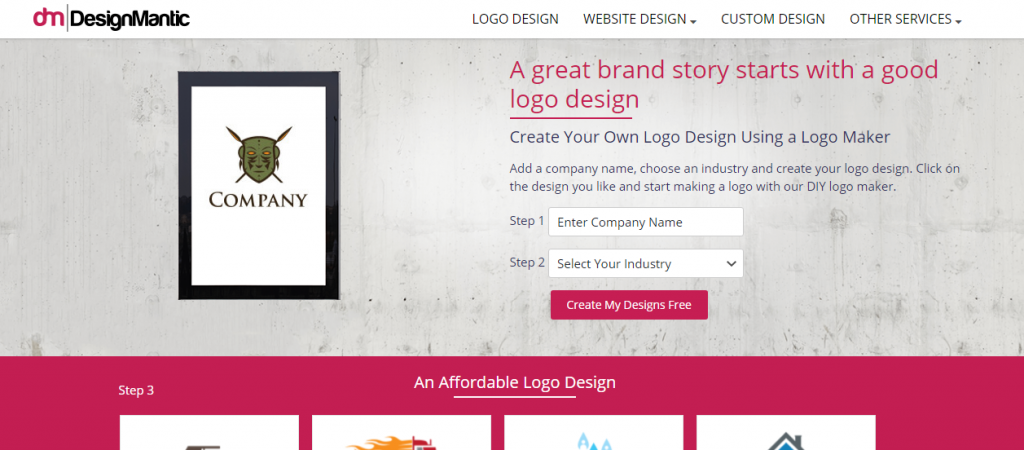 Logo Maker
Logo Maker features online software that lets you try out logos, much like the other sites. They do have a selection of great samples that you can see so you can get an idea of what they can do. You can choose an industry that is related to what you do or choose from their collection of icons to add to your design.
If you create something you like, you can contact them and fill out their online form to purchase the logo. It's a pretty simple process and can give you some excellent logo inspiration that you might not get otherwise.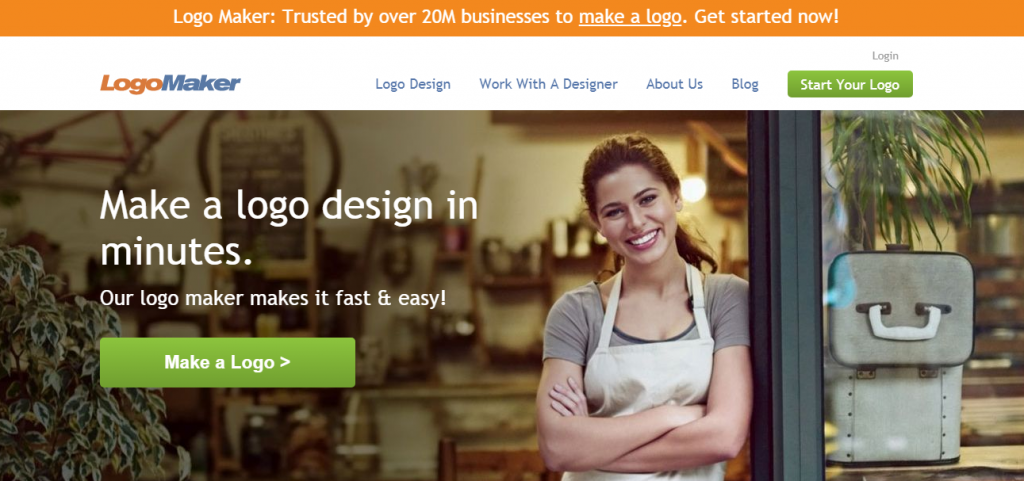 Free Logo Design
Free Logo Design is yet another free logo design sites that allows you to try out logo designs and ideas. It's easy to use – simply put in your company name and industry category to get started. Then you can customize the logo with colors, fonts, and other special effects to your liking. Once you've finished designing it, you can download, save and use it any way you want.
The initial service is free with no strings attached. But if you scroll all the way down the page, you will see that you can purchase a professionally-designed logo for $199. It will probably be an advantage on your part to do this, since the free logos leave a lot to be desired if you want a completely new and unique logo design for your business.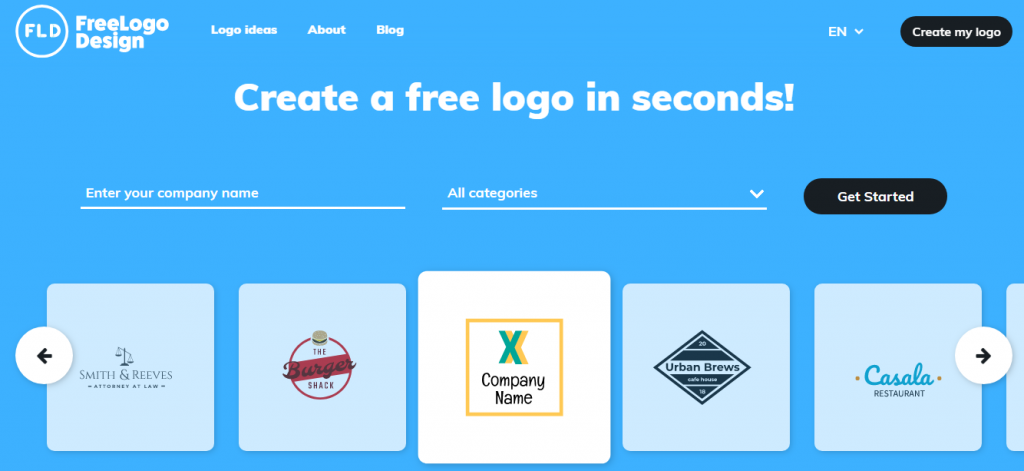 How to Create a Real Professional Logo
Your logo is too important to trust it to just anyone. Going the "free route" is okay to try but the final logo design that you choose for your business should be original and unique and should not include any elements that are identifiable with another brand.
Not only is this a potential problem, but also it could lead to legal issues if you accidentally include assets that are too similar to another brand's assets.
If their logo is trademarked, but yours is not, you might have a hard time proving that it was your logo, to begin with. Then you will have wasted a lot of time designing a logo that you cannot use. So make sure and do your "due diligence" if you decide to trademark your logo.

Summarizing The Takeaways
When it comes to free logo design, nothing in life that is valuable is actually free. You can create a basic logo and experiment with various fonts, colors, and designs. In fact, we encourage you to do so. It gives you some ideas of how you want your own design to look. Perhaps by looking at sample logos, you can decide what types of design elements you may want to include or how to repair the logo that you already have.
But when you are really serious about designing a professional business logo, you'll want a professional logo design team to help and – That's Us. We are Logo Design Team and we have been helping business owners just like you with a professional logo design for many years.
You can go to these free sites and see what you can do then contact us and we will talk to you about a logo design for your business. Take a look at our online portfolio to get some ideas on what you want to do, then contact us to learn more.
At logodesignteam.com, you don't have to worry about the trademark. That's because we not only design your logo but also help you get it trademarked and assure you that your logo is your intellectual property and you have full right on it.
We do not retain any rights, either. Your logo is yours once we turn it over to you.
Visit us anytime to learn more and ask for a free quote.