Millennials aged 20 to 35 years make up most of the global market today. Identifying what these target market demands from business is incredibly challenging. They have different expectations and perceptions than their predecessors. Hence, when you are into industries like real estate, to thrive in this volatile environment, effective marketing strategies play a significant role. As you know, logos are one of the best visual branding tools of all time, paying maximum attention to the real estate logo designs besides galore of things yield marvelous results.
It is not a big secret that the real estate industry is a big sector that has been generating billions of dollars in revenue annually on a global scale. Moreover, the industry is flourishing every single day, with a bright future ahead. Needless to say, to make a mark on your target audience's mind, you need a reliable and aesthetic foundation for your brand amidst the industry peers.
How to make sure your logo design is just as attractive as your properties for sale?
Here we have jotted down some points to walk you through the best real estate branding design of the world. Take a look & get inspiration from the examples below to create an attractive, professional and memorable property logo.
Here's what to do and how to build a concrete branding with stellar real estate logo designs:
1. Select Logo Graphics That Reflect Your Service Type
People have the misconception of associating every real estate company with a generic type of service. But there are wide array of real estate services which you might deal with. Hence, to send a clear message to your target audience, use images and graphics that reflect whether you are a residential real estate agent, a commercial one or an industrial real estate company.
Moreover, if you offer something extra besides your service, for example, assisting with financing and mortgage or negotiating contingency like the Precondo team, showcase that in your logo design too.
It's no secret that your buyers have a lower attention span and so using service-specific images in your logo design would save their time. By combining images and text, you can shape a comprehensive logo and accurately represent your service to the world.
Take a look at the Century 21 logo, the company sells luxury mansions as well as starter homes. So, it's branding needs to have a message that ticks both its service type.
Besides being a modern real estate logo, it's also one of the best examples that echo the saying – good design doesn't need to be fancy. The main aim of this logo is to send the message to its audience about its service areas which it does perfectly.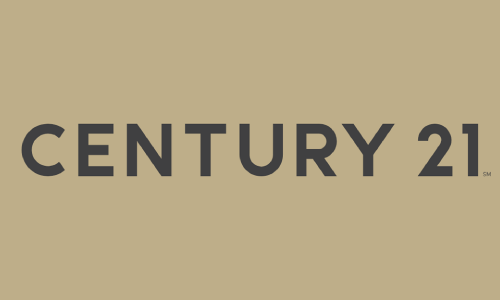 2. Logo Colors & Fonts Should Impart Knowledge Of Property Dealt In
Isn't logo color the first thing that catches your audience's attention? Fonts too add to the glory of your logo. So, choosing the right colors and fonts that appropriately demonstrates your business is highly crucial. Now the twist is – in any logo design, the colors should adhere to the type of property dealt in.
For example, if you're are into selling properties near the beach, pros suggest of using bright blues, yellows, or colors that are similar. While if you deal in corporate or industrial properties, making a logo with conservative tones, darker shades of gray or navy blue will work best.
When picking real estate fonts, going with something eye-catchy yet legible will help you create a unique logo. It's seen that sans serif fonts like Ariel texts render a trendier look and on the other hand serif fonts, like Times New Roman, contribute a more traditionally conservative image.
For examples the logo of Two Trees Management Company shows how using appropriate fonts and colors in branding brings success.
The Two Trees logo represents a relaxed, nature-focused scene and this tells the target audience what kind of property the company sells. The logo is simple, yet the conjuring scenes offer a stress less country living feeling. This gives the viewers understand entire what to expect from the company.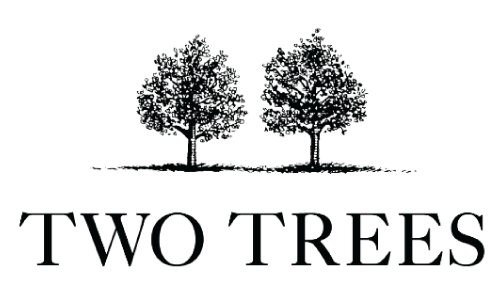 3. Shapes are Vital Elements Of Every Logo Design
Logo shapes are one of the primary factors that contribute significantly to the recognition of your business in the market place. According to design experts adopting geometric shapes can help you create an outline of buildings, rooftops, etc. making a lasting impression on the target audience.
There's no denying that a great design encourages the customers to learn more about the company. As shapes are one of the vital elements of logo design, choosing the appropriate geometric shape will help you get your message across quickly.
Applying geometrical shapes not only gives the house logo design a multifaceted meaning but also makes it elegant. According to the design principles, geometry provides fundamental truths about the physical existence and an understanding of how the basic shapes work can give subtle and substantial support to a logo design.
Hilton & Hyland: Beverly Hills Real Estate Agents give us a clear view how using well thought of geometrical shapes.
Hilton & Hyland, one of the most prestigious brokerages of Beverly Hills, is an example of offering luxury real estates in LA. Founded in 1993, the real estate firm found it extremely challenging to settle down in its business. But with its rare combination of skills, excellent branding idea, the firm is now one of the top real estate agents in the world.
Designed by Ann Dang, the logo although an abstract real estate logo, is an example of retro real estate logo design. This logo oozes out simplicity, timelessness and elegance. The monogram, in particular, makes the logo look more glamorous.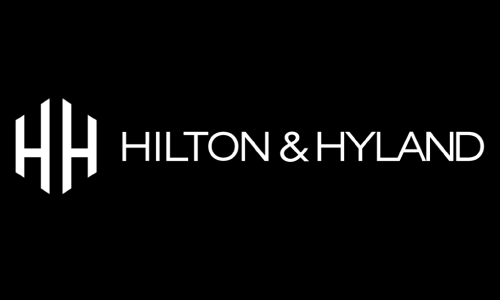 4. Make Sure Your Logo is Adaptable for Every Purpose
When you create a logo, make sure your emblem is adaptable to any branding material. Needless to say, you would use your logo in business cards, booklets, flyers, or any printed promotional materials. Hence making it adjustable will give it an extra benefit and make it more recognizable. Also, your logo needs to be ideal for mobile use.
Taking help from professional designers will make you go one step ahead of your competitors. The best part is designers initially mockup your logo in different sizes and different contexts and present what you need.
Now you know that choosing the right real estate logo designs adds extra zing to your branding and makes you one of the renowned property sellers.

Get The Best Real Estate Logo Today
Start building a real estate logo with the assistance of our professional and highly skilled designers. At Logo Design Team, we provide you with incredible design samples that are all of the highest quality. Whether you are a realtor or own a real estate firm, we offer you friendly advice. In addition to that, order for the customized logo as well. Explore our versatile work and remember to knock us at any time you think we can be your creative partner.