Brochure for business is one of the oldest visible and essential mix of advertisement and communication approach. This business collateral item is one of the most indispensable tools to promote a brand and get business. This communication tool comes in varied forms and has different effects on the heterogeneous audience. However to create a communication material the marketing department of a company needs to understand what influences a consumer the most and which corporate brochure design is in vogue.
Brochures are traditional methods of communicating about the company and product information to the existing clients or potential customers. But it's quite surprising that today when the world has gone digital and every information is just a click away, brochures haven't lost its importance. Brochures are effective means of connecting with the client-base. Since longer this print medium has been acting as the essential tool used successfully for marketing and promotion.
In this digital age, consumers and businesses still depend on brochures. Regardless the universal acceptance of brochures, company owners are speculative about the present status of this business collateral. Of late marketers are pondering on the matter if consumers will give priority to company brochure content or prefer online research only?
It is essential to understand the importance of brochure as marketing material to get a more in-depth insight on the topic. Moreover, how this traditional advertising process is different from the online approach and what it takes to create a unique brochure design. Visit Bristol Printers to check out their popular services.
Communication through Brochures – Purpose & Effectiveness
Advertising and communication offer more value to both the consumer and the producer. In respect of the consumer, brochure acts as a guide that helps in making a purchase decision. As an advertising material, it highlights the features and specifications of a product/service and also offers the benefits of using it. On the other hand, sometimes a brochure for business can be created to provide the quality of products/services but also about their costs. In respect to manufactures, this business collateral helps them to reach a broader section of the society. Besides informative articles, corporate brochure design also plays a vital role in grabbing the attention of the potential customers.
Traditional communication vs Online communication – A Comparative Review
In this age, the internet is the new and growing channel of distribution of company information and advertisement. Therefore, the wired medium has led to many limitations in traditional advertising and dissemination process. With the emergence of online communication, traditional advertising is thought not to have the required potentiality to reach to a broader sector. Hence, slowly many printed dissemination materials have started to take a back seat.
But when it comes to brochures, the aspect is entirely different. From the viewpoint of the elements of attractiveness, brochure design is eye-catching. A company brochure template is immensely visible to the entire population. Although online communication has a wider appearance and can develop the potential crowds, yet brochures have still been riding the tide.
There are numerous reasons why brochures haven't lost importance even in this digital world. One of the exciting study presented by Neuroscience – the benefits of marketing with printed material registers more to a human brain due to three factors: real feeling, emotional connection and persuasive power.
Practically when online space is a single medium to transmit all the traits and characteristics of the entire company, let's find out what makes brochure one of the most significant dissemination material in the corporate sector yet today.
Listed below some of the benefits of brochure in this digital age
Retained for future reference
Brochures are ideal items to store for future reference. These readily available stationery materials provide information about a company's brand. Consumers preserve them for future reference. This act of storing information for future use means more business. Potential customers would continue to relate to the brand throughout. Moreover, a printed material stored for future use will get on to a viewer's mind with all related information about the company and the brand more efficiently after days he came to know about it.
A human brain is designed to understand more what looks to him 'real.' A brochure is real marketing material and clicks the mind more. It has a meaning and a place and is better connected to memory because it engages with the spatial memory networks.
Relevant in this low attention span age
Attention Span or how long subjects look at the company brochure content is a vital issue. In this busy age and low attention span, physical materials give rise to increased brain responses. This phenomenon is noticed because a printed communicative equipment is connected with internal feelings of the reader and hence suggest greater grasping of the message.
Brochures provide information to the interested people with a personal bit. This is one of the most significant advantages of printed marketing materials. Dissemination through printed business collateral creates an efficiency to a great extent.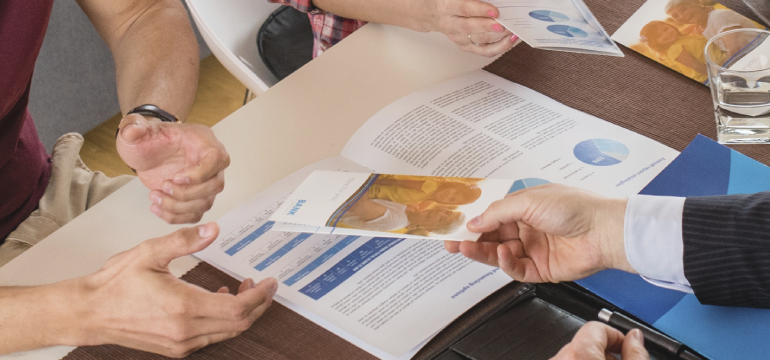 A brochure is presented in a very alluring way. Appealing and unique brochure design grabs the attention of your target audience with the intended message. This printed material has the specialty of providing customers with an opportunity to make informed decisions regarding the promoted brand. To leverage a potential client, a brochure must highlight the benefits of the product and how well the products would get intermingled with the life of the consumers. Such brochures will never fail to achieve the predefined goals.
Printed materials are credible source of information
Printed materials are the best source to motivate and persuade a potential client to take further purchasing actions. This is because physical element involves more emotional processing, which is vital for memory and brand association. A reader gets more motivated with a printed source. As brochures are designed and printed with great effort, they look more credible than all forms of digital advertisements. People trust those things more which can be touched and felt over online images and descriptions. This sense of credibility encourages targeted people to take the intended action.
Can Store Immense Information
A professional brochure design always gives ample scope to provide necessary information. Designers can optimally utilize the available space. This marketing tool can contain a lot of information which enables marketers to communicate their message impressively. The best thing about brochures is that it can deliver the intended message brilliantly while strengthening the brand image of the business.
Brochures have scope for better ROI
Investing in brochures always bring greater results. Brochures are the most cost-effective marketing material compared to other components. Interestingly, the returns are quite encouraging. Whether its content or innovative brochure design, these materials  does not require many resources.

How to design a brochure understanding consumer psychology
As a designer, if you think how to design a brochure, just finalize your creativity in accordance to the consumer behavior.
Business owners need to understand buyers' psychology before finalizing a company brochure template. Whether glossy or matte, to entice the readers, companies can take assistance from a professional brochure design company and utilize this marketing tool to get a competitive edge.
Brochures have long been regarded as a crucial tool for business-to-customer communication. This highly efficient printed material has been playing a significant part in the decision-making process of a buyer. An innovative brochure design must 'engage' customers – this way a company can manage to persuade consumers to buy a product or service.
Communication ( printed or digital) is the bridge between the producer/provider and the potential consumers. Companies while launching new products face fierce competition in the market, hence they advertise to convince, remind and finally to inform the customer about the specialty and usefulness of its product. Amidst several multitudes of marketing methods available in the market, creative brochures have been generating a high level of consumer persuasion among both potential and existing client base. The layout and design of a brochure hence has a major role-  an aesthetically pleasing look persuades the consumers more.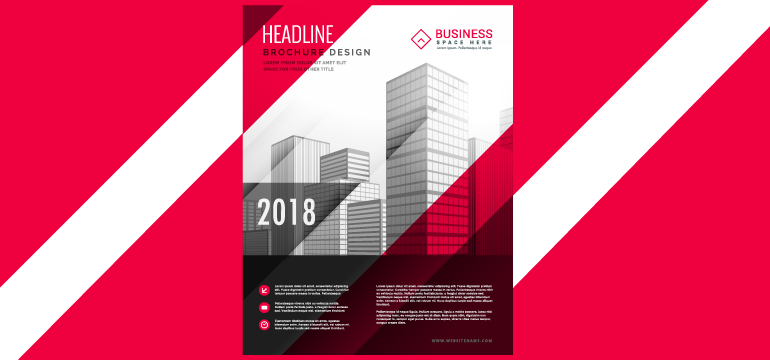 As a marketer, one must understand that all consumers differ from each other in all aspects. Their needs vary as well as their information seeking attitude is different. Above all their satisfaction level is also different. So, it is quite essential to create an advertising material that suffices the needs of all kinds of demands.
The challenge for a company is to present essential brand information to the target clients. In this age of social media, where one can reach to the potential client-base just with a click, brochures like print medium have to have substantial information.
Content in a brochure can compel a reader to learn more about a business online or can provide them with an offer that is exclusive and can be traced to that printed material. However to successfully deliver a message through print media try not to convey the same message on your company website, because identical knowledge will get lost.
Flourish in the market with impressive brochure design
If you want to flourish in the segment of brochures with remarkable designs, you need to create communicative materials depending on the needs and preferences of your target audience. Logo Design Team is right here to help you with great design for your brand. This one-stop design solution provider has ten years of experience in designing logos and other business collateral.
Conclusion
Brochures are efficiently maintaining their relevance in this increasingly digital world. Arguably, online documents have far better reach then printed literature, yet professionally produced brochures can get a great response. Hence, faced with intense competition in today's marketing environment, this attractive publication has to be thoughtfully planned for maximum impact.