Remember back when publishing content on the internet was unchallenging? Those days are long gone… it's no longer just about coming up with something to write about and posting it to your site. Now it's all about the pre-planning process, mapping out your content, knowing when and where to publish it and then ultimately focusing on your content promotion afterward. What was once such an easy task has now become a full-time job in itself.
With so much focus on content creation, we wanted to highlight the importance of knowing when and where to share your content after it goes live. Everyone probably has their own preferred times to write content throughout the day, but if you are writing new articles and publishing to your site at 2am in the morning, you could be missing out big time.
Even more important than when and how you are posting content to your site, is when and how you are posting to social media. Through the multi-section infographic below, let's take a look at some of the most effective ways to use Facebook, Twitter, LinkedIn, Pinterest and Instagram for expanding your content reach online. To see the full infographic in its entirety, click here.
Best Times to Post to Facebook
Facebook is the largest social networking site in the world and it also offers sharing options for its users. Whether it's through a personal profile or on a Fan page, the response and engagement you receive through Facebook will depend heavily on the times and days of the week you post updates.
Here are some tips and tricks to help with your engagement on Facebook.
Thursdays and Fridays, either at 1pm for the most shares, or 3pm for the most clicks. As explained, the less people want to be at work, the more they are on Facebook.
The best days of the week to share content are Thursdays and Fridays.
The best time of the day to send out a status update is around noon.
When focusing on Facebook for content outreach and promotion, don't forget to share with both your personal and business accounts. All too often we find businesses and brands creating social media Fan Pages, only to let their users go stale by not creating new content for them to see. When you have really high-quality content that you want to reach all of your followers on Facebook, be sure to consider your options with Facebook Ads premium advertising and update boosting.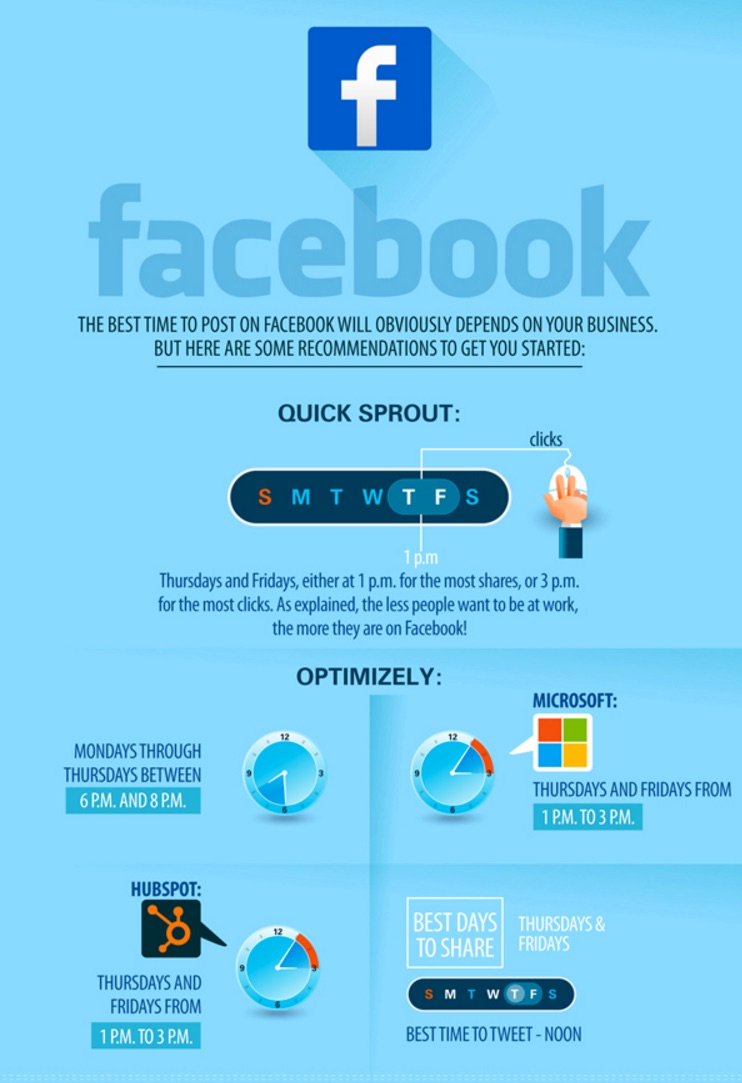 Best Times to Post to Twitter
Twitter currently has over 300 million active users on their site. While they might not have over a billion users like Facebook, but Twitter is definitely changing the way content and information is found and shared in the world today. Whenever something news breaking happens, it usually happens on Twitter first.
Here are some tips and tricks to help with your engagement on Twitter.
With the half-life of a tweet, being only 24 minutes long (4 times shorter than a Facebook post) your window of opportunity is tight.
The HuffingtonPost reports for maximum retweets, try to post at 5pm, 12pm, and 6pm. Additionally, 12pm and 6pm have been seen to deliver higher click-through rates. The best days to Tweet for business-to-business organizations is Monday through Friday. For business-to-consumer it's the weekends and Wednesdays.
Hubspot reports posting between the hours of 12pm and 3pm on Mondays through Friday are ideal for engagement. It was also noted that posting on Wednesdays between 5-6pm also delivers higher results.
KissMetrics reported that weekdays at 5pm is when the highest percentage of retweets occurs. The best time of the day to tweet is at 5pm, and the best days are mid-week and weekends.
As mentioned earlier, Twitter is one of the most reliable networks for finding out what is happening in the world as it happens. In addition to using Twitter for sending out your own content and updates, be sure to take advantage of trending hashtags to reach new audiences.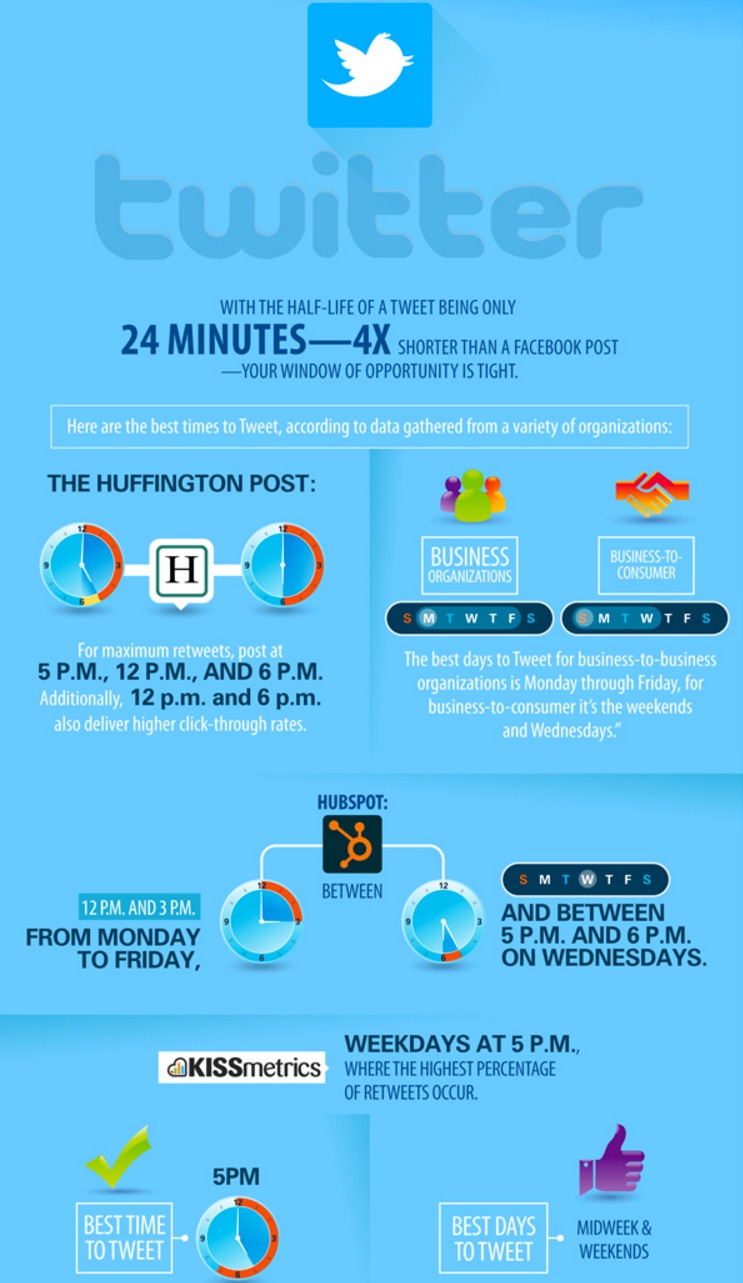 Best Times to Post to LinkedIn
LinkedIn in a business social network that was recently purchased by Microsoft. The network has over 500 million users and is mainly focused on business, entrepreneurship, and finance-related content.
Here are some tips and tricks to help with your engagement on LinkedIn.
If you want to get engagement on LinkedIn, post in the evening. The best times for engagement are between 7pm and 10pm.
Schedule posts to go out later in the evening, between 7pm to 10pm.
With engagement rates better in the evening, post your most engaging content there for a much greater reach, keeping less valuable content for daytime users.
Just like Twitter and Facebook, LinkedIn also has it's own advertising platform to take advantage of. However, since LinkedIn is focused purely on business and recruitment, advertising costs are seen at a much higher multiple on a cost per click.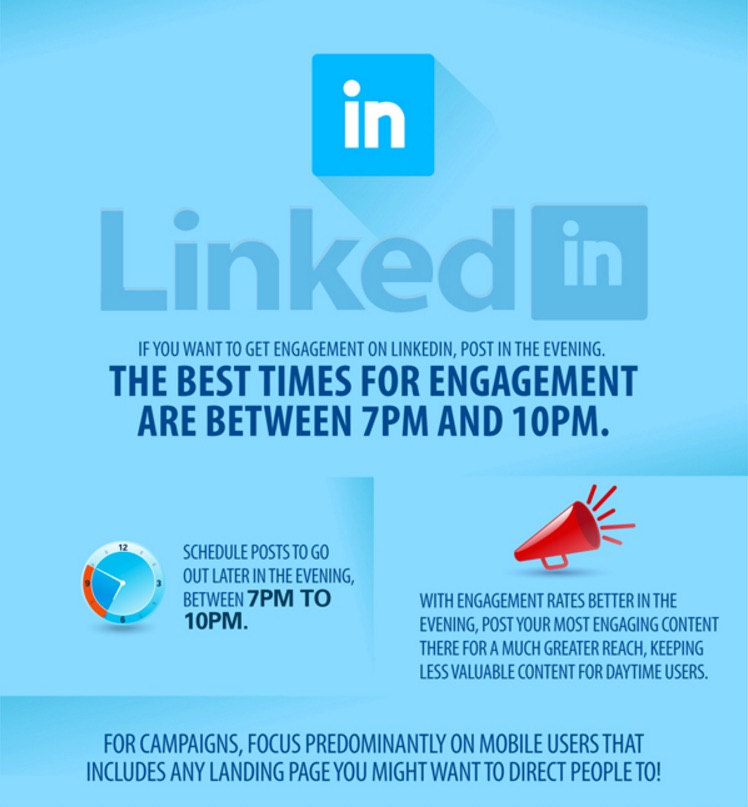 Best Times to Post to Pinterest
Pinterest is all about targeting to the interests of your audience and using visuals to get people to click. With over a 100 million active users on their site, Pinterest is a social network that every business and brand should be taking advantage of.
Here are some tips and tricks to help with your engagement on Pinterest.
To find success with Pinterest, you must be consistent and spread your pinning out. Varying your timing exposes you to different segments of the Pinterest population and can lead to more exposure, repins and followers.
The best day of the week to share content on Pinterest are Saturdays. The best time to send out a social update on Pinterest is from 8pm to 11pm.
The see the best results with Pinterest, accounts should be sharing between 5 and 30 pins per day. Different days of the week can perform differently depending on the niche audience you are going after (Mondays are best for good intentions in fitness, while Fridays are better for sharing funny gifs to bring comic relief to the end of a long week).
A common thought about Pinterest is that it's really only for targeting women. This however simply isn't the case. Start promoting your content on Pinterest and see how it performs with your audience.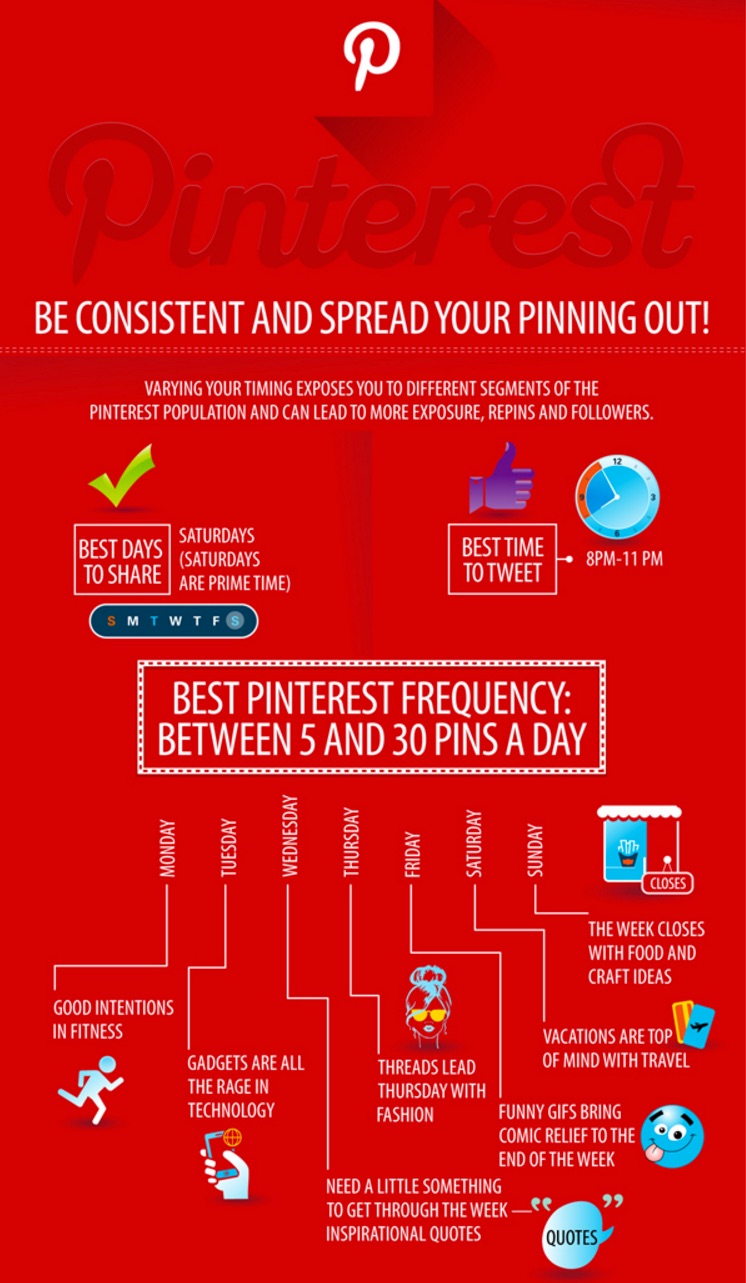 Best Times to Post to Instagram
Instagram is all about social activity through the use of your mobile device. With over 500 million users on Instagram, it's the perfect platform for brands of all sizes to engage with their audience through the use of mobile and attention-grabbing photos.
Here are some tips and tricks to help with your engagement on Instagram.
To find the most success with Instagram, you must know who your followers are and what they are doing throughout the date. Knowing where they live, how old they are and if they are browsing your content while at work are ideal for creating the perfect Instagram content promotion campaign.
HubSpot reports anytime from Monday to Thursday is a great time to post content, as long as it's not in between 3-4pm.

Instagram is all about engagement, hashtags and building a following for your brand. Don't try and force your content to your audience. Listen to what they have to say (and like), then provide them with more of what they are looking for.
Now that you have a complete breakdown of the best types of content and time slots throughout the day to post content to each of social network, now it's time to get to work. Take advantage of online social sharing tools to automate the scheduling of your content, while also focusing on your manual promotion in the process.
To get the most out of your social media marketing efforts, be sure to include custom branded social images within your profile pages. This means displaying your logo design and custom images on your Facebook Fan Pages, Twitter Backgrounds and anywhere else customized images are allowed. You can see a few examples of how this might look for your brand below.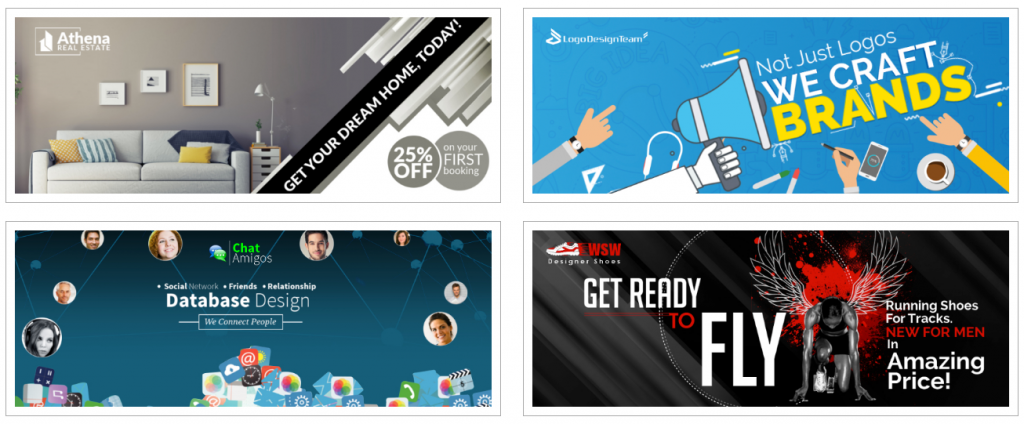 If you don't currently have a logo or brand identity in place, contact our design team today! Coz sooner or later, you will need it & then we come to play. Get ready to identify your brand. Call us NOW!