Digital marketers know that web design focuses on the visual aspects of a website, and search engine optimization (SEO) determines your rank in Search Engine Results Pages (SERPs). While they seem to be different and separate, they are very intertwined. Many deem them the critical duo that helps bring in higher traffic, more leads, and revenue for your business.
The Critical Duo – SEO and Web Design
To enjoy an effective and successful website, you focus on many factors simultaneously. You cannot pay full attention to one only and neglect the rest. You want to rank high in the SERPs to gain greater visibility. Hence, your website must be SEO-friendly. Remember, your website design can either make or break your SEO effort.
SEO and web design must work seamlessly together. They need to mingle and flow together. When designing your website, consider SEO best practices. If you don't, your website will struggle to rank high.
Once you nail both SEO and website design, not only do you give your audience a good user experience, but your business makes it easy for search engines to understand your website and rank it high in the SERPs.
More will arrive at your website, and more will stay and make purchases because they can easily navigate your website and find what they need. The first step to creating a highly successful website is to master the bond that tightly links SEO and website design:
1. Website Speed
Caption: Use Google's PageSpeed Insights to determine your website's speed performance
(Source: Google PageSpeed Insights)
Speed is a ranking signal. When your website registers at blazing speeds, the user experience improves, and so does your rank. Nobody wants a slow website, and Google will not present it to its users. The web hosting solution and web host both play a vital role in determining your business's success as they control your website's speed and performance.
If your downtime is frequent, Google notices and will penalize you. Slow speed and low performance are bad for SEO. Hence, consider speed as a factor when designing your website. There are many ways to optimize your coding and design for higher speed. The type of web hosting can also dictate how you plan your website for optimum results, so check it here when choosing a webhost plan.
Use a website speed checker such as PageSpeed Insights from Google to confirm your website's speed. The results will give you a clearer picture of where you should focus. Then, tweak your web design accordingly. As you can see, website speed, hosting solution, SEO, and design are intricately linked. A change in one impacts the others.
2. Code Design
When coding your website, there are several options to consider for SEO purposes. Most use HTML for the main content on each page to make it easy for Google to understand your page; your content becomes easily indexable. However, HTML has its limitations. Hence, many gravitate towards JavaScript.
However, Google finds it challenging to understand JavaScript. The more you use JavaScript, the more you burden Google to crawl to index that information. Hence, strike the right balance between using JavaScript and HTML. Explore ways to get JavaScript to work for you without sacrificing your SEO. Also, you may want to think twice before implementing a Flash site; it is slow and difficult to optimize.
3. Readability
You can have a striking and beautiful website design, but if your pages are not readable and incomprehensible, your audience will leave, and your bounce rate jumps up. Your website must make sense and present something of value to your readers. If not, your business will suffer due to poor web design.
While the visuals are crucial, your text also matters:
Use colors that harmonize and are easy on the eyes.
Do not use too much technical jargon but simple and direct language as you need to cater to a broad audience.
A neutral background is good.
Bullet points help make crucial points stand out.
Include some white space to appease the eyes.
Headers and subheadings help readers find what they want.
No chunky paragraphs.
Use meaningful images to break up the text.
Use fonts and sizes that are easy to read.
The best practices above help improve your web design, which in turn, helps Google understand the pages better, thus improving your SEO.
4. Web Pages
Web pages are what people base on to form their first impression of websites. Hence, when designing your website, keep in mind that these are the common types of web pages you need to optimize for better SEO:
Landing Page – Although many deem the home page to be the landing page, there is a subtle difference. The landing page is for a marketing campaign.
Home Page – This is an overall view of your company to all audiences.
About Us Page – This explains about you as a business and how you stand out among others.
Contact Us Page – Be creative here to include your location details, images, and a map.
Product/Services Pages – Functional pages allow easy navigation and include a 'What's New' section.
Product/Services Details Pages – Include quality images and relevant and updated content to help with SEO.
FAQ Page – Answers common questions to give a positive user experience, thus improving conversions.
Blog – Regularly updating your blog with fresh and current content with relevant links helps connect with your audience.
4. Mobile-Friendly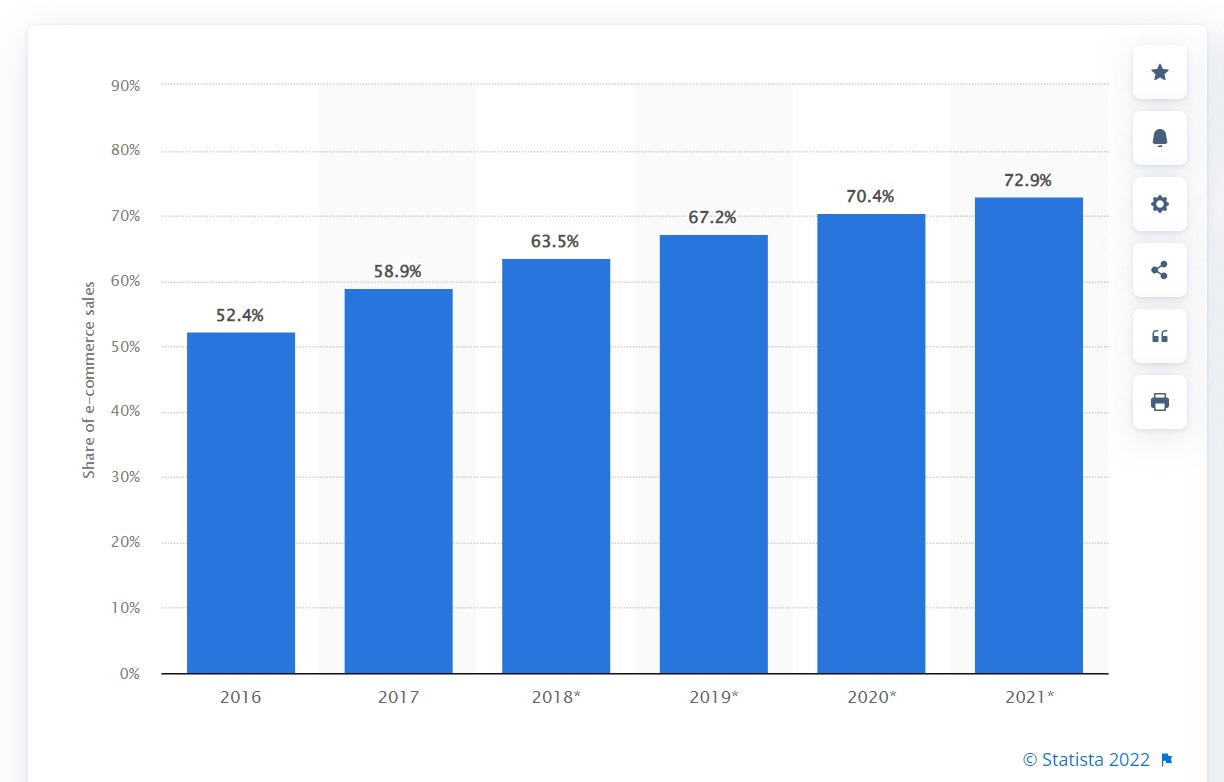 Caption: Worldwide mobile retail commerce sales share from 2016 to 2021 (Source: Statista)
Emerging eCommerce markets in mobile economies are driving the increasing mCommerce market share. Also, the number of mobile users has surpassed six billion and shows no sign of reducing soon. Additionally, Google enabled mobile-first indexing for all websites by default in 2019; this means that Google predominantly uses the mobile version for indexing and ranking.
Hence, your website must use a responsive design to be accessible on all devices and browsers. The goal is to adjust your website to whatever device your audience is viewing from so that the user experience does not suffer. If a user views your website that does not display correctly on mobile devices, the user will leave, and your bounce rate increases; this spells bad for SEO.
Run Google's Mobile-Friendly Test to check how your website displays on mobile devices. From here, you will find ways to improve your mobile website. Cater to mobile-friendliness when designing your website, as this goes a long way to boost your SEO.
5. Website Structure and Navigation
A hacked website shuns people away. The same applies to a messy and chaotic website. Your website structure determines how you present your website and its flow. A neatly organized website with easy-to-use navigation gives a seamless user experience; people will want to stay and make conversions.
Visitors happily navigate your website because they can easily find what they need. Your bounce rate reduces, and your ranking increases; this is great for SEO. Hence, when designing your website, remember to keep it clean, well-structured, and neat. All content and elements (headers, sub-headers, links, call-to-actions, and others) must be where people expect to see them. Your goal is to keep your readers happy and Google too.
These are some crucial tips to consider:
Create a content hierarchy – website pages are distributed through categories and subcategories.
Use a healthy balance when cross-linking between pages.
Make it so easy that navigating your website does not require much brain power.
6. Sitemap
Some may consider doing a sitemap a waste of time. I ask you to rethink if you believe the same. Your sitemap is a file that houses information about all content on your website (web pages, files, videos, images, relationships, and others).
Hence, it gives a helping hand to search engines to understand your website better by informing the key pages and explaining them. Google reads your sitemap to crawl your website more efficiently. As such, consider creating a sitemap as a helpful guide for search engines and newbies to your website; this helps with SEO.
7. Images
Your website cannot have only pure text; you lose out on the advantages of having an appealing visual aspect that people expect. Images play an essential role in your SEO. Like the phrase "A picture is worth a thousand words," the same applies to using relevant pictures on your website. It can take one image to pull at the heartstrings of your audience to make conversions.
Use only top-notch images. Poor quality ones won't cut it for SEO. Also, be mindful of the image size. A too big image is bad for speed. Since speed is a ranking signal, your SEO will suffer along with your ranking. Although it is tempting to use large and high-quality images, your designers must keep the size as small as possible.
Search engines crawl your website to understand it better, including your images. They 'see' the pictures and try to make sense of them. If the search engines cannot understand the purpose of the image, they get confused; this does not bode well for your ranking. Hence, put your file names into context and make them descriptive; they must make sense and relate to the image's purpose and content.
8. Alt Tags
Aka alt descriptions, alt tags appear when an image on your website fails to load. Many are leaning towards visual search capabilities. Also, Google uses alt tags to figure out your pictures. Hence, if Google can understand your image's intent and purpose, your image appears in the search results if it matches a user's search.
The alt tags help screen-reading tools describe images to visually impaired readers, giving them a good user experience; this improves overall accessibility. Ensure that your alt tags are accurately explained in a complete sentence, enabling search engines to crawl and rank your website better.
9. Keywords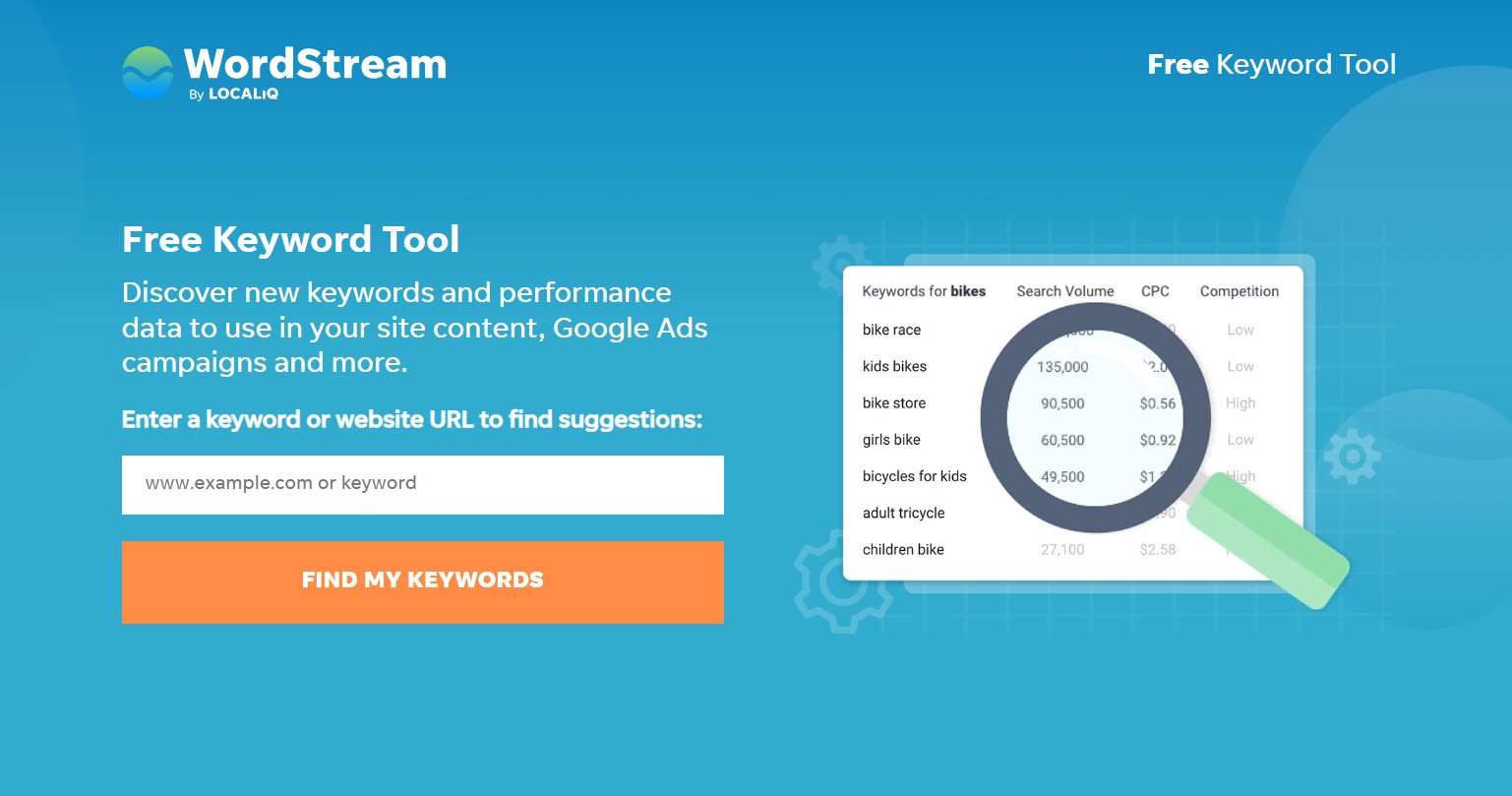 Caption: WordStream Free Keyword Tool seeks relevant keywords to leverage
(Source: WordStream Free Keyword Tool)
Keywords matter for SEO. They can range from single words to complex phrases. Keywords help explain the website's content and purpose. Your visitors use such keywords when searching for something. Hence, when used correctly, keywords are a conduit to attract and drive more traffic to your website.
Regularly use keyword tools to help you keep abreast of the latest and trending keywords you should leverage. Place the keywords in the following places (this list is not exhaustive) to help boost your SEO when designing your website:
Title tags
Headers
Sub-headers
Static content
URLs
Hyperlinks
File names
Alt tags
Captions
Placing relevant keywords in the right places helps search engines look more effectively and efficiently through your website when crawling. Your SEO improves. Boost Your SaaS & eCommerce Growth with Wytlabs
9. URLs
Many make the mistake of simply giving their website pages' URL names that do not make sense; this could be because you want your website up and fast. However, URLs are ranking signals. Search engines use URLs as a ranking factor. They look for the keywords in a URL to gauge what your website is all about.
However, Google sees URLs as a minimal search ranking factor. That said, Google still uses the keywords in a URL to grasp the website's intent for the first time. Hence, your URLs still play a role in your website's initial ranking for Google.
Each page's URL should have a clear and clean logical structure. It needs to be descriptive and self-explanatory; this also bodes well for your visitors as they can relate and remember better. Use keywords relevant to the web page and separate words by hyphens and not underscores.
Conclusion
SEO is essential to any business. However, many take SEO as an afterthought when completing the website design. I hope the above has established the unbreakable bond between SEO and website design. And understanding the relationship between this duo is crucial to helping you rank higher.
SEO must be built into the web design process. In other words, your website design needs to be optimized for SEO. Hence, peruse the above and optimize the relevant elements of your website to create top-notch user experiences to boost your ranking.
Author Profile
Pui Mun Beh is a digital marketer of WebRevenue. She keeps an eye on the latest digital marketing and social media trends. She loves to travel around the world offline and online. Say hello to her at LinkedIn.