A lot goes into web design; branding, UX/UI design, coding, development, and continuous user testing are often too much for business owners and stakeholders to handle. With the high costs of hiring an in-house designer (and the lack of a consistent need for a web design team), most organizations end up outsourcing their web design and development needs.
When it comes to hiring a web design team, there are two main avenues available: hiring a freelance web designer or enlisting the help of a professional web design agency. Each option presents its own unique advantages and drawbacks, and this article will explore the differences and similarities between them.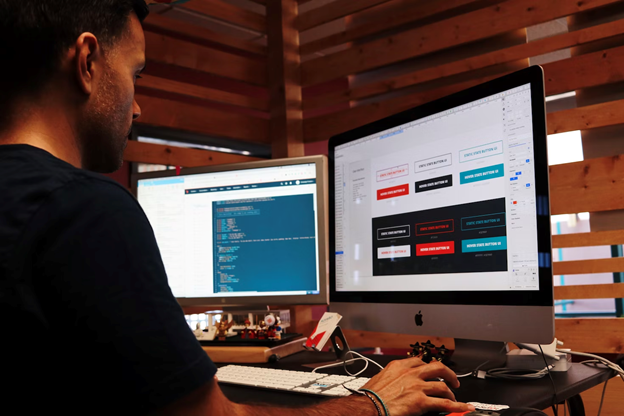 Photo: Unsplash
Hiring a Freelancer for Your Design Project
A freelancer is a self-employed professional who works on different projects for multiple clients. Freelancers don't typically have a signed employment contract, nor are they necessarily committed to a single employer long-term. In some cases, they can even work remotely or from their own home offices.
Freelancers offer specialized skills in particular areas, such as web design. If you need an effective website created or updated quickly, a freelancer can do the job for you without hassle or lengthy negotiations. Since an agency or company does not employ them, you will not have to worry about outside influences influencing the quality of their work.
Pros of Hiring a Web Design Freelancer
There are several benefits to working with a web design freelancer:
Flexible schedule: Freelancers work on their own time and usually have a remote working environment. This allows them to be flexible with their schedule so they can easily accommodate you in a timely manner. If you're the type of person who likes to have someone around to answer questions or provide feedback, this is a huge plus.
Lower cost: Freelancers often charge less than an agency for web design services. This makes them a great option if you're on a tight budget and don't mind sacrificing some quality for affordability.
No strings attached: Hiring an in-house web designer means committing to their employment. By law, you must also offer them benefits and salary requirements; rules that freelancers aren't subject to. This makes it easier to terminate a contract should the relationship not work out as planned.
Cons of Hiring a Freelance Web Designer
There are also drawbacks to hiring a web design freelancer:
Inconsistent quality: Low costs don't always equate to great quality. Freelancers often work on multiple projects at once and may not have the same level of experience as an agency. This can lead to sub-par designs and slow turnarounds that can harm your business's reputation.
Limited resources: When working with a freelancer, you are limited to their skills, creativity, and resources. This means you won't have access to the same level of expertise and resources that a larger agency would provide.
No guarantee: Since freelancers work on their own time and typically don't have any kind of contract, there is no guarantee that they will complete your project as agreed upon or meet deadlines. This can be frustrating and make it difficult to get the results you need.
Hiring a Web Design Agency
A professional web design agency like Bizango is a full-service firm that specializes in website design, development, and maintenance. Agencies employ experienced professionals who have years of experience creating attractive and user-friendly websites for businesses of all sizes. They have access to top-of-the-line technology and resources that can help ensure your website looks great and functions correctly.
Pros of Hiring an Agency to Design Your Website
Whether you need a website redesign or a completely new site, here are some benefits to working with an experienced web design agency:
High-quality results: Agencies have the resources and expertise to create stunning websites. They use the latest technology and trends while adhering to industry standards so you can trust that the end result will be of high quality.
Guaranteed customer service: Agencies provide a dedicated customer support team that is available to answer any questions or address any issues you may have. This ensures that someone will always be there to assist you when needed.
Long-term commitment: Unlike with freelancers, agencies are committed to their clients long-term and can offer ongoing maintenance and support as needed. However, this may come with added costs depending on the contract you sign.
Cons of Hiring a Web Design Agency
The primary drawbacks of working with an agency include:
High cost: Agencies charge more than freelancers for web design services because they come with added benefits and resources. This may make them unaffordable for some budgets.
Restrictions: Working with an agency often comes with restrictions that may limit your creativity or ability to get the exact design you're looking for. You will have to work within their guidelines and follow their processes while they create your website.
Time-consuming process: Agencies typically take longer to complete projects than freelancers. This can be a downside if you need a website quickly or have a tight deadline to meet.
You might work with a freelancer anyways: Many agencies operate without in-house teams, instead outsourcing projects to freelancers. While these freelancers are usually vetted for quality, you might end up working with a freelancer anyway, but at a higher cost.
Endnote
No matter which option you choose for your web design needs, it is important to do your research and find the best fit for your business. Taking the time to compare pricing, services, and resources can help you find the perfect web designer to create an attractive and user-friendly website for your business.