Do you own a car shop or auto repair business? Do you have a logo that works for your business or could it use a facelift? It's tough to know where to start sometimes when it comes to developing a logo for your business.
If you have a car shop or auto repair business, how do you define what you do?
The most important thing you need to do to create the right logo is to understand your business and know the standards of your industry first. Then also think about what you do as a business to help people. What services or products do you offer? For example, with an auto repair business, your business is all about keeping your customers' car in tip-top shape for them. Your client depends on you to fix their car when it is in need of repair.
This means that you have to be confident in your abilities as a car repair shop owner and exude professionalism in all that you do. Are there aspects of your business that you want to include in your car repair shop logo?
Before starting the design process, you need to establish your brand with a suitable business name. Take your time to brainstorm or use a business name generator to help with the process.
How to Choose Colors
Color in logo design is important too. What colors could you use to illustrate your business to potential customers that would help them understand your industry or your auto repair business. You may want to look at the color of your building or other assets but don't base it solely on this. More importantly, think about the colors that you envision your brand having to illustrate its personality. Yellow and orange are cheery, friendly colors. Black stands for strength and professionalism. Blue is calming and creative. Which one illustrates your business the best?
Take a look at these examples from other auto repair or car shop businesses and see if you can figure out some things to do with your own auto business.

Examples of Great Logo Design for Auto Repair Businesses
Masimus Automotive had us create this logo design for them. It is a bold red, brown, and yellow blend that comes off as a strong emblem for this auto repair company.
One of the things that catch the eye with this logo is the appearance of two sports cars on either side of the name, which adds to the strength of the logo.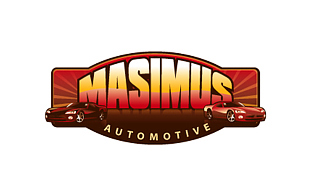 Teristart Car Diagram
This logo we created for the Teristart Car Diagram business, illustrates the most important aspect of this company's business: car design. Unlike an auto repair shop, people can look at this logo and tell immediately that they are about car designs.
It's important to be able to figure out what a brand represents within only a few seconds of looking at the logo. If a customer has to try to figure out what you do from your logo and they have trouble doing it, this is a sure sign that you are not making your meaning clear.
Strive to create a logo that speaks volumes about your business or brand before they ever hear an advertisement from you.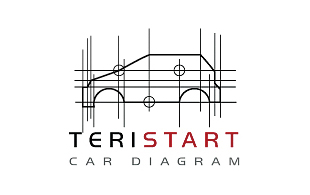 3D Gear
This logo for a company known as 3D Gear serves to illustrate this point also. You'll notice that there is not a car in the picture at all. Rather, it is a graphic that features a gear that appears to be moving within the logo. This is further enhanced by the shining black letters in the main title coupled with shades of silvery gray that reflect off of the logo.
This all serves to give this logo a bit of motion even though it is a static logo and not an animated one.
People can quickly look at this logo and tell that it is about keeping your car running smoothly or adding onto your vehicle with some sort of mechanical upgrade since the focus is obviously on gears and machinations.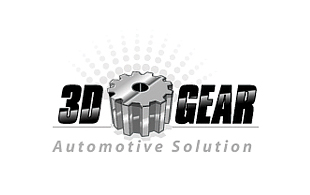 Horizon
Horizon is a brand that stands out as a quality business due to this beautiful logo which features a silver convertible car with gorgeous raised metallic silver letters and a "horizon" in the background (sunset and birds). This leaves much to the imagination on what the "Horizon" brand is about and suggests a dreamy type of inference that could mean that "anything is possible."
Adding this bit of mystical quality to the logo creates a bit of mystery that adds to the brand image through this logo.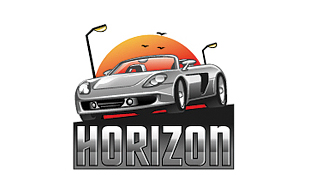 What to Include in Your Auto Repair Shop Logo
Okay, there are some of our best examples. But what types of things should you include in your auto repair or car shop logo for your car business? The answer is anything you want to. But make sure that you include the most important elements of your business.
What does your business stand for? What do you focus on as a company? Are you about repairs mostly or do you also sell cars? These questions are important to answer because they will determine what you should include in your logo.
If you are a repair shop, the "gears" idea is a good one since you are all about keeping a car running smoothly. If you sell cars, you'll probably want to include a graphic of a stunning car that is for sale at the forefront.
So first, define what you do and make it direct. Then think about how you will represent that within your logo. Also, consider using the services of a report design agency to increase your client base.
Are you more about people or machines?
One funny but important question that you should answer before proceeding is whether you are more about people or machines. Think about your car business. What does a day look like at your place of business? Do you have lots of interactions with people such as people looking to buy a car or talk with your staff about making a deal? Or do you mostly have people dropping off their car for repairs where the focus is on car mechanics doing their repairs and then calling the owner to come pick it up at the end of the day?
It's really important to nail down this important detail because you have limited space on which to put items on your company logo and you need to know which ones to focus on.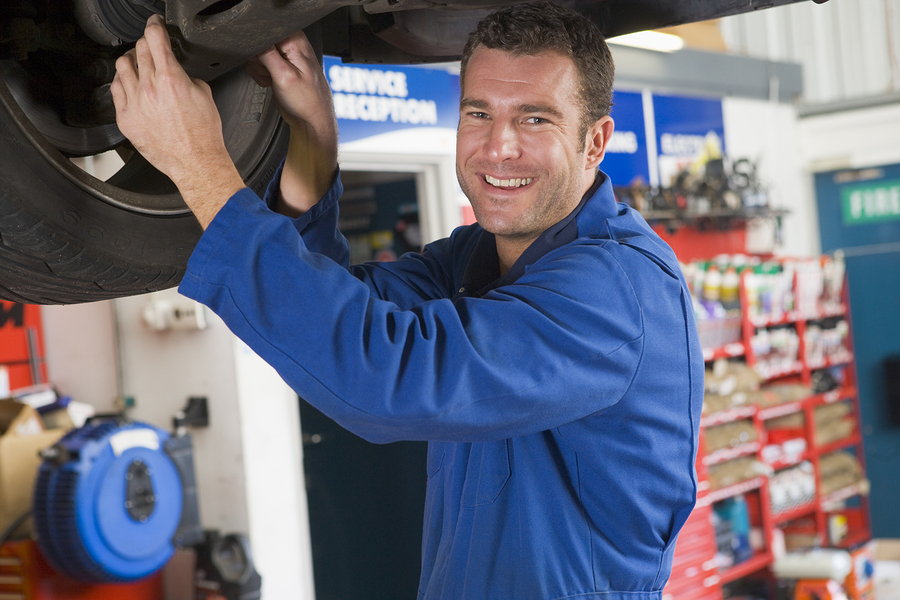 Name your best quality.
If we were to ask you what the best aspect or quality of your business is, what would you say? Better yet, what would your customers say? Would they say you are friendly, fast, efficient? Do you take pride in the fact that all of your mechanics are skilled car body repair people as well as certified mechanics?
Whatever it is that you do, do it well and be the best at it. Then figure out what elements to include in your logo to represent this achievement.
Whatever you do, you need to put your best qualities forward and get the attention of your intended audience with your primary accolades for your business.

About Logo Design Team
At Logo Design Team, we pride ourselves in creating custom logos for our customers no matter what type of industry they are in. View more of our auto logo samples here and then call us.
We can help you create a custom logo that will get the attention of your target audience. Please find out some facts about photoshop