In this informative blog about hand lettering basics, we will be highlighting every aspect of this extensive creative skill of the design world. We will also throw some light on how it can change the game for visual-based online marketing endeavors. In the vast area of designing, the words that are chosen for accompanying them are carefully selected so that their typeset can have the desired impact on the onlooker. It is to be understood duly that not every font are designed over the machine; a significant chunk of the fonts are created manually by people. Thus the concept of hand lettering came into being.
It is a very common misconception that since the advancement of technology, fonts have also generated from them entirely. The reality is that, professionals have spent days and months working behind the hand lettering basics and the lettering ideas and the result of their brainstorming is what we have as a large pool of hundreds of fonts for various usages across various platforms.
What makes hand lettering art different from fonts?
Typefaces and fonts are re-arranged and designed in such a way so that the users always find convenience while using them. Today, they can be created and at the same time, deleted with just a push of the key. Letters are an art form. As any artists draw natural objects and elements like trees, birds, or any other objects, they also draw up letters. The main point of difference is that letters can never be re-arranged and should be used as per the desire of its usage.
Why can't we use font instead of letters more?
There is a common question that people always ask- why do people still draw letters when there are fonts that are already there or can be created as well?
To speak the truth, the design industry has attained a level of saturation by using the same fonts put to work by both designers and non-designers. Therefore, the industry is now lacking personality as well as authenticity. To eliminate this stagnation, the professionals have made it a point to use creatively formed letters instead of pre-designed fonts.
Hand letters are more authentic and closer to hand-crafted look. There is indeed an essence of authenticity that plays a significant role in appealing to the onlooker.
But hand lettering cannot be perfect all the time
And this is true. The beauty of hand lettering lies in the imperfections that are within the process. The fabulous designs of curves, color palettes, shades and lines give a human the feel of standing tall in the crowd. The unique personality of hand letters appeals to the eye. This is indeed a skill that requires years of practice to be mastered.
The personality of words is important
Fonts are created so that they can be used across multiple networks. They do not carry any kind of tone and hence, they do not clash and take away any attribute of the design. They just communicate the information that is reflected through them. Hand lettering is intended to give meaning to a design which can be vibrant, fun, powerful, or casual. This is the capability of hand lettering, which acts as the personality of the content presented.
Hand lettering, as mentioned before, can be used across multiple verticals like- packaging, apparel, marketing materials, posters and so on.
The quick hand lettering guide to customized letterforms
Unlike fonts, hand letters are specific. It can make a business stand out successfully amidst cut-throat competition. The best example can be cited through the usage of the logo, which can easily be formed through hand lettering techniques. In this case, the minimalist hand-lettering method is used to make the logo unique to the brand's ethos. Here are 5 tips to simple hand lettering for beginners to spruce up your understanding in hand lettering basics laid down by two lettering experts Roxy Prima & Annica Lydenberg.
1.  Choose your primary tool of interest work
Do you want to do hand lettering with pencil? Or do you want to use a pen? It is all about the right supplies that will make the job of hand lettering easier for the artist. The style of every artist is different, rather unique, so the choice of tools also varies with the unique requirement. At this point, we'll highlight on pencils and pens used for hand lettering art.
Pencil Art
Pencils are of main 3 types, viz; Hard (6H), Soft (6B) and HB (hard and soft). Typically, designs are 1st made with soft pencils and then, the final touches and progressions are made with harder pencils with darker shades. You can refer to this amazing pencil hardness guide for your further understanding.
Pen Art
Pens too come with a plethora of variety and therefore, this too depends on the style and requirement of the artists. Every hand lettering professionals must have the fine tip pen in their designing kitty that helps in forming and coloring the letters. The fine tip pens are ideal for putting more focus on the detailing of the letters. In case the artist is inclined in a looser or freestyle pattern, brush pens are the things to look out for.
2. Start With Lettering Exercise
This simple warming up technique involves practicing the curves and lines of hand lettering so that the process seems to be seamless for the artist. Start with drawing angular straight lines on the paper, then moving to simple curves and then over to some complex curves. This exercise will definitely rev-up the project. The continuous twirling and extending of lines from the practice sheet will let the artist to enhance his or her skill in creating new kind of designs.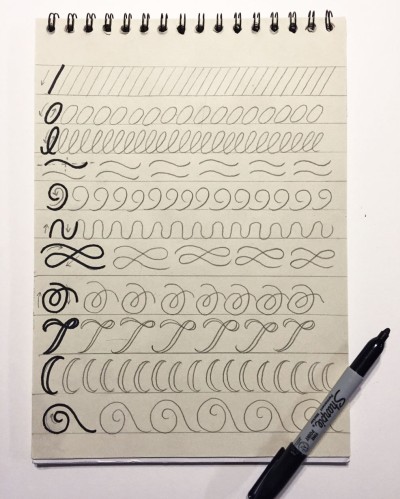 Source:
https://www.creativelive.com/blog/hand-lettering-for-beginners/
3. Choose The Right Base
From sketchbooks to scrap papers, artists need to keep their medium of idea presentation handy. Why? Because inspiration of creation is everywhere. If you are into using ink pens, it is logical to choose a thick paper so that the ink does not blot or get soaked in the sheet. A thick paper lets the ink dry faster as well. Another one is the tracing paper. Suppose the artist or the professional is on the go and suddenly, he or she is struck by an idea. The best medium at that moment will be this tracing paper, which will give a clear indicator of what the artist is thinking and how to create a font, idea of which came all of a sudden.
4. Initiate With The Art Of Lettering
Just choose a random word or choose a letter of your likes. Draw the letter or the word in as many ways as you would want it to be. The different styles which you draw in will reflect what your creative inclination would be with. After you determine the style best one amidst the variety you created, keep practicing by writing other words or other letters or you can also create the entire 26 alphabets in your fonts. The most important point is to grasp on to the consistency of the newly created font so that whenever the artist uses it, the font does not feel anything unusual.
5. Enrich Your Portfolio With Finished Designs
Create an interesting portfolio for your employers by making a great collection of the fonts that you come up with. That will fetch you not just your dream job, but eventually, as an artist, you can definitely contribute a fresh design to the vast arena of graphic designing. The golden rule is to never be afraid of trying something new, so you can mix the fonts as well and whip up a brand new one. The more creative your portfolio will be, the better your chances will be for making the graphic designing precinct enriched with unparalleled creativity.
If you have followed the ultimate hand lettering basics, you will understand that this is not merely the art of decorating letters; rather is an extremely powerful aesthetical aspect of design that can pose as excellent solution to any sudden or persistent designing challenge. Hand lettering puts personality into words, making them authentic looking and also eye-catching. It is always about the first impression in graphic design and so hand lettering aids the creative fonts to stand tall amidst the crowd. The designs are catchy and easily impressionable, the two attributes of successful branding.
Takeaway:
Fonts are created by people
Fonts are created for convenience
Hand letters give voice to the words
Hand letters are custom-built solutions
Hand letters are unique & one of a kind
Choose the Logo Design Team
At Logo Design Team, we have always dedicated our creative journey to the success of our valued customers. We deliver perfection for every client project that is unique as per the requisites. Take a look at our portfolio and discover the array of services that we specialize in and make us your partner of growth. Logo Design Team will be happy to help.
Post text: In this blog, discover how hand lettering art enhances the and enriches the graphic designing requisites for every artist.
Meta description: Find out the essential hand lettering basics to rev-up your artist portfolio for your next project.