What's in a name? William Shakespeare is the first one who made this quote popular. It was featured in his famous play, "Romeo and Juliet." What this phrase means today holds, even more meaning for the online business owner who needs to stand out in a crowd. People judge your values, your quality level, and your credibility on your logo. It's that important.
With an always increasing number of online websites and businesses competing for attention, it is imperative that you find a way to achieve this uniqueness.

Words to Live By
Perhaps this is what Roger Stone, legendary campaign manager and writer meant when he said, "It's better to be infamous than not famous at all." He said this with tongue in cheek, but the basic idea is well understood by the small business owner who sees their web traffic beaten down by the bigger, more influential companies for online traffic.
The Importance of Branding
Branding is the essence of success in business. Branding is not just one thing you do. It's not just your brand name or your website. It's not your business cards or your product line. It's a culmination of all of these things and more. At the heart of branding is your professional business logo.
Look at your logo and make some notes about it. Write down everything you think about when you see it. Does it accurately reflect your brand or could it use some help? Logo repair is an option if you have a good business logo, but it just lacks pizazz or brilliance.
Make it Special!
It's not enough to just have a logo. That's like saying you just have a website. Like your business, everything that you associate with your business and your brand needs to be special in some way. This can be done in a variety of ways.

Color– The color of your logo means something. The color is interpreted in a variety of ways. Much of this meaning will be derived from the universal significance of the colors that you choose. If you have a cheery, personable type of business, consider using yellow or oranges. These colors indicate friendliness and openness. If you want to make a statement, consider red. Want to look professional and dignified? Try navy blue or black to get this across. Colors can also be blended or used in some complimentary way within your logo to portray a message that you cannot accomplish with words.
Shape and texture– The form and texture of your logo is also important. You can use raised textures or wooden looks or metallic finishes to add to the style as well. This should be driven by your business goals and what you wish to communicate about your brand.
Fonts-Fonts are important to the look of your logo. When it comes to your brand name, think about how your fonts are influencing public opinion about your brand. Would a bolder look do the trick? You'd be surprised how just one small change can make all of the difference in the world.
Special effects– Special effects can be applied using 3D logo makers or other similar tools to create the illusion of multiple dimensions. This feeling that you could reach out and touch your logo may be what it needs to be successful.
Characterization– You can create characters to symbolize your brand if you have a mascot or image that you want to use for this. This should be chosen carefully, but it can serve to be a good way to connect with your audience.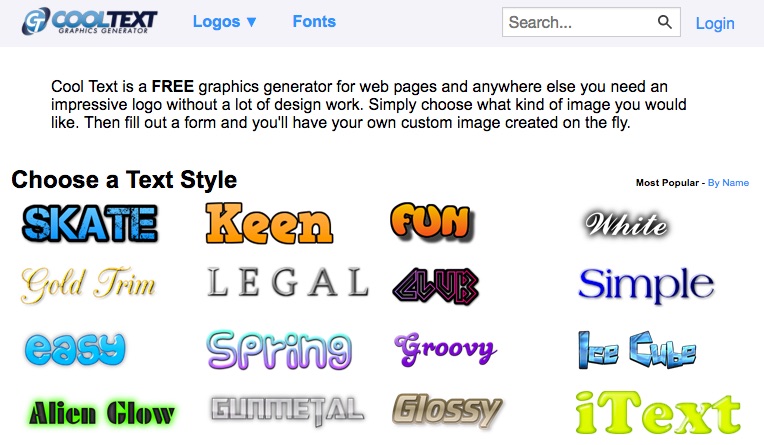 Creating 3D Logos Online
If you want to create 3D logos for your brand, you can go to an online site such as Cooltext.com to start. They have been offering this free service for over ten years now, and many people have found their tools very useful when creating a professional-looking logo.
However, remember the rule: "If it can be imitated, it can be copied." That's just a quote we just made up. But it's true. Think about it. If you know about the Cooltext.com site, isn't it also possible that many other online businesses know about it, too? You may create a great-looking 3D logo with their online tools. But someone else could come along and create the same logo and use it on their site. There's nothing you can do about copyright either because all of the logos that you create have a creative commons license. This means that others could create and use the same textures, fonts, and logo without any cost. The very fact that it is free opens the door to multiple uses which means that your logo is not original if you created it on a preformatted site.

Nothing is Said Til the Artist is Dead
There is another saying that is similar: "Good artists create. Great artists steal."
The great artist, Picasso said this, but he created original art that no one else had ever done.
Regarding your logo, even though you can produce a pretty good logo on a 3D logo site, on Cooltext.com, you can only use text. It does not offer any way to create business logos using graphics or characterizations. You can apply special effects as we discussed in the above paragraph. But these are limited to the various font choices that the site offers.
How to Use Cooltext.com
The best idea is to use a site such as Cooltext.com as a precursor for creating your original business logo. Use it as a practice site to play with various fonts and looks until you find something you like. You could even use it as a temporary logo if you are just starting your business.
But your logo and your branding are important. And they must be original. You don't want to get stuck using something that can be stolen, imitated, or copied.
Instead, get an original logo designed by us, the experts at logodesignteam.com. We take pride in our ability to tap into what a business is after to capture the heart of their business. Then we go a step further, and we get your logo copyrighted and trademarked for you so that you don't have to worry about someone else using the idea.
Be Original
Your business is unique. It is original. You need to protect your brand and your logo in the same way that you protect your home and your identity. Have you considered an animated logo? Check out these samples on our portfolio site.

We can help. Go to our site and check out our online portfolio. Then let us know how we can help. When you're serious about creating a professional business logo, we're the ones to call.
Think of your logo as the virtual handshake that you give to your unseen prospects. Unlike in the real world, you're not there to meet and greet people as they come into your virtual store. In fact, if you lose them on the first hello, you may never even know that they were there at all!
That's logodesignteam.com. Because there's everything in a name!