Amongst the most difficult challenges that every creative person face is to stay updated in the ever changing design industry, which designs for everyone – from startups, to celebrities to MNCs. It is important to be aware of all the latest know how, software, hacks and the work being done around the world, lest you become obsolete.
And if you truly aspire to be a sought-after graphic designer, then below are a few blogs that'll help you stay on top of your game in the design space:
1) Creativereview.co.uk
This is a blog that lets you see how design impacts various industries. They talk about art, social media, food, advertising, photography, branding, digital marketing, books, Film & Television, fashion, music and more. No other blog covers as many fields to help you get acquainted with the different design trends. Truly a great paradise for design enthusiast to get lost in!
The large number of posts will wow you every time you visit the blog. They have 9 impressive writers who are experts in specific domains. This truly is a one stop shop for all kinds of contemporary artistic motivations that you need. Above all, this blog is heaven for all creative professionals and getting your work posted here means one thing – YOU HAVE ARRIVED!!!

2) Designrfix.com
Designrfix, as the name suggests, provides a laundry list of design hacks from around the world. Their main focus is fixing any botched up designs and impressing the client in a short period of time. They have interesting listicles of how each project must be approached.
The blog is a gold mine of information for any beginner looking to make an impression on his clients/superiors. The most interesting aspect here is that they also give solutions to make your artwork more engaging or marketable on the different mediums.
Another highlight of this blog is that it is not meant only for designers, but also aims to help all those entrepreneurs who have to double up as designers for their startup.
3) Creativebloq.com
Creativebloq is another blog that has a huge collection of lists that let you understand the finer aspects of designing with ease. Their blog posts focus entirely on helping people transform from an average designer to an expert designer. Their blogs have a loyal following of hardcore designers whose main focus is winning awards. Yes, that's how deep this blog is!! Their 'HOW TO' posts are also some of the bests you can come across. They let you know about the finer nuances of designing and give a much better visual appeal than the usual artworks found online. If you follow this blog regularly, you will be able to get some tips for enhancing your business through attraction marketing.
4) onextrapixel.com
Onextrapixel is your bible of design hacks!! Need someone who can speak to you in your language for anything related to design?…Then this is the place to be. They have guides, tutorials, video links, smart hacks and a lot of other tricks up their sleeves, to make designing an easy and an enjoyable process. Most suitable for tinkering with Photoshop and WordPress, but their social media, illustration, photography and logo designing tips are legendary.
5) Designfestival.com
Designfestival is a blog that is highly specific about the tools that one must have or should use for specific design assignments. That is because the blog is backed by Microsoft. The best part is that it highlights aspects about key softwares that you never knew existed!! Even though it is a Microsoft sponsored blog, it is highly informative and is best for companies/freelancers who work on designing websites, social media creatives and other media artwork. It is one of the few blogs that successfully merges all mediums where skilled creative work is necessary.
6) Inspirationfeed.com
Inspirationfeed has some of the most creative bloggers and writers. Their articles are well thought of and focus on demystifying specific design concepts with every post. Although their list of guides, hacks and tutorials is not as exhaustive as a few other blogs, they are highly effective and useful for a designer's daily life. The same is applicable for the freebies offered on their page. Their articles and other offerings underscore their belief of giving quality over quantity to the readers.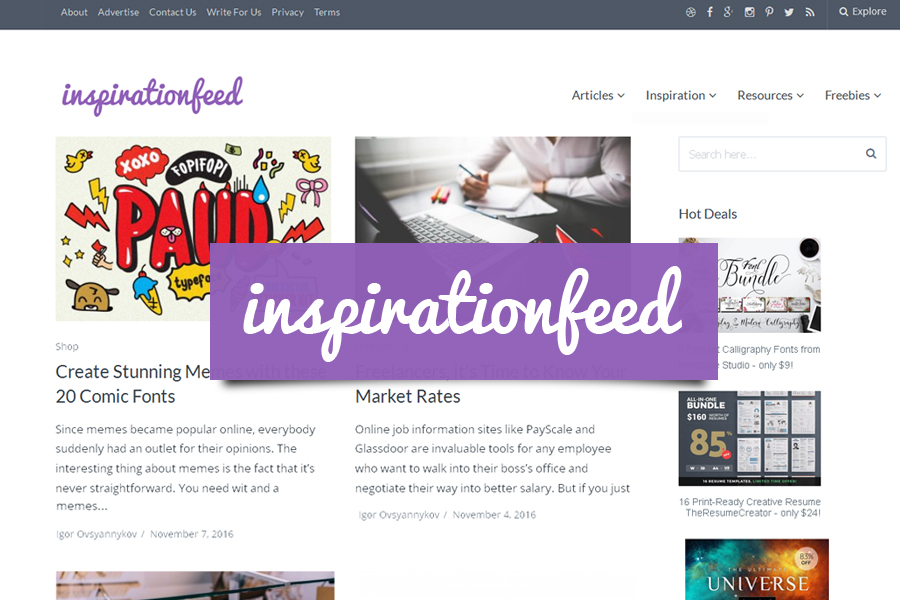 7) Speckyboy.com
This is a design magazine that exists primarily to help design agencies and freelancers with web designing and WordPress. Their tutorials are to the point and explain every aspect of design in detail. They do provide 'cool' and fun facts about Photoshop, illustration, photography, WordPress etc. Though there aren't too many freebies you can access from this page, but if you are serious about designing web blogs and other WordPress blogs, then this is the place to learn and become an expert. Checking this page is highly recommended, and considering their regular posts that some way cover Photoshop and other design softwares can help you rapidly move from being a freelance consultant to an industry expert.
8) Youthedesigner.com
Youthdesigner has an excellent collection of inspiring design work to help you ideate for your next assignment. They analyze and interpret many designs and art pieces in great detail. Their blog can help you move from being a beginner/intermediate designer to someone who has an eye for detail. No wonder they have a lot of followers! Their views are highly sought after as they have been able to track and successfully map the career trajectory of many acclaimed designers who are very successful today. A lot of readers interact with their team to get their point of view about their work.

9) Designbeep.com
Designbeep is your hangout for all the coolest freebies available online. They have the latest icons, posters, images, web blog templates, wordpress hacks, plugins, photoshop tools etc. which are free for your professional use. This is a paradise for all designers who hope to staye dated of all the latest existing trends globally. Their editorial team is amongst the most active on Google as you get all your design goodies updated every week. Moreover, what is noteworthy about Designbeep is their ability to collate a wide range of tools and hacks that become obsolete every few days.
10) Creativenerds.co.uk
Creativenerds has the best collection of easy to follow tutorial videos. They also have the best listicles of all the design blogs, which actually force you to think more about what you could be missing out on. The listicles are comprehensive and well researched. The information provided about the latest trends is quite exhaustive. The highlights are the free fonts, icons, image editing software brushes and other cool tools that you get at one place. Searching for these tools normally is a time consuming process.
Conclusion
The list of such design blogs is endless, but a glance through the ones mentioned above and you can be assured that you are clued in to just about everything that is happening in the design industry! Godspeed!
We are LogoDesignTeam, we think ahead trends and time in delivering an unique and timeless design. Because we do it right. You want it, we'll give it to you. Contact us here!