Logos are important. They aren't just an identity for a brand or business, it's also the first thing that comes to mind when someone sees or thinks about your name or what you represent.
For example… if I was to say the word "Nike" you would probably think about their swoosh logo or "Just Do It". If I was to show you a picture of an apple with a bite taken out of it, you would instantly recognize it as the logo for Apple. Should you see an image of a target symbol, even if it wasn't associated with the brand, you will still likely think of the Target shopping brand.
The important thing to stress here is that logos are working for their brands every second of every day, even if it wasn't intended to be that way. Whether you are driving down the stress, reading a magazine, watching TV or browsing online… just the glimpse of a well-known brand or logo is enough to not only improve their branding, but also a great way to increase sales and customer loyalty.
Once you've had a logo designed for your site or business, it's then time to s

tart an effective marketing campaign. This doesn't mean you need to start spending money to get your logo and brand out there, it simply means you need to know when, where and how to start using your logo. A perfect example of this would be your main website, blog, social profiles, emails and much more — all of which are key components to creating a perfect branding platform for your logo online.
In this article, we are going to cover all of these key components to branding and advertising, while also showing you how other top brands are using these methods as well.
3 Ways to Effectively Promote Your Brand and Logo 24/7
In the world of online business and connectivity, the amount of time someone might stay on your website, see your social profile updates or read through your emails is maybe just a few seconds on average. Make these seconds count by having your logo and brand viewable at all times.
It takes the average person seven times to see (reviews or advertisements) something before making a final purchase. This same concept should be used when promoting your logo and brand online. Implement the following tips and methods to make sure your brand is getting the exposure and attention it deserves, every second of the day.
Email Signatures
How many emails do you send out and receive per day? 20.. 30… maybe even 100! No matter how many it is, multiply that number by 365 (days in the year) and you likely send out several thousands of emails per year.
Now the next question is… what are you using at the end of your emails as your signature? If you are still typing your name in at the end of each email, not only are you wasting time — you are wasting precious branding space as well!
One such tool for making this process a lot easier and more brandable is WiseStamp. It's a tool that makes it easy for anyone to create a fully customize signature for their outgoing emails. Instead of just typing your name in at the end of each email, include a signature with your picture (or brand logo) and links to your main website and social profiles.
Take a look at the example below and think about how a custom email signature might benefit you. Not only is the company logo included in each email, so is the contact information, a photo, websites and social profiles.
Logo Placements on Websites and Blogs
Adding your logo to the top of your website or blog seems like a no-brainer, but it's someone many brands still forget to do. Not only does this make the site look less professional, it can also confuse the end user as the branding might not be consistent throughout your sites.
The reason why we also mention blogs is that many sites will launch a blog from their main site, but then it will have a completely different look and feel to it. This is usually because it's a fresh WordPress install. If this is something your brand is currently doing… it's a big mistake! You must have consistency with your logo usage and how people see it as they browse through your site properties.
Below you can see an example of how Social Media Examiner uses not only their main logo and mascot at the top of each page of their site, they also use the same branding throughout their site — specifically on the right side column for their mailing subscription form and they also find a matching image for the top of each blog post as well. This continued branding throughout the site not only breaks apart the content and makes it easy to navigate through their site, it's also a great way to brand the identity of "Social Media Examiner", so should any visitors of their site see this little mascot guy elsewhere, they would immediately recognize where it was from.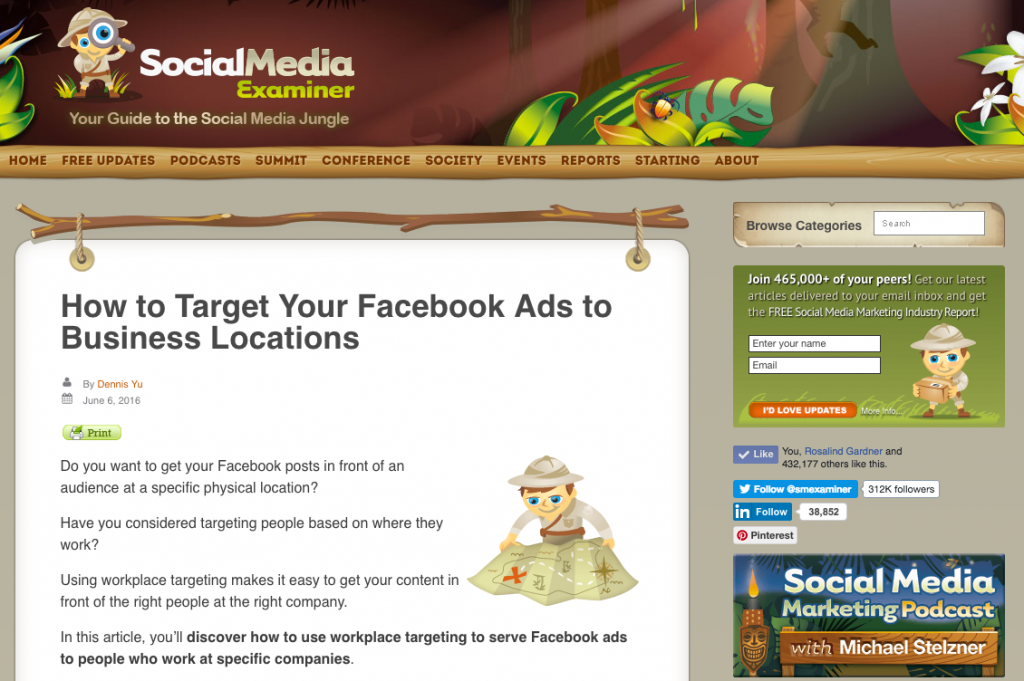 This is a recommended practice for all websites, blogs and brands. Take the time to make sure your logo is properly placed within your site content and if you can't make it look the way you'd like, be sure to contact a designer for customization or use our logo repair services to clean up or update your logo for digital formatting to your liking. The same applies for creating different versions of your logo or mascot as well.
Twitter and Facebook Backgrounds
With over 3 billion users across all of the major social networks, this is simply one of the best ways to continually show off your brand and logo to new audiences. In fact, your Twitter and Facebook backgrounds and profile pictures are probably seen thousands of times daily. These two social networks alone can act as online billboards for your brand.
We already know some of the biggest brands and businesses in the world today actively use social media. This leads way for a perfect learning experiencing and seeing how they are using social profiles and fan pages to further brand themselves.
Below you will see how Coca-Cola uses their Twitter page to not only brand the company but also to further promote their "Share a Coke and a Song" campaign.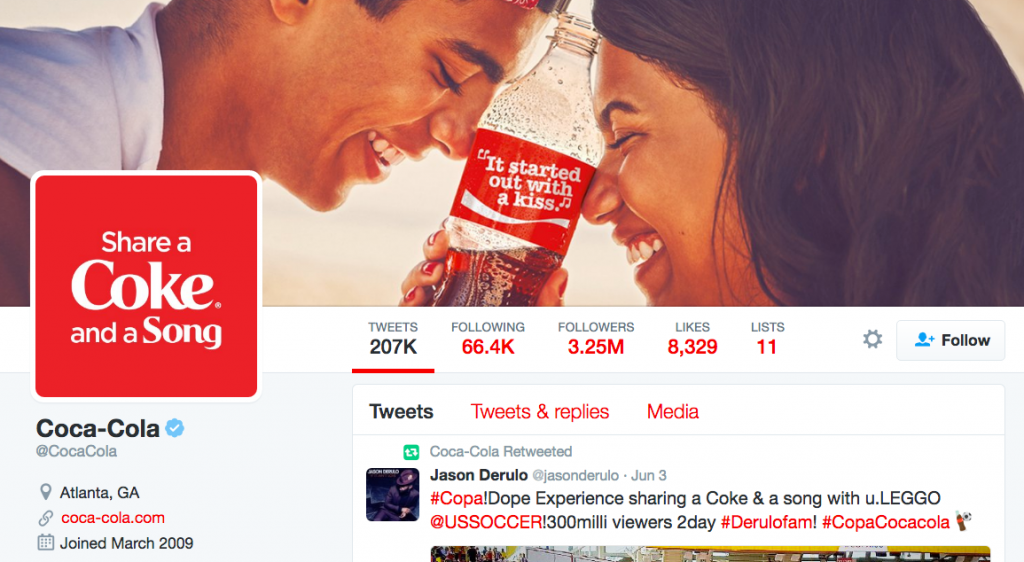 The same methods are currently taking place on Facebook as well. Below you will see a screenshot of how Nike uses their icon as their profile picture and their simple (yet well known) logo of "Just Do It." as the background picture.

To see more examples of what top brands are doing on Twitter and Facebook, browse through this list of top brands on social media.

Your Logo is Only as Good as You Promote It
No matter how great the logo, mascot or tagline for your brand or business might be, if no one sees it, it simply doesn't matter.
Now it's time for you to take each of the actionable tips above and implementing them into your email, websites, and social media profiles. The faster you make these changes, the more benefit you will receive out of them. In fact, someone is probably viewing one of your websites or social profiles right now! Are they getting the branded experience you'd like them to receive?
If you don't currently have a logo design for your site or you aren't happy with the one you already have, contact our design team and see how a new logo can bring your brand and business to life. Take a few minutes to browse through our existing logo portfolio to see if you get any ideas for how you would like your brand represented.
Thinking ahead in terms of trends and time. We aim to create designs which will remain unique and iconic, in other words – timeless designs. You want it, we'll give it to you. Give us a buzz here.