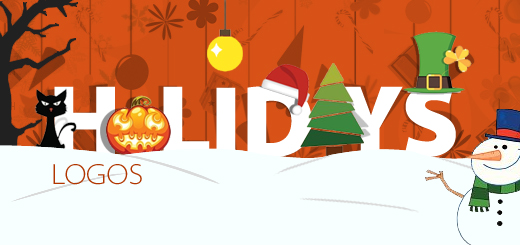 4th of July, Halloween, Queen's Birthday or any other holiday, festival or occasion is coming near? How to make it memorable for your customers? Google has found a great solution – Doodles. And folks really love them! People are really upset when this or that regional holiday has not been highlighted via Doodle, for example, Indian Diwali last year. So why shouldn't your company logo has its own holiday variations? It should. Because it is cool, fresh and simply great looking.

Getting Festive with Your Logo Designs
Let's talk about the benefits of holiday logos. First of all, they are a great way of getting in sync with your clients emotional side. Remember how you feel when you find a nicely designed Google Christmas or any other Doodle? Most probably you are attached to it and are ready to spend some time enjoying it (or even playing with it in case it is animated). So holiday logos help you build an unique and everlasting connection among your business and your customers.
Moreover those clients who like to rejoice a particular festival or occasion will feel valued and grateful to your business. It is an original way to remind your customers that you care for them on every occasion. It also shows that you and your business share the same values as your clients.
Holiday logos are especially beneficial when your company is about to introduce some seasonal discounts or offers to your clientele. Your outstanding holiday logo will attract much higher attention and may increase traffic to your website. These special logos also boost the morale of your employees by sparking the holiday spirit in them. Isn't it great – you reach both internal and external goals at once!

However, not everything is so unclouded here. The problem is to identify when and which holiday logos are good for your company. Sometimes the nature and business scope of your company won't allow you to use holiday logos. For example, if your company is in some somber or sober business – if you are an owner of a funeral home this article is of no use for you. Also if you are a multinational company there is no point of designing holiday logos for all small regional holidays. What is well-known in Europe or America may be confusing for your Asian clients. So as long as you are not Google that can afford regional sites and regional doodles for everyday, it is advisable to have holiday logos only for the world-known holidays, like New Year, Christmas, Easter and few others.
So as you may see, holiday logos are great and it is very much advisable to use them for your business. However, like in everything and everywhere, use your common sense to identify which holidays should be highlighted in your logo and which not. This way you will bring a great value to your business and make it prosper.
Order a Custom Logo or Graphic Design to Enhance Your Brand
No matter what type of personal brand, business or organization you are running, having a great first impression means everything. One of the best ways to deliver a lasting impression is through the use of a high-quality logo and professional images and designs throughout all of your products and branding.
Avail our best selling packages and let us help you create the ultimate packaging designs and company branding message you've always dreamed of! Or contact our graphics design team today, we'll be glad to listen you out.