Initiating your own business can be a refreshing and incredible journey. However, many find it challenging to portray their creative side. Yet, being innovative means you have exceptional graphics and logo designs. Your logo holds power as the visual feature that attracts customers. It should capture your vision, mission, and values.
This article will explore the essence of making a digital agency logo exceptional. Find out how to make a lasting impression on clients, partners, and audiences. You will learn about the secrets behind captivating designs that capture your essence. Consider the tips below, from leveraging typography to adapting to the digital ecosystem.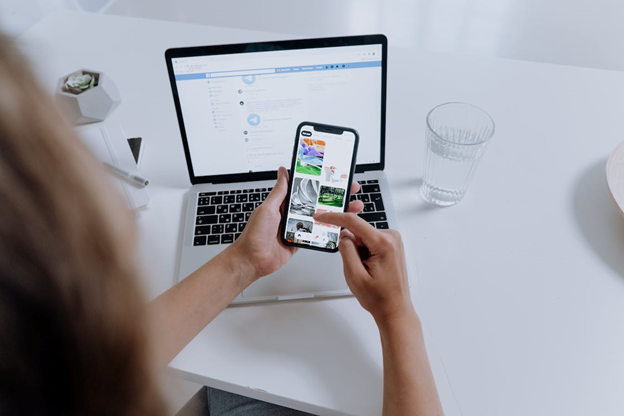 Optimizing Digital Performance for Enhanced Digital Agency Experience
Delivering an exceptional user experience helps to stay in the competition. Digital performance relies on website speed, responsiveness, and overall satisfaction. Before focusing on your logo designs, you should optimize your performance. This allows you to ensure your logo is received as needed. Clearing different types of cache files plays a significant role. Caching involves storing frequently accessed data of a website in temporary storage. Hence, periodically clearing them allows users to receive updated content. It also prevents outdated information from being served. An example includes removing the CDN cache. This ensures timely content delivery.
Logo designs primarily focus on aesthetics. Yet, you should ensure that the digital performance of the logo remains optimized. One aspect of optimization involves paying attention to file size and format. For instance, large and uncompressed logo files can slow down website loading. Use SVG (Scalable Vector Graphics) or web-optimized formats like PNG. This way, digital agencies can make logos load quicker. Another consideration is a responsive logo design. You must ensure the logo is compatible with various platforms and screen sizes.
Capturing the Digital Pulse Known as a Logo
This section will discuss the essential strategies employed in logo design. You can create a compelling logo that resonates with your audience.
Infusing digital prowess through design elements
We all acknowledge that technology reigns in our world. Hence, capturing the digital pulse becomes essential. Infusing digital proficiency into your designs helps communicate your expertise. It pushes cutting-edge solutions and the ability to navigate the ever-evolving landscape.
Consider the following tips when designing your logo:
Typography can be chosen to reflect modernity. It can have sleek and contemporary typefaces that exude innovation. A digital agency can use Helvetica Neue or Montserrat. They provide clean, minimal, and geometrically balanced letters.
Color palettes can reflect a vibrant and bold mixture of colors. They can evoke energy and excitement while maintaining minimalism. One can portray vibrance through electric blue, neon green, and bold orange. This combination reflects dynamism and innovation.
Imagery in the logo can encompass symbols and visuals. You can include abstract vectors that emphasize the focus on digital technologies. It could consist of interconnected lines and circuits to convey connectivity.
The graphic style used can align with the overall aesthetics. Using clean lines, geometric shapes, and minimalistic designs can convey sophistication. Negative space or subtle visual effects can add depth and visual interest.
Eliciting innovation and transformation
Digital agencies emphasize driving innovation and transformation. Hence, a logo should portray these qualities. They represent the agency's commitment to pushing limitations. Some tips that help elicit innovation include:
Embrace unconventional design concepts by breaking the norms.
Use symbolism of growth and change by using metaphoric imagery that reflects adaptability.
Foster a forward-thinking aesthetic using futuristic typography, sleek lines, and abstract shapes.
Experiment with layout and composition to strike a visually engaging logo.
Incorporate progressive visual transitions by adding a sense of movement or growth.
Focus on simplicity and clarity instead of a complex mixture of transformations.
Integrate the element of surprise that will help spark curiosity in customers.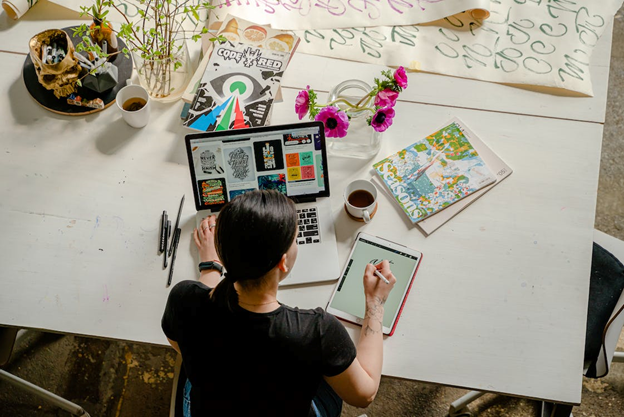 The section below explores the use of abstractness and metaphors as powerful tools. They assist in representing vision, expertise, and unique value proposition. It always helps to compare your potential logo to the ones in the market. After doing so, explore the symbolism to utilize in your logo.
Abstract symbols: conveying agency identity
Abstract symbols are practical tools. They help symbolize the vision and expertise of the digital agency. They can provide intrigue, interpretation, and deep meaning. Some examples of digital agency logos include:
1. Geometric shapes. Using precise shapes like triangles and circles is a great choice. They can emphasize the structure, precision, and analytical thinking behind the company.
2. Fluid lines and curves. Using lines and curves provides a sense of creativity and flexibility. This portrays the agency's ability to navigate and shape the industry.
3. Interconnected patterns. Interlocking or interwoven patterns provide a sense of collaboration and interconnectedness.
4. Esoteric symbols. Using the abstractness of signs portrays a deeper meaning. Some examples include mandalas, glyphs, and sigils. They provide a sense of mystery and knowledge.
Metaphoric imagery: representing core competencies
The logo can communicate unique values by using symbols or visuals. These provide metaphorical representation. Some examples include:
1. Puzzle pieces. Puzzle pieces fitting together symbolize the sense of coming together. It also shows your ability to solve complex challenges.
2. Lightbulb. A lightbulb symbol can represent creativity and bright ideas.
3. Digital weaving. Using threads or digital wires can portray a sense of connection. You can relate different components and technologies.
4. Keys or unlocking mechanisms. Using keys and unlocking symbols conveys expertise and knowing how to unlock success.
Adapting to the Digital Ecosystem as a Digital Agency
Every digital agency must learn how to adjust to the digital landscape. Changing and learning involve ensuring scalability and responsiveness. Also, cross-platform consistency ensures that the logo presents a cohesive brand presence.
Scalability and responsiveness: ensuring versatility
Scalability encompasses various aspects. They all ensure your logo retains its visual integrity. You can do so regardless of the customer's screen size. You should design the logo in a scalable vector format. It allows it to adapt to different screen sizes and resolutions. Also, ensure that your logo is visible through all platforms and devices. This ensures the logo maintains its proportions and readability.
Cross-platform consistency: maintaining a cohesive brand presence
To compete with others, you must provide consistency across all your platforms. Aligning visual elements is vital. Adhere to brand guidelines to maintain consistency in logo usage. Moreover, creating a unified brand presence is critical. It reinforces recognition and professionalism in the digital space.
Conclusion
Crafting a logo for a digital agency involves various elements. For example, you should capture the digital pulse. Also, consider incorporating symbolism and adapting to the digital ecosystem. Always focus on the typography, color palette, and imagery. This allows you to differentiate your logo from others. You can make it resonate with your audience.
Always ensure your logo is scalable, responsive, and compatible with various platforms. This consistency allows the logo to maintain its integrity. It also reinforces a cohesive brand presence. The art of creating a logo requires many elements. Once you hone your skills, you will thrive in the competitive marketplace.