As you're probably aware, giving away items with your company's logo is an excellent way to promote your brand without spending a lot of money. Ballpoint pens, for example, are extremely popular corporate freebies because everyone uses them. A pen also lasts for a long time, and few people will complain about giving an inexpensive pen to someone who needs it. During its lifetime, a pen can potentially generate hundreds of brand impressions. Few people will actually pay for a branded pen, though.
What if you could put your logo on a product that sells? That's the holy grail of marketing — getting people to not only advertise your brand willingly but also to pay for the privilege. Would you like your next marketing campaign to pay for itself? These are the four logo products that people will actually buy.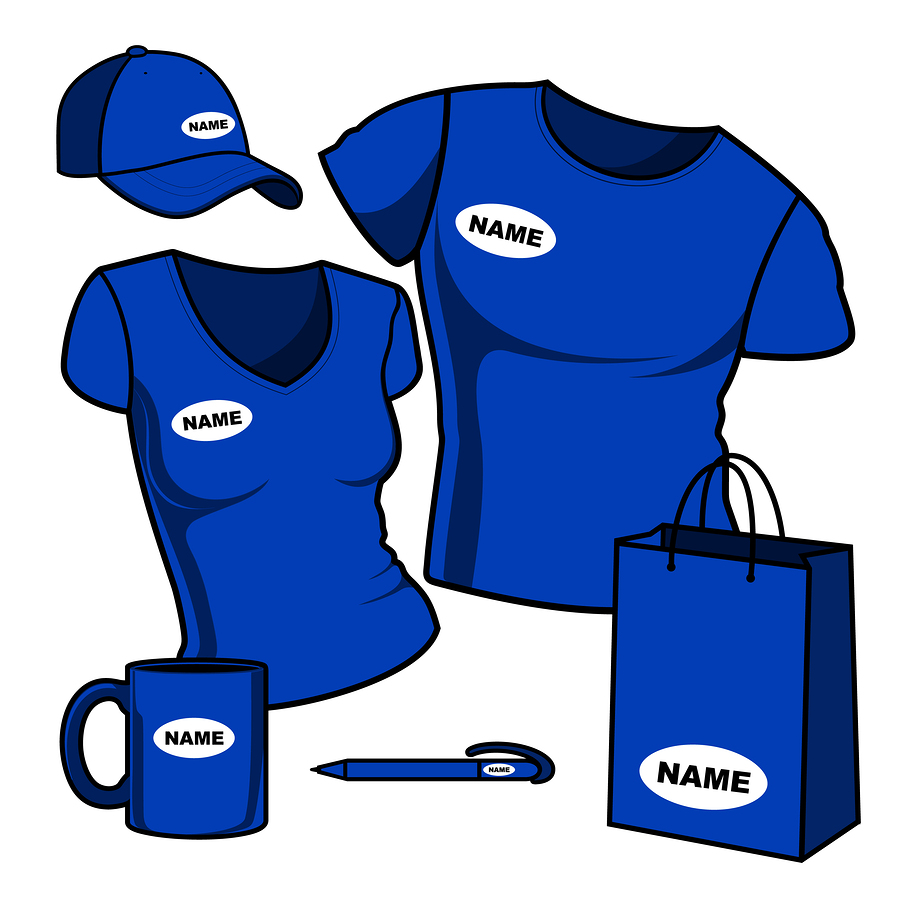 Tote Bags
The best type of product upon which to place your company's logo is something with utility — something that people will use outside their homes because it serves a purpose. Case in point: the humble tote bag. On average, a tote bag creates about 7,000 total brand impressions — or about 1,000 impressions per dollar spent on manufacturing.
The Frakta — a blue tote bag available at IKEA furniture stores — is perhaps history's most successful branded tote bag. Retailing for less than $1.00, the Frakta is an advertising vehicle with an extremely intelligent design. It has a flat bottom, which makes it easy to fill. It can a carry load of up to 30 pounds, but it weighs almost nothing on its own and folds flat for storage. People buy the Frakta because it's a convenient way to carry IKEA's products to the car. They continue to use the Frakta, though, because it's a good product in its own right. About 3 million Americans buy the Frakta each year.

If a tote bag doesn't make sense as a promotional item for your company, think about other types of items that your customers will use outside the home. Pens and other office items generally create many brand impressions per unit. Clothing items such as hats and t-shirts often perform well, too. Remember, though, that the return on your investment will often be proportional to the quality of the item. Most people won't wear a cheap branded t-shirt, for example, except on laundry or cleaning days.
Novelty Items
The Internet has made it than ever to source an enormous variety of products from around the world and have them manufactured and delivered quickly. There has never been a better time to find a unique novelty item and put your company's logo on it — and a novelty item is the perfect choice if nothing else on this list seems as though it would be an appropriate fit.
Selecting a novelty logo product that people will actually want to buy is something that's going to take a bit of time and creativity. In other words, people probably aren't going to pay for a stress ball or Newton's cradle with your company's logo. If you want to increase brand awareness among executives, though, there has never been a better time than right now to find unique desk toys online. How about a miniature steampunk engine, a USB charger that looks like the flux capacitor from "Back to the Future" or a wooden puzzle box? If you can find something completely unique, people will buy it. If you find something especially unique, you may even start a new trend that will eventually become your primary business. Remember the stereogram posters that were ubiquitous in malls back in the '90s? Every trend has to start somewhere.
Food Bags and Water Bottles
Does your company attend trade shows or outdoor events? Try selling food or water in a branded container. Popcorn, for example, is inexpensive to produce — and many people would welcome a snack on a crowded showroom floor. It also takes a bit of time to eat. Most people won't continue using the bag after they've finished the popcorn, but plenty of people will notice your logo before the bag finds its way into a recycling bin.
Many companies have found success selling water in branded bottles at outdoor events. If you want people to continue using your water bottle after the event, though, you'll need to create a perception of value by avoiding cheap materials. A clear plastic water bottle that looks like it came out of a vending machine will probably end up in the recycling bin, but a metal or glass bottle could have a useful life of several years.

Required Accessories
A required accessory — a mobile phone charger, for example — can be a powerful branding vehicle. Some people find the prospect of a dead phone battery so intolerable that they purchase multiple chargers for home, work and the car. It stands to reason, then, that a mobile phone charger with a logo could create a great many brand impressions in its lifetime. Your company may not make mobile phones, but you can utilize the same principle for any product that doesn't work without a specific accessory.
Some companies have found great success simply by selling accessories for other companies' products. You can earn a great deal of money — and generate brand impressions — by creating accessories that cost less than or are superior to the accessories originally included with products. You can also create an accessory that doesn't exist yet. In 2012, inventor Yeong-Ming Wang did exactly that by creating the selfie stick — an extender that allows the user to hold a smartphone at a distance when taking a picture. The selfie stick became an enormous success by piggybacking on the success of existing products.

Launch Your Brand Successfully
If you've come here looking for a single secret that'll make any branding campaign a success, understand that there is no one "trick" that'll work for everyone. There is one thing that creates a high level of brand recognition every time, though: a great logo. Launch your brand the right way with a logo created by Logo Design Team.
With more than a decade of industry experience, Logo Design Team has been instrumental in launching more than 200,000 brands around the world. We've created a unique design system in which multiple artists work on each project simultaneously. Our system results in faster turnaround times and allows you to choose your favorite from several possible logos. Having Logo Design Team create your company's logo also carries no risk because we offer a money-back guarantee with most packages.
Avail our best selling packages and let us help you create the ultimate user experience and company branding message you've always dreamed of! Or Contact our graphics design team today.
Get this- You Will Need Us!
Because your company is worth it!