How often do we find it confident to add humor in our designs? Businesses with corporate spine have less to none areas reserved for adding humor to their serious approach of functionality, but who does not like a tinge of mood lightening creative with a subtle messaging that will linger in our mind for the rest of day? Amul is an inspirational entrepreneurial establishment that changed the face of Indian Dairy Sector on the global dais. And we, at the Logo Design Team, today are dedicating this blog to its legendary creations- the Amul Girl & Topical ads that have become an intrinsic part of India's economy and society through its unique visual humor.
The Utterly Butterly Girl Completed Glorious 50 Years Back In 2016
Amul Topic Ads- 3 Decades Of Thriving As A Legendary Social Spectator
The Amul Ads, popularly known as the Amul Topicals are unique representation of the brand's 'human' face. Time and again, we mentioned in our other blogs that no business can actually make it big in the long run if it lacks an aesthetic approach in its strategy and Amul has made this a significant part of their existence.
Amul's billboard-based topical ads have been there for more than 3 decades and they mainly (except a few occasion) have highlighted on their key product- butter. It goes without saying that the Indian dairy giant has 'whipped up' a vast line of dairy products in its kitty but for us Indians, Amul will be our 1st thought as butter-makers.
But what made Amul our favourite alongside its quality products is its creative take on the social issues that we keep overseeing on a daily basis. The topical ads make us stop, look at them, enjoy and think of the underlying message. It is close to the heart of middle-class Indians specifically whose struggles, opinions and actions are limited in their existence. For them, this 'larger than, yet based on the real-life struggles' visual humor has become an intrinsic part of living.
Before diving into the technical details of Amul creative, let's re-discover the history of Amul Girl and also how the idea for Topical started in the genius minds of Rahul Da Cunha he, copywriter Manish Jhaveri and artist Jayant Rane.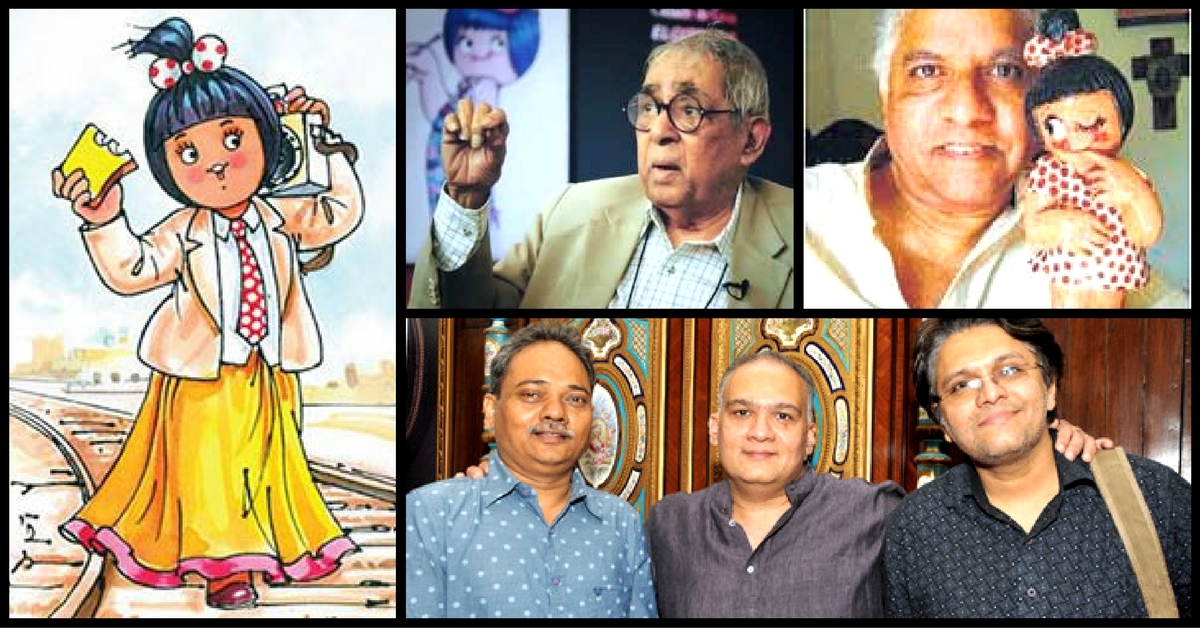 A Brief Timeline Of Consistent Popularity Growth
After the launch of Amul Butter in 1945, the responsible advertising division wanted to keep the image of the product staid and straightforward. It was monotonous for the people but at that time, food was a thing that people feared to experiment with and it is this fear that made Sylvester Da Cunha (father of Rahul Da Cunha) take the risk in 1966. From that time onwards, the revolution of brand 'Amul' began. He gave birth to a campaign that stood the test of time and most importantly, the test of public's fickle mind.
The creation of iconic 'Amul Girl' took place. Many considered it as the rival of the then dairy player- Polson's butter girl. In the words of Da Cunha, "Eustace Fernandez (art director) and I decided that we needed a girl who would worm her way into a housewife's heart. And who better than a little girl?"
Gradually as the Amul Girl was put across Mumbai with the tagline- Thoroughbread, Utterly Butterly Delicious Amul and, in the words of Da Cunha, "The response was phenomenal. We knew our campaign was going to be successful"
The 1st year, i.e in 1966 the ads were throughout popular yet they did not generate the expected topical undertone in them. So in 1967, Sylvester ideated to give the campaign an extra mileage so that the ads become a classic in coming years.
The very 1st stir that it created was with the 'Hare Rama Hare Krishna Movement'. Amul's advertisement team consisted of Sylvester Da Cunha, Usha Bhandarkar & Mohammed Khan. They came with the catchphrase 'Hurry Amul Hurry Hurry'. Mumbai, then Bombay, received the ad with the exact fervour of embracing that ISKON Movement. That was the first place where Amul became a social spectator 1st and a neutral commentator later, with its creative pool of visual humor.
Even the contemporary Hartal Movement centred in Bengal, saw Amul hacking the event with the phrase "Bread Without Amul Butter, Cholchhe Na, Cholbe Na (A Bengali slogan literally meaning won't do, won't do)".
From that time onwards until today, amidst this new era brought in by the deadly Coronavirus pandemic, we still wait for Amul to bring on their fabulous take on the socio-eco happenings, not only confined to India, but also taking inspiration from around the world.
Now, it is time for us to dive into the technicalities- what makes the Amul Topicals so attractive to eyes?
1. The perfect marriage of imagery and text
The answer is its amazing graphical and contextual relevance. The two most important aspects are its chosen picture and the customized slogan. While the cartoon-like graphics catch our eyes instantly, the witty, pun-intended texts click with our minds instantly. This contextual content helps us establish a quick link in what is depicted in the visual and what the message by Amul is. Leaving aside sad dedications, the pictures have always put forward the inseparable duo of 'Bread with Butter' or this case, Amul Butter. We are giving you 2 instances here

Image & Content: Source
Image & Content: Source
In the 1st picture, we see the poster of a popular movie of Bollywood that created stir back then. To ride on its popularity, Amul recreated the same with cartoon-avatar of the same characters that were easily recognizable.
In the 2nd picture, the graphical ad is the recollection of the infamous shoe hurling incident that was carried out on the then president of USA, George Bush. The phrase Joota Kahin Ka signified A Shoe Coming From Nowhere, out of the blue. So you see, the perfect marriage of caricature-like characters blended well with relevant and crisp text creates magic for the Amul topical.
2. Amazing text that clicks at 1st glance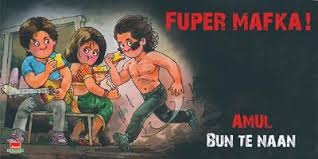 Image: Source
This is another fine example where the text is all laced with intended puns. We love puns because it makes the sentence funny and if coupled with an equally amazing graphic, the result is an excellent presentation of visual humor. Image above is recreated from another popular movie poster and on reading the text we think something is wrong. The people who have seen this flick do know that the main characters had lisping problems where they pronounced S as F. So, FUPER MAFKA is actually SUPER MASKA (Maska means butter). Also, just below the stylised brand name, we see the text BUN TE NAAN which carries two significances. One is the movie's popular song Dhan Te Naan (quite a rage at that time) and two; butter is both used on Bun and Naan. Amul does it again!
3. The fabulous slogan or catchphrases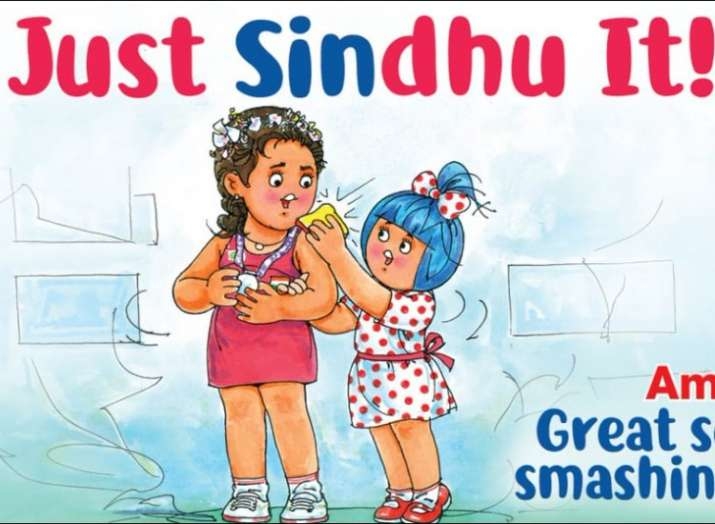 Remember the time when the ace Indian athlete player PV Sindhu won silver medal in the Badminton World Championship? Amul took no time in creating this fantastic Topical ad for the same. This creation garnered thousands of applauds from netizens all over the country as well as the world. The common people had seen it as the best tribute that Sindhu could get. Just Sindhu It is Amul's twist to the popular Nike (sports brand) catchphrase- Just Do It and 'Great Serving, Smashing It' was another creative take on the common badminton terms Service & Smash. Read the content source to know more about this event.
4. A gripping language for ads that hook the audience till last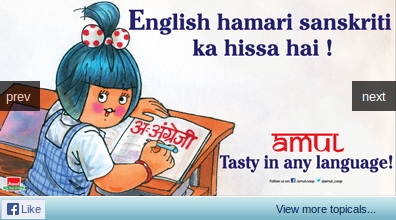 There are four principles of advertising as per Geoffrey Leech, viz; Selling Power, Memorability, Readability and Attention Value. In the world of copywriting, the professionals ensure the compactness of text are well connected with the visuals. Language has the power to put the ad into a whole new light. The best example is found in Amul's free-flowing usage of Hindi and English which later transgressed to the now popular and colloquial language of Hinglish- a diction of speaking English encoded with Hindi elements.
It clicks with the new generation who grew up SMS-ing with their friends. Back in 2014, language mixing (or code mixing) came into prominence and just like many other brands, Amul too hacked on to this popular wave and for that they created this Topical. Look at the text, the letters are English but the diction is in Hindi. This means that English is a part of our culture. The text in Amul Girl's copy reads on as the 1st alphabet of Hindi equals to Angrezi (Hindi for English). The messaging is clear below the brand name- Tasty in any language.
5. Fit for a creative take on global humor
Just like its homeland in India, Amul has also been garnering the admiration and likes of people beyond the sub-continent. "Justin, Trydough with Butter"- can you break down this phrase? It is hinted to the name of Canadian Prime Minister Justin Trudeau and the ad was created during his visit in India. Again, just like in case of wit-posting in India, Amul never shied-away from expressing its point of view in any event. We came across this amazing article that has detailed records of Amul Topicals' foraging beyond the boundaries of India.
We present some popular Amul Topicals based on international events and happenings: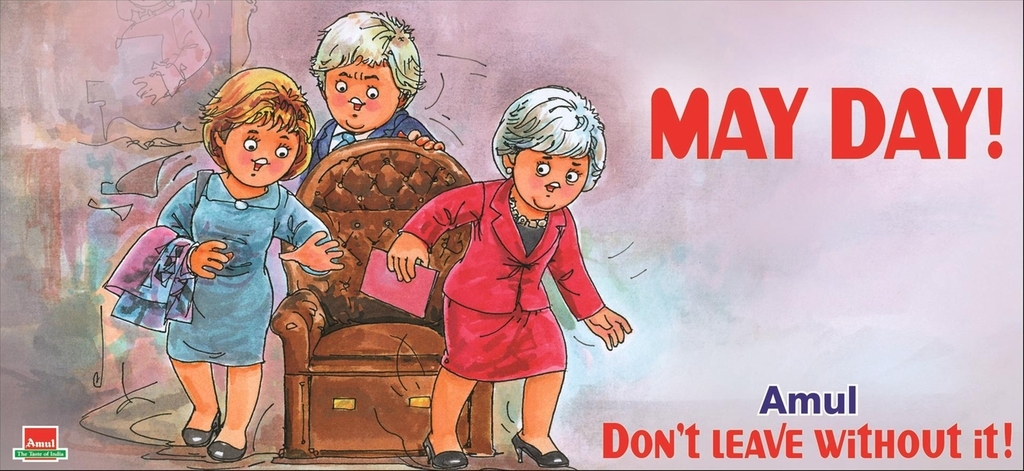 The race to sit in the chair of United Kingdom's next Prime Minister after Theresa May.
Image: Source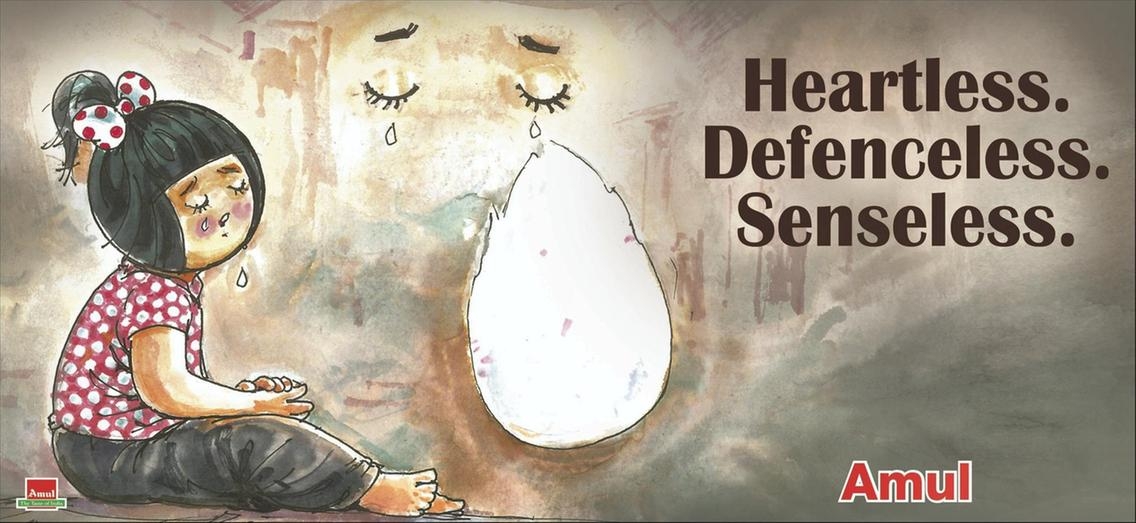 Amul condemning the deadly Sri Lanka Easter Bombings in the most heartfelt creative dedication.
Image: Source
Amul remembering NDA Athlete Kobe Bryant and his daughter & rising star of American Basket Ball Gianna Maria-Onore Bryant who died in an unfortunate plane crash in 2020.
Image: Source
So, How Can We Classify Amul Topical Ads?
In this blog we have not presented every Amul Topical creation because frankly, the huge archive cannot be presented over here, but we can give you the source or link for the same that we came across our research. Based on the same, we are presenting to you, the classification of Amul Topicals as per our understanding.
Theme-based:
Sports
Films
Social Issues:
Social Issues:
Elocutionary
Condemnation of social attacks
Complementing dignitaries across various fields
Creating awareness
Acknowledging and mimicking
Mourning
The Designer Takeaways Of Amul Topical

The very name of Amul is resonant with the image of its logo, the Amul Butter Girl. This logo has served as a brand as well as a functional motif for more than 40 years and it goes without saying- it's an asset for the firm. The Butter Girl Logo was created by Eustace Fernandes in the year 1967.
"He drew the "Utterly, Butterly Girl!" with his black marker pen. She could be considered as one of the most popular brand ambassadors, narrating Amul's story through India's victories in Sports, playing her part as a social participant in the political scenes of India, using automobile brands of India etc. Her most memorable appearance was the one where she holds the butterly toast in one hand with her licking the taste of Amul butter. The character design compliments "Utterly, Butterly – Delicious Amul" punchline used for Amul butter."
To breakdown the generic aspects of the Amul Butter Girl Logo, we can find that the figure is
Healthy
Reliable
Traditional
Sporty
Youthful
Fun-Loving
Family-Oriented
Ethnic
Cheerful
Amul Topical Advertisements:
Carry simplistic templates.
Headers are always placed on top.
The ad-copy consists a well-organized visual cur with tagline.
The header refers to any contemporary local or global happening.
It has minimal yet crisp text, highlight and relating to the product (butter) itself.
Words are played in English-Hindi bilingual puns (switch codes).
The tone of the ad evokes satire, humor, irony, playfulness.
References are smart and relevant to the design of the characters and other visual elements in ad-copy.
Did You Know?
"Amul topicals are churned out almost five days a week and each one is still hand-painted"
– Source
Ending On A Buttery Note Of Inspiration…
Want graphics and visuals inspired by the great Amul Creatives, designed for your business as well? Then make us your trusted partner, your extended creative team. Since more than a decade we have been assisting our global clients in achieving their visual branding goals and its time we do that for you too. Explore our plethora of services at www.logodesignteam.com and tell us today how we can be of your help!