Do you ever wonder what it is that helps big brands get their name out there? Social media is one of the key factors. But it's not enough just to have a social media presence. It needs to communicate the strength of brand and purpose. It needs to capture what the company or brand is about.
These eight companies have got the right idea on how to successfully promote their presence on social media. Look at each of these and ask yourself how you could emulate some of the methods they have used to improve your brand presence on social media.
Marketo, a marketing firm that specializes in online marketing and social media, has a very attractive Facebook page. They use their logo as the main focal point, and it is a very nice-looking logo. It has a 3D look with a shadow effect in a medium purple that demands the attention of viewers.
Within their page, they have posts that focus on social media, which is their main specialty that they can do for businesses. I believe their logo is the key ingredient in this excellent Facebook page for Marketo.
The numbers seem to agree because they have over 150,000 "likes" on their Facebook page.

HubSpot has a strong presence on Facebook, as well as many other places on the web. They specialize in online digital marketing. Their logo is a geometric shape starting with a circle that juts out to different directions, to indicate the reach they have with digital marketing and the different aspects of their business.
Their Facebook page is quite attractive and echoes the logo and the branding of their homepage. You can see a consistency between their brand on their website and Facebook that is important to increase their level of visibility.
Hubspot's Twitter page is also good, and they chose to focus on their podcast on Twitter, which is one of their most popular accomplishments.
American Express, one of the most successful credit card companies in the United States today, is not shy about their marketing plan. They are aggressive in their marketing on every front, including email marketing and social media. But their ads are not overly intrusive, and they are very professionally done.
The American Express Twitter page features a simple background of someone outside holding up their American Express Gold card as if to indicate that you can go anywhere with American Express.
Like their other ads, it is simple and to the point, and their logo is the main focus.
The American Express logo features a Roman centurion on the front, indicating the strengths and security of their brand. It seems to work. They have over 883,000 followers on their Twitter page! That's quite a few for a credit card!
American Express also has one of the best converting social media accounts.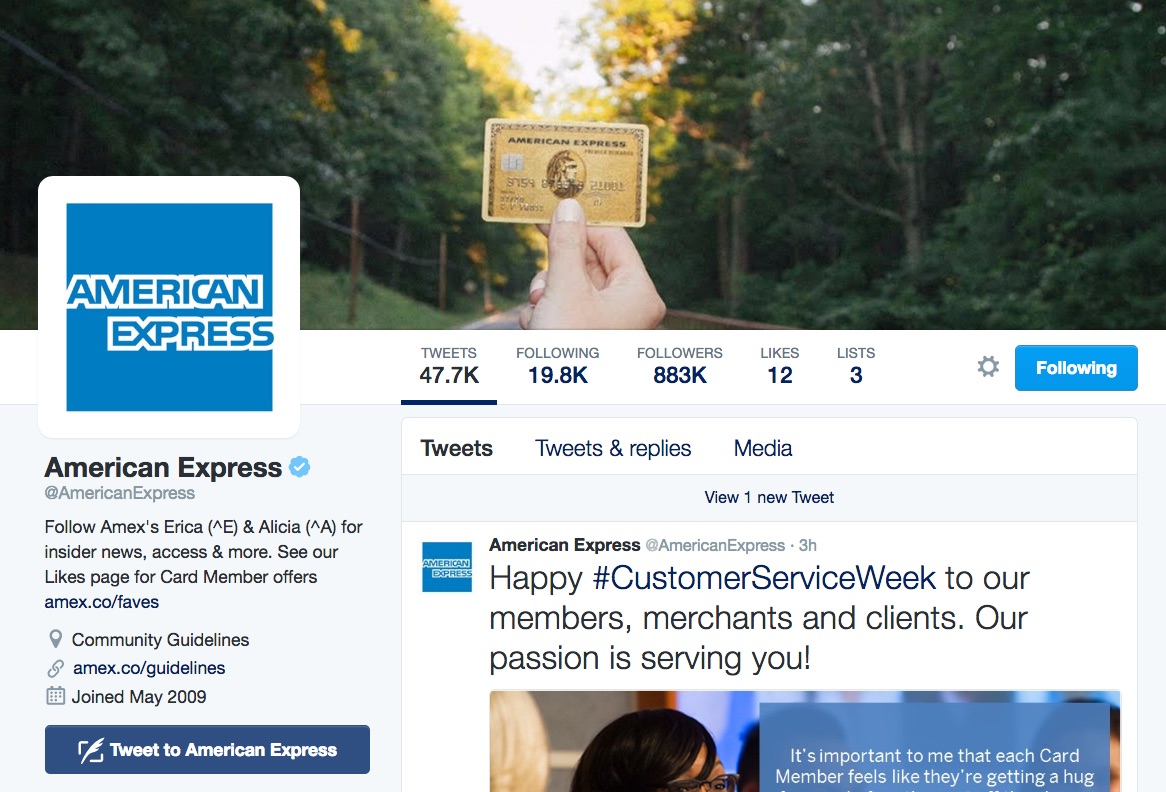 Zappos has an excellent Facebook presence, and they enjoy creating interesting posts that entice viewers to become followers. Currently, they have two miniature cars made of some mosaic pieces and a toy truck carrying a box of Zappos shoes.
Their logo is a footprint that also looks like a large exclamation point. A "Z" is in the middle of the footprint to remind people of the brand name.
Amazon recently purchased Zappos, and it's clear they have their hand (if not their foot) in it! The big Z has over 56,000 likes on Twitter and 63,000 followers.
The Dell company pours most of their social media efforts into their LinkedIn page. They have their logo displayed predominantly on the left margin and a picture of a large crowd with hands clapping in the air on their profile cover.
Below this, they have included a short but fascinating history of their brand and how Dell has played a critical role in creating innovative technologies that are affordable since 1984. Their last paragraph on their main profile is talking about the spirit of their company and what inspires them to keep creating great new technology. Dell makes interesting and relevant media posts on their LinkedIn page on topics that people care about.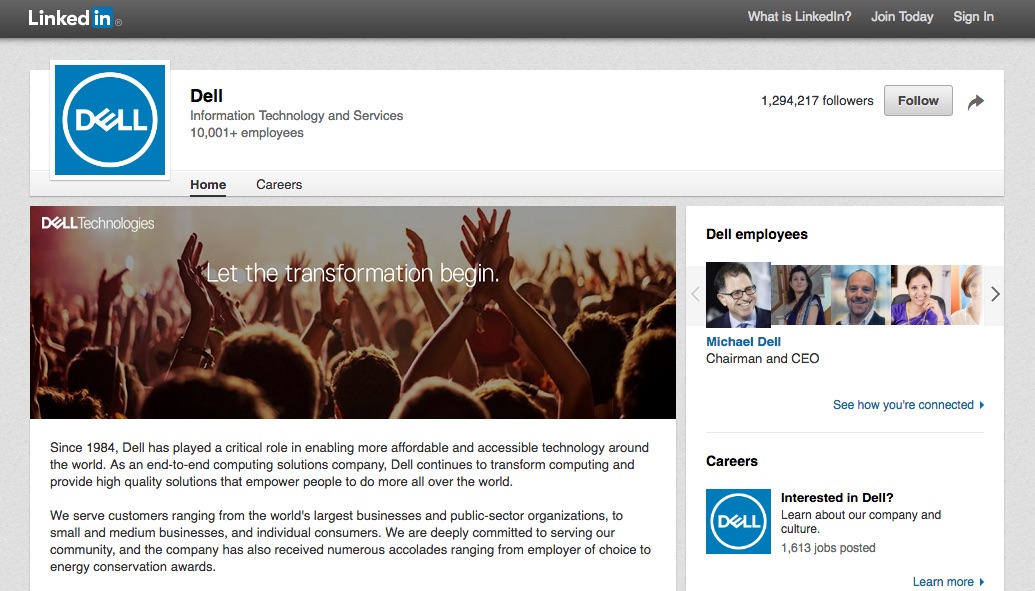 Oracle is an IT company specializing in cloud and data storage solutions. Their logo is red with white letters and is quite simple but effective. They are well-branded on LinkedIn, and they use their LinkedIn account to tell about their business and to post articles that are of interest to their followers.
Their logo is coupled with their manifesto on their profile page with reads: "Integrate. Accelerate. Lead."
They also help people with their job searches by offering tips on how to get through an interview successfully and other topics. They also feature posts on cutting edge technologies and innovative news stories that affect our modern world.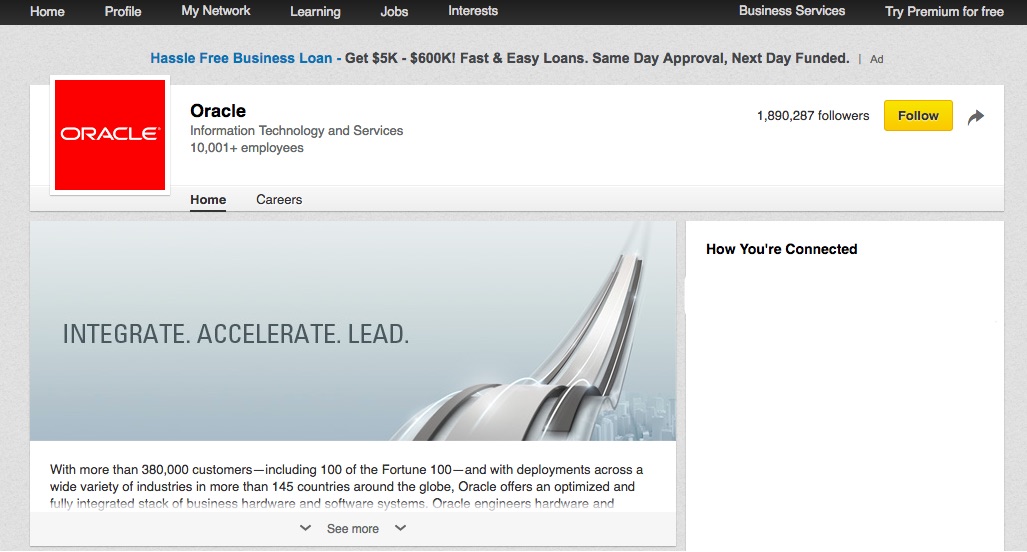 Seth Godin in a well-known entrepreneur and self-published author who has made a name for himself by using his unique style and flamboyant personality to attract views.
It seems to work too. He has over 320,000 likes, and he uses his Facebook page to promote his ideas and his branding. He has become popular partly because he focuses on helping other entrepreneurs make it.
He is the founder of Squidoo.com and many other online publications and platforms that focus on the self-made online entrepreneur's concerns. He also does podcasts and offers tips to business owners.

WeWork has a black logo shaped like a circle with a white "we" in the middle, indicating their brand. They use this well on their Instagram page where they post photos of "the good life" and scenes of people enjoying various aspects of their lives.
Their credo on Instagram reads: "provides you with space, community, and services you need to make a life, not just a living."
I think WeWork uses their Instagram account in a very positive way that promotes their brand while letting people know that they are the "go-to" people when it comes to community and work-related resources.
They help people network and find valuable resources within their communities that have the power to make their lives better. They also use their brand and their pics to indicate their values and try to motivate people to work hard and live the good life.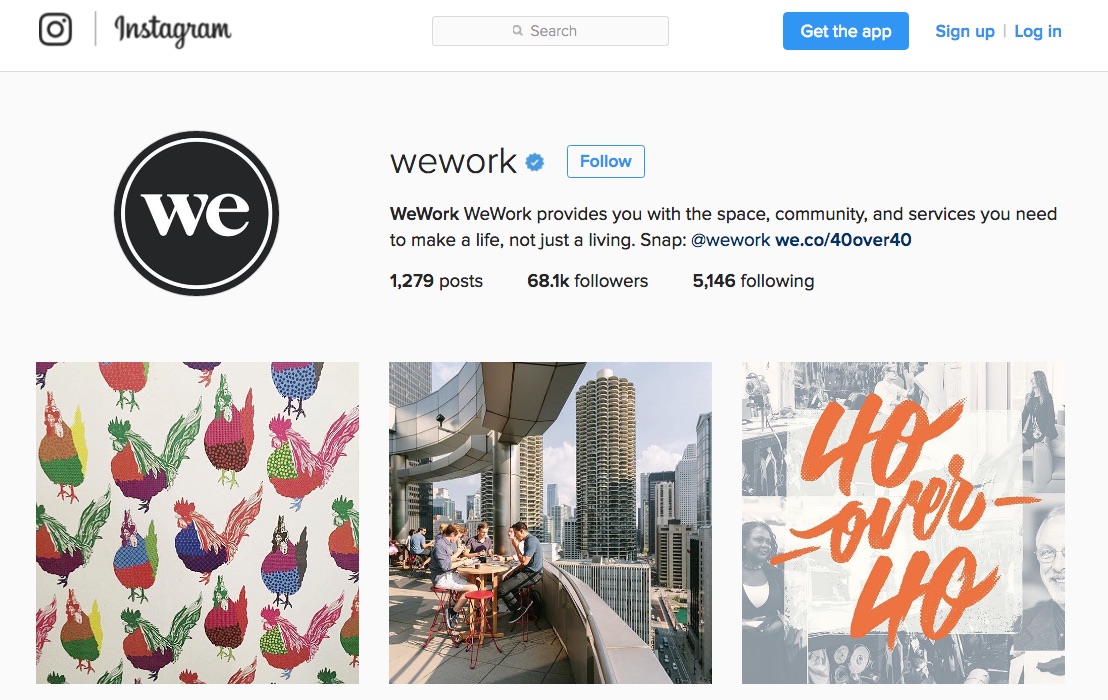 What do they have in common?
So what do all of these brands have in common? They all effectively make use of the social media platforms to promote their brand in a way that is irresistible to their target audience. The American Express card that expresses endless possibilities, the HubSpot digital media logo that communicates reaching out to the world, and the Marketo power logo that features marketing posts, all communicate the strength of brand and credibility. If you want to make an impact on social media, you need to start with your branding.

And that means you need to look at your logo.
Your logo in many ways is your brand. This is especially true online where your logo is the first thing people see.
So look at your logo and ask yourself if it could be better.
If you are not having the kind of success you want, contact the professional logo designers at LogoDesignTeam.com.
We love helping businesses grow and we can offer some great ideas on how to get your brand out there using the power of social media. It all starts with a great logo.
Thinking ahead in terms of trends and time. We aim to create designs which will remain unique and iconic, in other words – timeless designs. You want it, we'll give it to you. Give us a buzz here!