Your website is the centerpiece of your online presence. It must turn visitors into repeat customers by providing valuable information that is clear and easy to find. Web design is important for companies of all sizes, from startups to giants. Discover ten prerequisites that will help your business grow and flourish.
Many entrepreneurs want to uncover the next big thing but are unsure of how or where to begin. It can be incredibly difficult to create a great idea for a business out of the blue and it is even more difficult to implement these ideas successfully. For help with business ideas, consider this resource on the best startup ideas.
Create the First Impression
Your website is your opportunity to make a positive first impression. This is where potential customers go after discovering your business via organic search or social media. A high-quality web portal described on https://appkong.com/web-portal-development/ will meet the present and future needs of your brand.
Your website must bring value to its visitors by providing clear solutions to typical problems. It must convert traffic into revenue. Poor structure, outdated look, and a lack of value are major turn-offs for all users.
Reach the Top of Search Results
Web design elements are also vital for SEO. They are used by Google and other search engines to determine your position on the SERPs (search engine results pages). When your potential customer looks for a specific product or service, you would like them to see your brand at the top, above its competitors. The nature and structure of the content influence its indexing. The code must be SEO-friendly, too.
Build Trust
The design must set the tone for customer service. If it looks sloppy and disorganized, your visitors may conclude that you do not put much effort into helping your audience. The look must be modern, welcoming, and bright, and the contact information must be easy to find. Poorly designed websites are often perceived as unreliable or unsafe. Build trust with a thoughtful plan for web aesthetics.
Create Consistency
Making your company more recognizable requires consistent branding across all channels. The website is the starting point. The fonts, colors, layouts, and styles must set the tone for the design elsewhere and ensure that visitors understand where they are wherever they click.
10 Design Tips
So, what makes a great website? Quality design has many aspects, from smooth navigation to responsiveness to consistency. Fast page load is essential, but not enough if the visual elements are unappealing. Here are 10 recommendations from web design professionals.
1. Create a Plan
Every element must help you to serve your target audience. The building or redesigning always starts with a comprehensive plan. To develop a clear understanding of what you will do and how, map out the customer journey from start to finish. This requires data on the consumers you target, their preferences, and conversion conditions.
2. No Redundant Elements
Any elements that are clunky or bring no value to the customer should be eliminated. For example, unnecessary animations, copy with too many words, meaningless jargon, and irrelevant stock images. Focus on efficiency, as visitors have short attention spans and want to get the information they need immediately.
3. Social Media Buttons
Think of your website as a hub for your online presence. Include buttons linking to your profiles on social media platforms, such as Facebook or Instagram. The best position is in the footer that remains visible as the customers click from page to page.
4. Scrollable Homepage
The majority of users will access your site from smartphones or tablets, which requires flawless scrollability. This will also let you make the layout more engaging and modern by incorporating animated elements. Break up your scrollable homepage into sections to facilitate navigation:
About Us
Overview of Services
Products/Product Features
Testimonials
Success Stories
Resources
Contact Us
5. Use of Whitespace
This term describes the area between the elements on a web page, such as text, images, and icons. Use blank spaces of any color to make your content more readable. Break up the pages and prioritize the most important bits of text. Use whitespace to determine the best placement of other elements and create a natural flow for navigation. Do not avoid whitespace, use it to your advantage!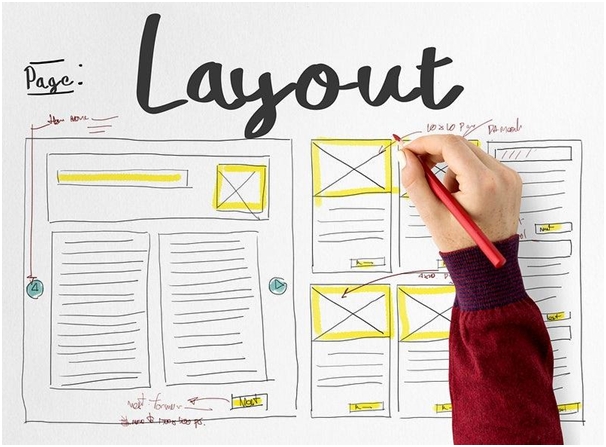 6. Polished Copy
Text is a crucial website element, as it must convey information that benefits and attracts the users. The copy must be well-written in a language your visitors understand and proofread before publication. Make sure it conveys your message clearly and engagingly. Every company needs a style guide to ensure consistency of its copy across platforms and branding materials.
7. Calls to Action
Explain to your customers what you want them to do: buy a product, check out your catalog, subscribe to your newsletter, etc. The CTA buttons must be clear, eye-catching, and designed in line with your branding.
8. Mobile Optimization
Consumers expect flawless website navigation and performance even on the go. The majority of them are likely to abandon a mobile site if it is inconvenient to access (61% according to Google). To avoid losing visitors to competitors, make sure your website is highly responsive, fast, and visually attractive regardless of screen size. Adjust the layout based on the needs of your mobile audience, so they can find what they want ASAP.
9. SEO Strategy
A comprehensive SEO strategy will help you get to the top positions in organic search results. It must guide you at every step of building or redesigning the site. Focus on the content that is useful and appealing to your visitors, incorporate traffic-driving keywords, ensure a pleasant user experience, etc. Stick to the white-hat strategies to avoid getting penalized by Google.
10. Security
Show your customers that their personal information is safe. Get an SSL certificate to secure all transactions, data transfers, browsing, and logins. Give customers peace of mind with the green padlock and HTTPS in the address bar. This is also crucial for your SEO, as Google may flag your site as unsafe otherwise and show a warning to all visitors.
An effective website is unimaginable without a comprehensive design strategy. Follow our tips to create a positive first impression. Use the power of design to grow your business!