Mobile app security seldom makes headlines, but malicious apps get all the attention. Did you know that over 560,000 malware is detected every day? These are introduced in your smartphones through malicious applications disguised as genuine ones. Although a vast majority of malicious apps come from gaming forums and third parties, these are everywhere.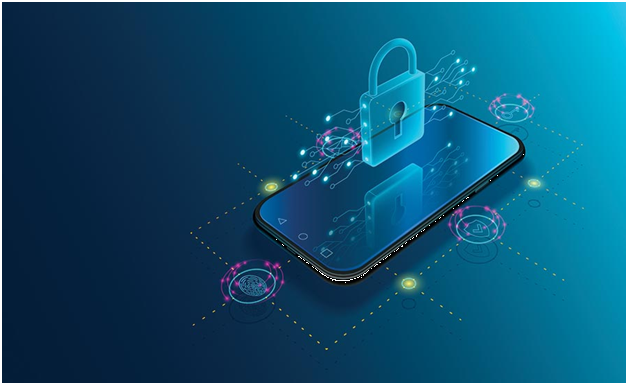 Therefore, keeping your mobile devices secure is not as easy as it used to be a decade ago. The increase in the number of smartphone users has attracted cybercriminals from all over the world. The only way to stay safe is by knowing how you can protect yourself. So, here's a primer on what it takes to keep your mobile devices safe in 2021.
What is Mobile App Security?
Mobile app security refers to the collective measures implemented to keep the mobile phone's environment secure. It acts as the first line of defense against various types of mobile App security threats such as data leakage, credential theft, and the introduction of malware Attacks.
When malicious applications are used in conjunction with other banking or shopping apps, the malicious apps can steal valuable information such as bank details, credit card details, login credentials, etc. Also, such apps can be used to track user's location, purchase preferences, address, and other personally identifiable details that can be used for nefarious purposes.
1. Limit your Apps
According to Google, an average person uses around 35 phone applications, which can cause a great deal of trouble unless all of those come from highly credible sources. Unfortunately, people download random applications like gaming and utility applications that they don't even need. For example, you can read PDFs and several other file formats by simply using the Google Drive app to open it. Limiting your phone applications is even more necessary if you use the same device for your internet banking and other financial purposes.
2. Download Apps from Trusted Sources and Stay Updated
You may have heard the good old advice to download apps from reliable sources, but did you know that even those trusted sources have malicious applications? That's because developers create applications and list them on repositories like the Google Play Store and Apple Store. So, everything comes from third-party developers, and users need to be careful about what they download.
Recently, over 1.7 million devices were infected through 56 malicious applications listed on the Play Store. These applications were disguised as children's apps and were used by threat actors to introduce the Tekya malware into the users' devices. Although Google has begun a clean-up in earnest, there could be danger lurking around.
The Tech Titan has come up with the 'Google Play Protect feature, which scans apps and prevents the download of malicious apps. Users can turn it on in the Google Play Store app's settings. As far as Apple Store is concerned, experts say that the repository has many malicious applications through which scammers could be generating millions of dollars.
3. Confirm Identity with Code Signing Certificates
We have discussed how troublesome third-party apps can be and that you need to confirm who the developer is before installing one. Now, we shall figure out how you can confirm the developer and the code integrity of the mobile application.
Any reputed developer would have digitally signed the app using a code signing certificate, and this is what you must look for. The code signing certificates are digital certificates issued by reputed third parties known as the Certificate Authorities.
Its purpose is to verify and confirm the developer's identity for the benefit of the end-user. Also, it hashes the code and prevents hackers from altering it. If your business owns proprietary mobile applications or software applications of any sort, it is important to secure them with a code signing certificate.
4. Watch out for Cloned Apps
A lot of hackers have a simple trick — they clone popular applications and add malware to them. This works well because the user is confused between the genuine application and its clone. Recently, Google deleted 163 malicious applications from the Play Store, collectively referred to as 'CopyCatz Apps'. Such imitation apps lure users into downloading them instead of the original apps. So, look carefully at the developer's name and not just the logo and the design before downloading an app.
5. Avoid Storing Sensitive Information on the Device
The easiest way to prevent a security threat is by not storing sensitive information on your mobile devices. These could be photos, passwords, documents, or anything else that a threat actor can gain access to.
6. Keep Updating your Device's OS
One of the most underrated mobile app security tips is to update the device's Operating System from time to time. This is necessary because the OS developer releases security patches through updates to prevent threats. According to Experts, an updated operating system is immune to three-fourth or 75% of all security threats. So, not updating it would leave the device exposed to those threats.
7. Do Not Allow Apps from Unknown Sources
Many applications out there are not listed on repositories and require you to download and install the apk file. You might be asked to set the configuration of the mobile device to allow apps from unknown sources to be installed. However, avoid doing that because it could expose your device to serious threats.
Final Takeaway
Although the above-mentioned seven mobile app security tips might seem non-technical, they can be extremely useful in reducing potential risks. As we've already discussed, over 560,000 malware are detected every day, but there is little to worry about if you follow the above-mentioned mobile app security tips. Mobile devices are now a way of life, and your OS and security app developers are aware of it. Therefore, they release prompt and timely updates to keep mobile devices secure, but there is little they can do if you do not install them.