If a picture is worth a thousand words, then your website's visual assets are worth a million!
Your brand has a story to tell — but sometimes, we don't give enough attention to making sure that it is told in a consistent manner through the visual elements of each platform. The visual components have to establish and reinforce your brand. They play a huge role in conveying the message of your brand, it's level of trustworthiness, and the quality of your products or services. For this reason, a brand visual audit is one of the most important business investments you can ever make. Why?
A brand visual audit will give you an understanding of how the brand image is communicated across all channels, allowing you to maintain consistency and identify areas that need attention. This is vital to enhance how you present yourself to your customers and establish trust, credibility, and reputation. Let's delve a bit deeper into the notion of 'brand visual audit'.
What Is a Brand Visual Audit?
Although most companies recognize the importance of establishing a brand, many do it poorly. They usually approach branding as a one-time process, leaving their brand vulnerable to problems later. When looking at how you can help your company create a consistent visual identity, you should always consider a brand visual audit:
A brand visual audit is a comprehensive, systematic review of all visual components representing your organization's brand.
This is a good way to connect the dots between the organization's marketing channels, from its Facebook page and website to its Instagram, Twitter, and Google ads. It also brings consistency to your communications and online presence, ensuring that your core messages are effectively conveyed wherever they appear. A good brand audit can make the whole brand portfolio appear more cohesive — which is something that most companies lack.
Source: AZ
Why Should You Carry Out a Visual Audit?
Well, to make sure that your website design will keep users coming back for more and you achieve your business goals, you need to conduct a thorough visual audit. Why don't we highlight the main reasons for it:
Ensure Consistency
Visual elements play a vital role in perception and brand messaging. When we talk about consistency, we mean that your advertisements, brochures, and websites should have the same tone and relay the same brand message. Everything from your website design to the marketing materials influences the user experience. And if you do not deliver a consistent user experience, your brand's growth can be affected. Without consistency, users will have trouble discerning your brand from the competitors in the market. This means you need to reinforce familiar features and design patterns every time you communicate with your customers.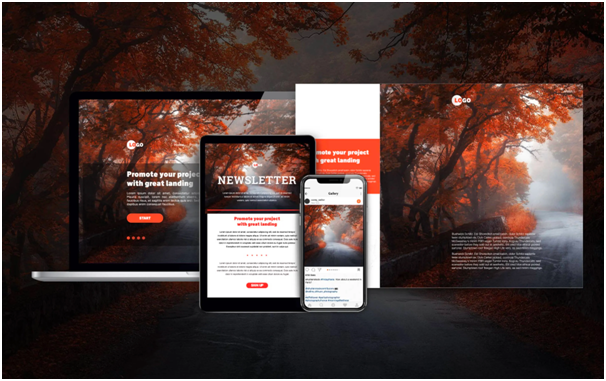 Source
Example of consistent online presence
Understand Brand Perception
The way stakeholders and users perceive the visual aspects of a company's brand is known as brand perception. Brand perception is built on several factors, such as brand image and brand associations. Some of these associations are positive, and some are negative. Auditing brands is a great way to discover your target audience's associations when looking at your brand. It's also a way to take an honest look at your digital presence and assess whether it's delivering on your corporate branding and digital marketing goals.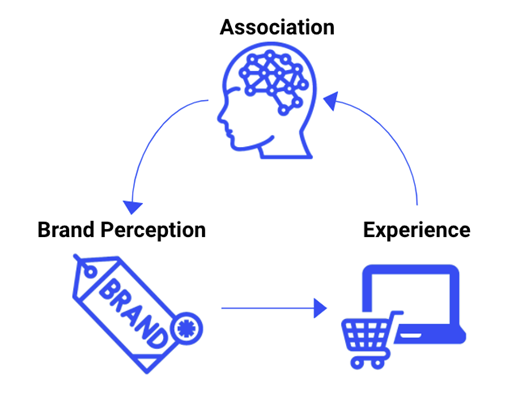 Source: Medium
To Understand if You Communicate Visually Enough
As the world, we live in, and the way we work becomes increasingly digital, having a visually engaging website is one of the main ingredients for success. Carrying out a design audit can help you understand if you communicate visually enough. There are two main reasons why it is necessary to communicate visually: 1) most consumers like visuals more than written information, and 2) a lot of written information can not be understood by people.
To Know What Your Competitors Are Up To
A well-planned visual audit of your competitors' websites is an essential piece of the digital marketing puzzle. It will give you insights into their visual marketing and enable you to compare their visual assets with your own. Moreover, it would also be worthwhile to analyze why certain companies are more successful than others — this can help you understand what they are doing well in branding. Then you can apply those insights to your own marketing strategy.
How to Conduct a Brand Audit of Your Website?
A brand visual audit is a vital part of the overall audit strategy. It will identify if there is consistency in your brand's visual identity. It can also help you find unwanted, unnecessary gaps and inconsistencies that are confusing to your users. If done right, it will also give direction regarding what needs improvement based on research and analytics.
1. Building a Framework
As the first step of a design audit, it's important to consider all the visual elements that need to be audited across platforms in order to make your site cohesive and UX-friendly. To improve the user experience, you should also analyze the website's aesthetics and any possible technical issues. By doing so, the website will communicate your brand message more effectively and support users in achieving their goals. Once you've established the scope of your visual assets, make a well-organized list of everything that needs to be reviewed. It may include everything from the colors and styles of your logo to how you display images, text, and media.
The list can be the following:
Logo
Custom and purchased fonts
Color schemes
Digital ads
Images
Design systems, etc
Source: Behance
At the same time, it is necessary to understand how your competitors position themselves and their brand identity. It's worth having a look at some of them so you can adopt their best features or even suppress them.
2. Evaluate Current Status
When doing a visual audit of your website, it's good to start by evaluating its current status and making decisions about what you will change, how you will change it, and when it should happen.
Give your website a quick checkup with the help of an SE Ranking audit. In a matter of seconds, you will receive a valuable pile of data that contains the overall health score of the website, its all existing issues, including the ones with performance, loading speed, mobile optimization, CSS and JS problems, etc. This tool also measures Core Web Vitals, which represent the quality of the website's UX.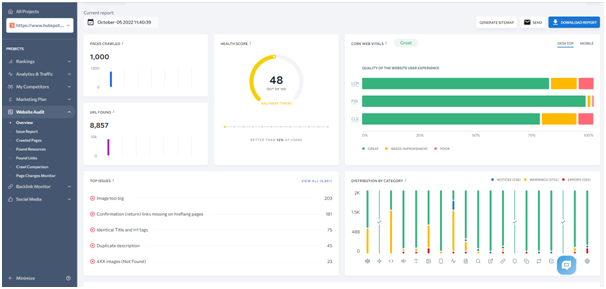 Source: SE Ranking
How does a website audit look like
Besides technical audit, check all colors, fonts, pictures, and overall style of the website's visual content.
3. Take into Account Your Customer's Viewpoint
If you are a website owner, you are likely to be biased when looking at your website. To objectively assess your website, the best way is to talk with people who do not have any ties with your company and let them give you an honest opinion about their experience with your visual assets.
You can do this through surveys, reviews, polls, or just casual conversations with visitors of the website. Emailing or calling clients can also help you get plenty of valuable information. The goal of customer interviews is to understand how your business looks through their eyes, what they like and dislike, and what can be improved and why.
4. Analyze Competitors' Visual Content
If you want to improve your visual content, the next step will be finding out what works and what doesn't for your competitors' websites. To do that, you can follow the same steps as in the brand visual audit, namely, identifying competitors, then gathering all their visual assets, analyzing them, and compiling results in a holistic brand audit report so that you can go back to it at any time.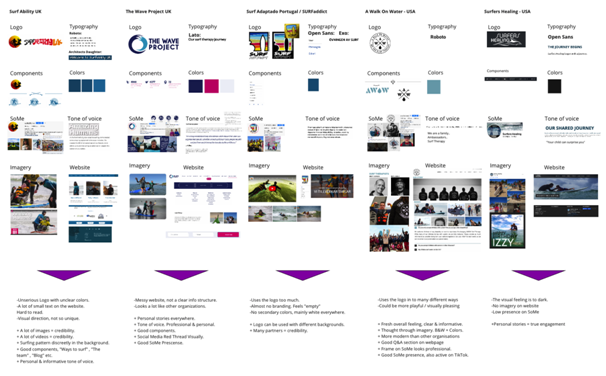 Source: Lif Hyden
Visual audit example conducted by a surf company
5. Bringing about Changes
Before you change anything on your website, make sure that the changes you make are not just cosmetic but will help to improve your brand entity. Once you clearly understand what needs to be improved or replaced, you are ready to proceed with the changes. After making the changes, test them by showing the new site to your peers and colleagues.
This whole process can be messy, time-consuming, and involve much trial and error. However, once you set aside the time to work on your brand's visual identity, you will be able to see results that are worth it!
6. Monitoring the Results
Monitoring your results from the visual audit will help you recognize if the changes you made were effective and contributed to positive progress. If so, the update was done correctly and should be considered successful. If not, it may take more time or different approaches to achieve better results. The most common ways to check the performance of your website after making any changes is to conduct A/B tests, surveys, usability tests, and testing on real-life users. Doing so will help your company acknowledge how customers perceive newly-minted changes.
Source
A/B testing example and results
Conclusion
Your brand is an integral part of your success. How well you represent your business will determine how much people trust you and what they think about your product or service. Visual content on your website can be a major factor in forming these perceptions. Periodic auditing of the design and layout of your website is important for maintaining customer trust and showing competency as a business owner. Don't hesitate to use our 6-step guide on how to tell your brand story consistently throughout all your platforms.