Participation in student exchange programs while studying at high school or a university can be a fantastic opportunity for both education and professional growth. Most exchange programs provide people with the opportunity to discover foreign cultures. Indeed, to immerse a student into foreign traditions and customs, they often include homestays with local families.
Some programs are designed for language improvement, while others have semester- or year-long learning goals. Still others, especially those launched in the summer, emphasize global travel and community awareness. Students can participate in exchanges through pre-arranged school or university courses, commercial exchange services, or study abroad offices.
With many exchange opportunities existing today, going abroad to get a learning experience is not a problem anymore. The only requirements are usually high academic performance and excellent knowledge of a particular foreign language. While the latter depends on a student's efforts, the first may be achieved through alternative methods. For example, one may use college homework help online services to get tasks performed by a professional. It will help one improve grades and overall academic progress.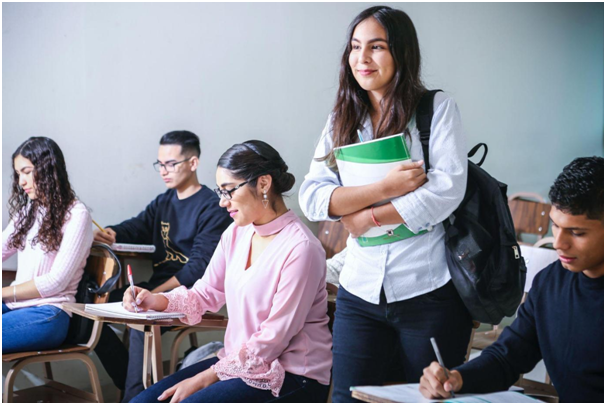 Peculiarities of Studying Abroad
Studying in a foreign country either for a year or for a more extended period opens up a lot of opportunities. These are the reasons why you are moving in the right direction if you choose to gain international experience:
Improving resume.
Strengthening knowledge of foreign languages.
Establishing connections with people from other countries.
Becoming independent.
Discovering the world.
Gaining life experience.
Getting opportunities in international employment.
Student Exchange Programs
If you have already chosen the path of continuing your education abroad, you must have been busy rummaging through the Internet websites. Indeed, it is difficult not to get puzzled when the exchange program amount is enormous. What offer to choose from? How to select the correct one that would meet all my requirements? In this article, we will decipher some of the exchange program logos and explain all their features.
1. Global UGRAD
Global Undergraduate Exchange Program is a cultural exchange plan launched by the US Department of State's Office of Education and Culture. Moreover, the program is supported by the people of the United States of America. This international program is aimed at both educational and cultural purposes. It is designed for outstanding international students, providing future leaders with opportunities to study in the United States.
It is worth noting that participants are selected according to the following criteria:
academic progress;
leadership potential;
activity in public life;
knowledge of written and spoken English; and
motivation and willingness to become a participant of the program.
Global UGRAD consists of one-semester scholarships granted to talented undergraduate students. Still, the study is non-degree, so upon the end of a course, students must return to their countries and complete their studies.
Considering the logo of this program, it is worth noting its international scope. With the large green globe on the emblem, Global UGRAD emphasizes its availability to all students on the planet Earth.
2. ISE
ISE stands for International Student Exchange and is one of the most extensive international students cultural exchange programs in US schools. It provides global learners with an opportunity to study for ten to twelve months in the first or second semester.
Perhaps this program's essential factor is that tuition is paid by the US government. Thus, the course's cost is meager compared to private schools. Participating students live in volunteer families who agree to accept them free of charge.
One of the components of ISE is the Gap Year Abroad program. It provides school graduates with the opportunity to explore their interests and develop valuable skills after finishing high school. Taking a gap year is becoming increasingly popular nowadays. Indeed, it is a great way to develop one's interests, get motivation, and build confidence in future academic and career decisions. Still, this type of program is open only for students over the age of 18.
Since the first day of launching the program in 1982, its symbol has been a large eagle. An eagle is the embodiment of courage, inspiration, and spiritual uplift. These features are inherent in modern youth.
3. AFS
AFS Intercultural Program has already provided teenagers with the opportunity to participate in their exchange programs for 65 years. This organization operates in over 50 countries all over the world. Students willing to participate can participate in various learning plans ranging from an entire school year to several summer months.
To participate in the program, one must apply and pass an interview with an AFS volunteer. Proficiency in English is required, and, in some cases, knowledge of the host country's language is also necessary.
The logo of AFS is a global network that represents the growing interconnection of the modern world. Indeed, with the consistent cooperation of the network of volunteers, students from over 50 countries can participate in the exchange.
4. Erasmus+
Erasmus+ is a European Union (EU) program in education, training, youth, and sport. It was officially launched in 1987 to allow students to travel the world for learning purposes. The main goals of the Erasmus + program are to improve the quality of education, ensure the development of student mobility, and strengthen cultural ties. Erasmus+ provides a framework for cooperation between universities. Moreover, it guarantees participants that their universities will credit time spent abroad upon returning home.
The scholarship granted to a student participating in Erasmus+ usually covers all the education and living costs. Still, its size depends on the country one chooses. As a rule, it ranges from 500 to 2000 euros a month.
In addition to the generic name "Erasmus+," the following terms may be used for sector-specific actions:
"Comenius" – school education;
"Erasmus" – higher education in target countries;
"Erasmus Mundus" – getting a master's degree;
"Leonardo da Vinci" – training and professional education;
"Grundtvig" – adult education;
"Youth in Action" – informal youth education;
"Jean Monnet" – the European Union study;
"Sports" – sports studies.
The logo of Erasmus+ mirrors the symbol of its maternal organization, which is the European Union. It is a bright blue flag with the image of a circle of twelve gold stars in the center. "12" is a symbolic number that means absolute perfection in various traditions. It is also the number of months in the year and digits on the clock face. Moreover, the circle is also a symbol of unity.
5. EF
EF stands for education first and offers a wide range of educational programs. The opportunities vary from studying abroad and student exchange to educational trips and language courses. The program is divided into several categories, among which one may find the most suitable. There are the following groups listed on their website:
teenagers 10-14 years old;
teenagers 15-17 years old;
students 18-24 years old;
adults over 25 years old.
For instance, if you are over 16 years old, you are free to choose a language learning course that lasts either 6, 9, or 11 months. You will combine linguistic and academic studies at a foreign school. Moreover, you will have the opportunity to prepare for the official language proficiency test and gain work experience.
If you are not a student anymore, you can still find an appropriate program. There is one designed for adults and professionals willing to build a career abroad. Other courses are dedicated to language learning for business and government officials to ensure quick results.
The emblem of the program is straightforward – the letters of its abbreviation. So, if you know that EF stands for "Education First," you will understand its meaning. Indeed, people learn during their whole life, so why not give education the first priority?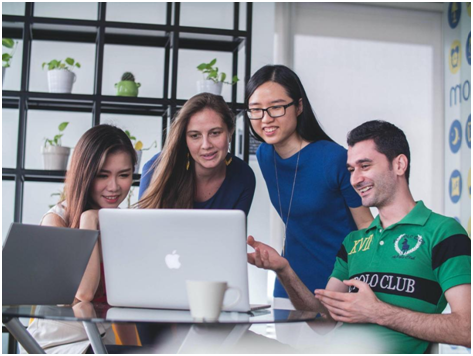 6. YFU
Youth For Understanding positions itself not only as an exchange program but also as the one that will divide your life into "before" and "after." The organization provides opportunities for students aged 15 to 18 to study abroad for a year, semester, or summer vacation. It has a variety of courses to suit students' different interests, such as sports, nature or acting.
By using the services of this organization, students can study in Australia, Belgium, Chile, and about 40 other countries around the world. In most cases, knowledge of the host country's language is not required. Speaking English is enough for the participants.
YFU has a simple logo – its abbreviation written on the purple circle. It is worth noting that this color symbolizes willpower, originality, individuality, and creativity.
7. CIEE
CIEE serves as a non-profit organization devoted to studying abroad and cross-cultural exchange. It changes people's lives and builds bridges between individuals and nations by sponsoring a wide range of opportunities to exchange ideas.
CIEE focuses on providing students with quality and complete information about everything they may need while traveling. For example, they carry out pre-training courses and briefings upon students' arrival in the host country.
The most prominent element of this program's logo is its motto. It says: "The world is our classroom," emphasizing its goal to help students discover the world, different cultures, and languages.
8. Work & Travel
An internship abroad is a fantastic opportunity to gain new skills and knowledge, improve language, and get acquainted with different places. With the international Work and Travel exchange program, every student can now go to the USA not only for touristic purposes. It is a way to gain life experience, an excellent job in an American company, and unforgettable travel experiences.
There is a set of requirements one needs to meet if deciding to take up the program:
Be a full-time university student;
Be aged 18-23 (participants up to 25-26 years old are also allowed under certain conditions);
Know English well ("well" means to be able to speak with natives);
Search for a job in the USA independently – contact one of the official organizations involved.
Program participants usually occupy positions that do not require a degree or extensive experience. For example, it can be a sales assistant, a waiter, a hostess in a restaurant, a cashier, a barista, a hotel assistant, etc.
One of the logo elements is a globe – the symbol of traveling, discovering new cultures, and getting closer to the global world community.
9. Rotary Youth Exchange
The Rotary Youth Exchange helps approximately 8,000 students per year get the opportunity to live and study in another country. The program's rules allow students to choose destinations and a general area of study. However, the decision on the final destination depends on the availability of host families.
Participants of the program have the following opportunities:
develop leadership capabilities;
learn new languages; and
find friends from all over the world.
Rotary offers both long-term (1 school year) and short-term programs (from a few days to 3 months). These include either living in the host families or camps with other participants.
The symbol of the Rotary Youth Exchange is a wheel that means the program is the locomotive of the process of exchange and ensuring quality training.
10. Cambridge Network Programs
The Cambridge Network is a comprehensive platform providing services to international students who wish to complete their secondary education in the United States. The program represents over 240 of the US leading private high schools and 19 public high schools in Massachusetts.
The course is devoted to preparing people for entering college, taking into account the specific needs of international high school students. A range of objectives is expected to be reached during the completion of the program. For example:
Increasing the level of English academic proficiency.
Improving both the oral and written communication skills of students.
Ensuring unlimited access to learning materials.
Preparing international students for entering college.
The logo of this program that has been released recently underlines the principle of "ensuring the needs of customers." The company claims its main focus is to fulfill the wishes of both parents and students.
Final Words
Studying abroad has never been so available as it is today. Moreover, it is not necessary to pass examinations and tests. Just make sure you meet all the requirements, and the program meets your expectations as well.
Going to another country does not mean you will stay there for the rest of your life. Depending on the area and personal willingness, programs may be long-term or short-term. Thus, make sure not to miss any opportunity to enrich your educational process – and overall life experience!