Have you ever looked into the opportunities within hiring an outside freelancer to accomplish work for your business or brand? This is something you might have considered when it came to online marketing or even creating a logo or identity for your brand.
If so, during your research you likely came across some of the most well-known online design marketplaces such as Upwork, Fiverr, and 99designs. Each of these design and freelance platforms is great in their own way and provides access to millions of freelance designers and marketers around the world. Be sure to read through or quick and easy reviews on each of these freelance platforms below.
Top Freelance Marketplaces for Hiring Designers
While making your way through the list below, be sure to think about what type of design work or freelancers you are looking for. While each platform does offer access to freelancers around the world, if you are looking to save time and money, you might be better off simply going with professional design or marketing team. This is something we will be covering at the end of the article as well.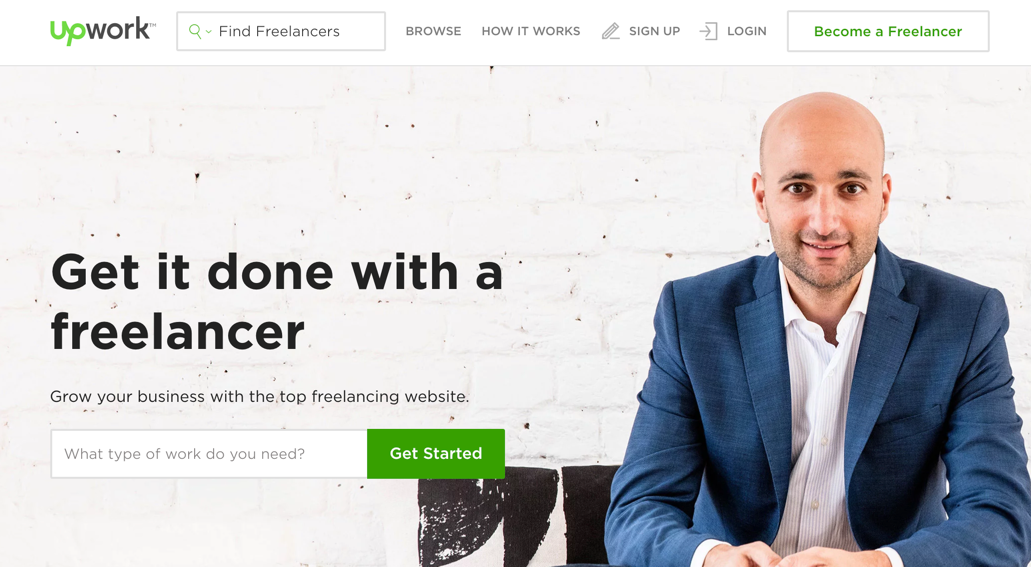 Upwork
Upwork has become one of the most successful and well-known online marketplaces for hiring professionals around the world. The site was originally known as Freelancer, but was acquired and rebranded into the massive online marketplace directory it is today — which is now being used by some of the largest brands and businesses in the world today, like Instapage, Dropbox, Airbnb, Juniper, and Zendesk. The great thing about Upwork is that they have so many freelance workers on their site, you can start hiring out for nearly any business related task you can think of.
When it comes to using the site, you will also find that to be quite easy as well.
FIND
Post a job to tell us about your project. We'll quickly match you with the right freelancers.
HIRE
Browse profiles, reviews, and proposals then interview top candidates. Hire a favorite and begin your project.
WORK
Use the Upwork platform to chat, share files, and collaborate from your desktop or on the go.
PAY
Invoicing and payments happen through Upwork. With Upwork Protection, only pay for work you authorize.
Upwork is now considered the largest online marketplace for hiring, as they have millions of jobs posted on the site annually, while also paying out more than $1 billion to their freelances each year and providing companies with over 3,500 skills.
FINAL THOUGHTS: Upwork is great if you are looking to hire someone for more than just one job. They have the freelance designers and marketers in place with enough history and expertise in what they do, to make for a part-time or full-time employee.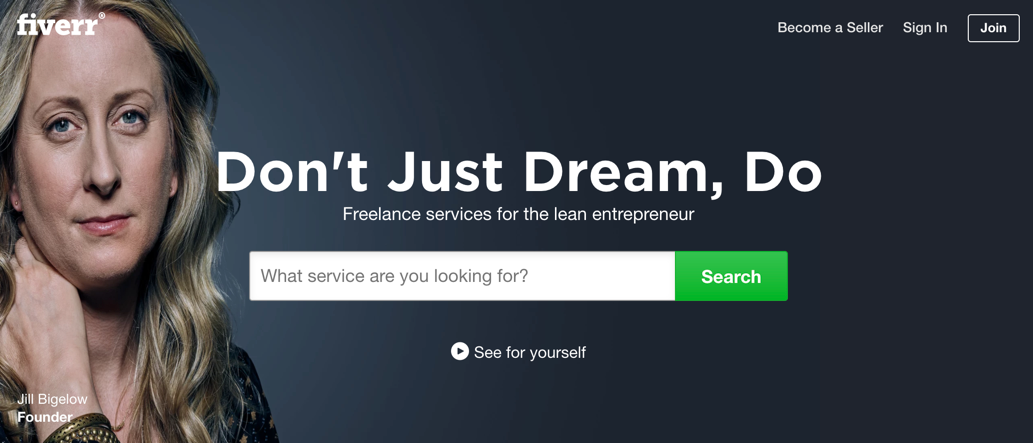 Fiverr
Fiverr has quickly become one of the fastest-growing online marketplaces for pretty much anything. If you are looking for graphic design, content creation or even crazy ideas and new ways to market your brand… you will find it on this platform.
What makes Fiverr special over other online marketplaces is that you can pretty much find a simple and quick job for anything. While the concept of the site originally started with jobs at just $5 each, as customer demand and services continued to grow, so did this size and scale of such jobs and rates on the network. You can still find jobs for $5 each, but options are also there for jobs all the way up to $995 as well.
The thing to be careful about with Fiverr is that you need to look at the history, feedback, and ratings of every person you work with. While many of the sellers on this site are high-quality, you will also come across a few that are low quality as well. It's also recommended that you stay away from this website for any SEO link-building campaigns, as most of these are quite spammy.
FINAL THOUGHTS: Fiverr is all about putting in the necessary time and research to find exactly what it is you are looking for. This will take some time, as there are thousands and jobs and freelancers available. Always read through all details and user reviews carefully, as this is one of the most critical points to finding success on this platform.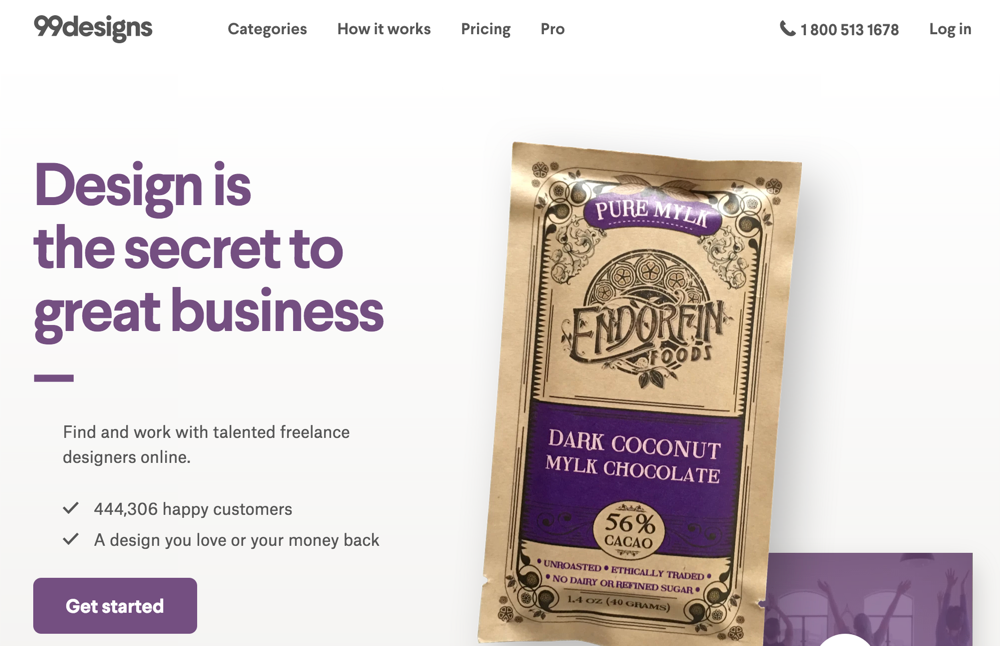 99Designs
99designs is probably one of the most popular online design marketplaces. What started out as just a logo design marketplace, has now scaled into much more — with print, business cards, designs of all types and full websites and branding services, they pretty much have it all covered. At the same time, 99designs is fueled by the success of not just their freelance designers and clients, but also the parent company which continues to heavily promote and brand the site as well.
The concept behind 99 designs is quite simple. The first thing a potential client will need to accomplish is to create a design brief on their site. This is quite easy, as 99designs will provide users with a wizard walkthrough on what information they need to fill out. The next step in the process is to select a design package (which will also determine how many, and what quality of designers will participate in your design job). Next, users will launch their contest and let hundreds of thousands of designers see what they are looking for, while also allowing them to submit a high quality design. As the user starts receiving dozens of designs through the site, it's time to review them and rate them based on their quality and how closely they are to what the end client is looking for. The last step in the process is to pick your favorite design, which will then reward the designer as the winner and provide you with all of the high-quality versions of your artwork or designs.
With nearly 500,000 happy customers on the sites and more than $200 million paid out to their designers, 99designs continues to grab the interest of freelancer marketers and brands around the world. They aren't the cheapest design solution, but they are one of the more advanced and quite selective when it comes to quality.
FINAL THOUGHTS: If you want a logo or design for your brand, but aren't exactly sure what you want, 99designs is a great place to start. Through the use of their contest design process, users will receive a nice selection of graphic designs that will allow them to choose the best designs and continually tweak them until they find a clear winner.
When is it Best to Go With a Professional Design Team?
While each of the online marketplace platforms above might seem like a great option, they might not be the best option if you don't have the time and resources to search for a high-quality designer and walk them through the process of how to create the perfect logo or identity for your brand. This is something many individuals, site owners, and brands experience when looking for opportunities in freelancing the first time around.
If this sounds like something that could be too time-consuming or overwhelming for your existing business or brand, invest some time in deciding whether hiring a professional design team is a better option. At Logo Design Team, we focus our efforts on the needs of the client, while also putting out years of expertise and talents to work.
Contact Logo Design Team today and see how much of a difference working with a professional team can make to your business and brand.