It's no secret that today it's vital to grab the attention of your potential target clients. So, you need to invest in eye-catching logo designs whatever business you are in. Same goes true for your photography business, with the changing trends in the current business scenario it has become essential to create a lasting impact on your consumers with compelling photography logo design. A logo is one of the great ways to create the first impression on your target audience. Photography is a creative field, hence, a logo design for a photography business should have the essence of your artistry.
But amidst this tough competition throughout, it's challenging to decide how you should proceed with your photography logo or where can you find creative photography logo ideas.
Well! Don't despair. There are ample ideas for you. Here, we would focus on these few easy tips and tricks so that you can create an engaging logo and inspire your target client.
Take a look at the 10 awesome tips to click an impressive photography logo design
Tip #1: Focus On Using Spectacular Typography
Typography is one of the most essential elements of any logo design. Hence you need to select spectacular photography logo fonts. A little research will provide you with a wide variety of photographic fonts such as – Dpopper, Herr Von Muellerhoff , Aventura and Wisdom etc.
Each font has its distinct feature, some fonts might have solid and bold structure, while others have soft and tender built. Choose a font according to your business personality. Whether you are a startup in the photography business or you have years of experience, keep in mind logo design would reflect your true identity.
Tip #2: Stay Away From Abstract Logo Designs
Although abstract logos are trending right now and they look good, yet you must avoid using such font ideas in your photography business. A photography business logo must be simple and easy to interpret. Every expert logo designer is of the view that a photography logo design should aim to send a clear message with a precise meaning to its target audience. However, make sure the logo has impressive looks and complements your business. Needless to say, people would flock to your business and hire you if you could grab their attention with an appealing first impression.
Tip #3: Use Negative Space Wisely For More Effect
Negative space plays a crucial role in any design. These are areas that lay vacant in between the two design elements. So, it's essential to use negative space wisely. You must rethink of using the negative space in an innovative way. If you use the negative space wisely, you can create an unforgettable brand image. Wisely used negative space allows you to convey your brand message uniquely and imaginatively.

Tip #4: Take Care of The Clutters To Give an Impressive Look
People love to get associated with those brands that introduce their identity and convey their message clearly. An uncomplicated logo design wins every heart. It's advisable not to use too many elements of fonts and colors. You should use only one or two colors and consider using one to two typefaces. One trick to follow while designing an impressive logo design for a photography business, make sure the fonts you use are legible and enable viewers to identify your brand symbol from a distance.
Tip #5: Emerge As An Exclusive Business Concern Amidst Others
Your business is unique compared to other business types. To complement this uniqueness, you must conceive logo design ideas that are exclusive in the industry. Focus on creating an excellent piece of artwork and stun your target audience. With a thoughtful combination of colors, fonts and adequate arrangements of other image and textual elements create an exclusive identity of your business within the industry.
Tip #6: Create Logo That Reflects Your Photography Specialization
You might have different specialization than your peers in the industry. Whether you specialize in nature photography, product photography, fashion photography, wedding photography etc., aim at creating a logo that clearly indicates your niche. Don't you know the logo is one of the best ways to communicate with your client regarding your business? Spruce up your brand emblem with icons that act as a visual cue to your clients.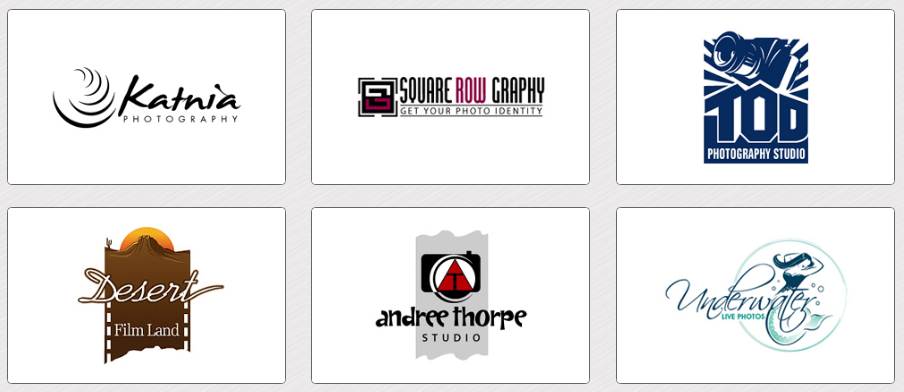 Tip #7: Focus on Making Scalable Logos For Extensive Use
When you plan to design your logo, you must also consider its size. Needless to say, your business will gradually spread its dimension and you will need placing your company advertisements everywhere. So, it's advisable to design your photography logo in such a way so that it can be set anywhere according to requirement. Create to fit it either to any huge billboards or on a stamp-size surface, but you must make sure that the fine details of the logos are visible clearly whatever size it is in. You can use photography logo maker app like Logoservices.in to get photography logo templates for wonderful photography logo design.
Tip #8: Unique Grid Design Layout Proffers Maximum Impact
Over the years photography business has arisen exponentially. It has become imperative to use different yet attention-grabbing layouts to present a more modern look. Grid designs have emerged as one of the best creative layouts today. Consider combining the grid system with an out-of-the-box approach. You might implement overlapping elements while being in a consistent grid along with considering eye-catching image positioning.
Tip #9: Select Solid Hues For More Appeal
Like fonts, colors are also one of the most vital components of any logo design. Selection of colors adds new meaning to your logo design. According to psychology, different types of shades evoke mixed emotions in the human mind and in this way you can help your consumers to travel the sales journey. Spread colors according to the style of photography you specialize in, combine different shades to highlight your specific qualities.

Tip #10: Give Importance to Peer and Expert Feedback
Feedback plays a significant role in shaping up a business. Feedback gives you a clear and precise idea which area needs modifications. Following the input, you can also understand whether you are going wrong with your design or you have excelled above your competitors. Create a logo for your photography business website and share it on your social media page. Request your peers and the experts in the industry to evaluate your logo design and suggest ways for alterations. Use their advice to improve on your design and create the best logo ever.
Final Thoughts
Photography is a unique business among all types of business. Hence, to make it exclusive, you need to use a remarkable logo design. Main purpose of creating a logo is actually to attract clients' attention, therefore focus on designing such a logo that delivers your brand message to your target clients effortlessly. Remember logos are your brand identity, they add value to your marketing strategies. So, with the above tips click on an impressive photography logo design to impress your clients.
Logo Design Team has been experimenting with different logo designs and patterns in the industry. Team up with these creative people here and appeal your audience with your visual creatives.