As business people, we all know that you will be required to give presentations about your work, an idea you may have, a product, or something else. For that exact reason, you will need some creative presentation ideas.
Now, sometimes, it gets challenging to become creative. Maybe you might get a presentation idea while you are taking a shower, and when you really need them, your mind may just go blank.
Well, there is no need to worry because, in this article, we will show you seven creative presentation ideas we came up with.
7 creative presentation ideas you can use
1. Use a voice over with Google slides
Using a voice-over is an essential part when it comes to an effective brand presentation. They deliver the message across to your target audience in a much more effective way. Voice narration and visuals become an excellent combination for delivering whatever message you have.
Voice-overs are usually used with Google slides, so if you don't know how to use them, plenty of sources online show you how to add a voice-over to google slides.
Otherwise, with voice-overs, you are getting the following benefits:
Emotional engagement
Call-to-action
Delivers reliable information
It makes up for other content of the presentation
2. Use visuals and templates
Writing long texts is not interesting, but including lots of visuals can be. 63% of businesses heavily rely on visuals whenever they try to present something. So, your presentation design is really crucial if you are thinking of hooking your audience.
Generally speaking, charts, graphs, and even pies help you emphasize the point you are stating. The type of visuals you use significantly influences the impact you make on your audience. If you can't develop any ideas, you can try using ready-made templates. For instance, Pitch can help you get started with this stylish partnership proposal template.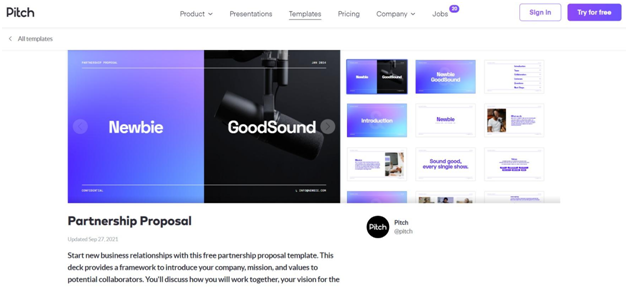 Source
Along with your visuals and templates, you can try adding emojis or even GIFs to bring your presentation to life. Additionally, try including facts in your visuals on how your product or service may solve a problem for your target audience.
3. Use humor
Now, we don't mean to joke from the beginning until the end of the presentation, but instead use some friendly humor while you are at it. According to a study done by Forbes, the most desirable traits of a leader are one that knows how to joke and has a strong work ethic.
However, if you can't effectively use humor in your presentation, try talking to a professional comedian who may be able to help you. As long as you aren't trying to offend anyone with your joke, it should be fun for everyone. Also, keep in mind to avoid using humor when you are nervous, you may say something you shouldn't because you aren't in a calm state.
Alternatively, you can try including a funny slide that includes a visual or video. If you aren't good at making jokes, the video or visual can do the job for you. So, it is a win-win situation for you.
4. Tell a story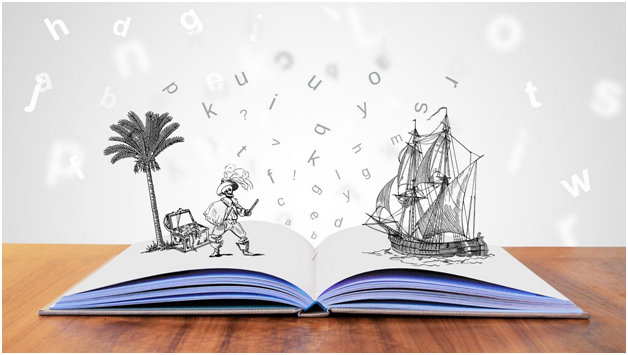 Source
Our mind is designed in a way that it automatically likes listening to stories. This is why telling stories has come to become one of the most powerful communication methods that have ever been used. The human brain has a history of listening to stories for entertainment and survival purposes.
Stories are a great way of entertaining your audience and grabbing their attention much quicker than just telling them a bunch of facts. So, what can you really do about this? You can try organizing your facts into one whole story throughout the presentation.
5. Ask questions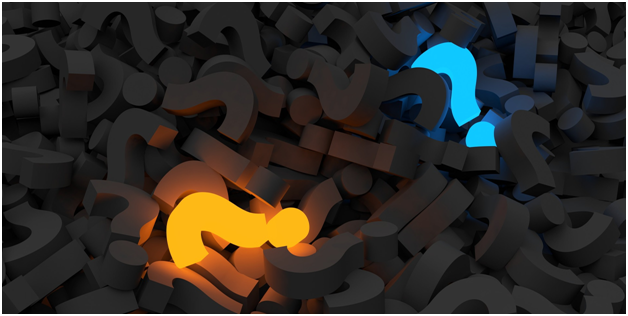 Source
It would be pretty selfish to hold a presentation and focus only on yourself the entire time. No matter how engaging you make your presentation, if you aren't trying to include your audience, we have a huge problem here.
The best thing to do here is to ask open-end questions. These questions are suitable for naturally increasing your audience's overall engagement and making them feel involved with the presentation. In short, you are turning your presentation into a passive story discovering itself through your audience's answers.
6. Play some music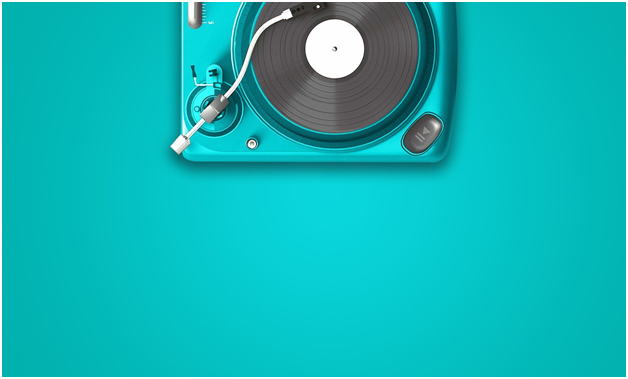 Source
Playing some music with low sound in the background can help your audience become more engaged and focused throughout the presentation.
For the best results, it is adequate to play some classical music that will fit the mood of your presentation. This will help make the presentation simple and easy to understand. However, when you put on classical music, don't surprise your audience. Try playing music before the presentation so your audience gets a slight 'pump' feeling.
Alternatively, you can try playing music during certain parts of the presentation. Maybe some parts of the presentation may not be appropriate for playing music, so you try to incorporate a song during a more exciting part of the presentation. Or, you can even include background music once you start telling a story. This will all come down to what fits your presentation best.
7. Include personal examples
Last but not least, a great creative idea you can use with your presentation is to personalize each example with your audience on certain occasions. Whether it be for an investor, your target audience, or even potential clients, you should personalize examples concerning their situation.
Present your audience with a few examples and how they will benefit from your solutions. People aren't interested in listening to a presentation when they have no benefit from it, so when you include a personalized example of how they may win in this case, they will listen very carefully.
Show your audience what they will get when they leave this presentation, and you will see that the presentation will go better than expected!
Wrapping it up
Well, that's about it for this article. Hopefully, these seven creative presentation ideas have now given you new solutions to what you can use for your presentation. Remember, your presentation is a direct handshake with your audience, so it is essential to make a good first impression.
This article seeks to help you think of new creative ideas you can use in your presentation. We recommend you carefully go through each idea and see how you can implement it in your presentation. Every creative idea has its own uniqueness, but if it doesn't fit with your presentation, then don't use it.
According to the CEO of Sidepost, "…It is important to have a good business presentation because a well-crafted, visually appealing business presentation can say that you are professional and value quality." So use all the resources you have and seek to do what you can to make it the best presentation. Set up an engaging presentation that will make your audience feel good about why they attended. At the end of the day, if you provide them with solutions, they will love listening to you."