Are you looking for the best way of selecting an ideal font for logo design or want to impress your audience with inspiring logo design ideas?
Do you know every typeface will communicate differently depending on its usage? Whether you want a stylish font design for personal level communication or need to create a brand identity for a stronger message to your viewers, you need an inspirational idea in typography. The most important brand identity is the logo, which requires maximum attention than any other design segment.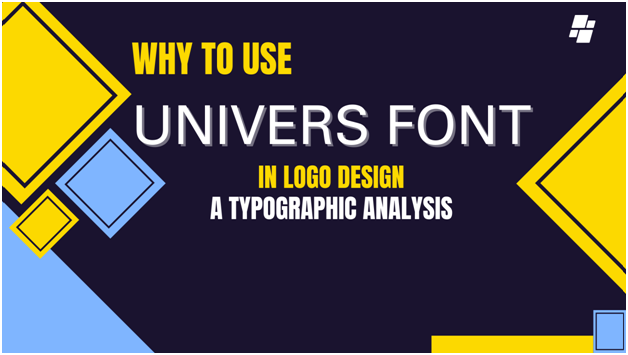 Here you will understand the importance of typography psychology while designing the logo of any brand:
The Font Psychology
The typeface you choose for any design can greatly impact any business. The designers use the fonts smartly in every brand identity to impress their audience.
Most folks may not have much time to read all the textual information on these identities and make their mindset only from their designs. They will directly inspire with the color patterns and typefaces chosen for any particular enterprise.
As a designer, if you are confused about choosing a specific font for any brand's logo design of any brand, then you should go for Univers font which comes from a larger sans-serif typeface family and can be used in any type of design.
If you want to know more inspiring typefaces,then you will get overall six different font styles which are:
Serif–The most traditional typeface is the Serif font. It will give its viewers a heritage feel, and its classic nature will create a uniform mindset in the audience. It presents well on the traditional designs, which is why it is adopted by most editors, financial firms, academics, and other professional service brands.
Slab Serif–The Slab Serif typeface is similar to Serifs and will give a bold attitude to its viewer. The most popular example of this typeface is the Courier font. You can confidently associate with your audience with this type of typography which will give any brand a tangible impact.
Sans Serif–You can add an engaging touch to any design by choosing a Sans Serif typeface. It will give an honest feel to its viewer, and you will surely get more attention for your brand. Century Gothic and Arial are the main examples of Sans Serif fonts, and you will see these typefaces in most tech companies. The most famous brand of Sans Serif Font practice is the Microsoft logo.
Script–Script fonts are mostly used by designers to give a more fancy look to any content. It will make your designs more creative and, in some cases, elegant. The hand-written nature of these fonts can impress any viewer and will give a visual feel of any brand.
Modern Font–If you want to add thicker style in any context, then you can use Modern Font, which sounds like striking transitions in the design. It is absolutely fantastic to apply modern fonts in logo design and attract the audience with a modern look of your content.
Display and Decorative Font– Finally, you can also go for a decorative option, which gives you an inspiring display and creates a unique presentation for your audience. The response of this typeface is mostly emotional and is another great way to catch the views.
How Many Fonts Needed in a Logo
Now, you might be thinking about the total number of typefaces in any logo design. On a shorter note, you should use two or three different fonts from the styles mentioned above and mix the scenario according to your needs.
Your logo will surely look more consistent and supportive, which is enough to catch the audience's attention easily. Increasing the total number of typefaces or combining different fonts in a single design will mess up the situation and get fewer sights.
Combining these Typefaces
Another important query that might come to your mind here is how to mix these typefaces. While designing the logo, combining serif font with slab serif or script font is best. The serif typeface can be applied to the major part of the business message, while the other typeface will bend it with the fancy font.
If you are choosing too many straightforward styles in the entire logo, then the design may get more rigid, and the viewer will get bored quickly.
Choosing an Ideal Font for Logo Design – 5 Simple Steps
You can grasp the instant attention of the viewer with a perfect typeface for any design. In the case of a logo design, the scenario is almost similar. Of course, an ideal logo will increase the popularity of any business. As a designer, you should be conscious while selecting this brand identity.
To ease this task for designers, here we have narrowed this entire phenomenon into five easy steps. Here are these steps which all the designers should follow in the given order:
1. Clarify the Identity of your Brand
Initially, you must understand the brand identity before designingyour logo. The needs of the customers and the right feel about the brand are vital. The pro designers have created an imagery texture in their minds and think about the desires of consumers.
If they get the right touch on the brand and its message, they can design their logo much better.In the first phase, the right image in the mind of the designerwill do half of the job.
2. Identify your Target Audience
Further, the most important task for an expert designer is to find the right audience. A better understanding of the consumers of their brand products will help them greatly.
Of course, there are lots of fans already built for any brand. Most of the target audience is closer to the existing clients of any brand. You need to create an appealing image to impress them. Here the designers should use their personal sense to find their target audience or according to the industry they want to engage.
3. Consider what your Competitors are Doing
Never forget your competitors! It's a great idea to check the activities of your competitors. You can do a detailed typographic analysis of all of your competitor's designs. It's not about stealing their thoughts; you can get a better idea of what your customers want. This advantage works really well in the case of picking the right font for a logo design.
It will also help you to understand the font psychology in a better way. This learning process will surely help the designers to experience the right feel of all the industries that are doing a good job.
4. Keep your Choices Simple and Timeless
As we have discussed earlier, a legible design is acknowledged more than a scribbled one. Most viewers may not read the unlegible texture the second time around.
Keeping the design simple, especially creating a logo, will ease the viewer to read your brand's message. A perfect example of this typeface is the universfont, which gives designers the luxury of creating a legible design for any logo.
5. Think about how your Logo will Look in Different Media
Lastly, you have to think from your viewer's perspective. You can check the final copy of your logo design on different media sources and see whathow the design will look like? If the brand wants to promote the innovation on other media like brochures, signboards, or even on websites, then you have to put the logo on all these advertising campaigns.
Here you have to check the final design from the reader's perspective and consider how the logo will appear on all these media. It should be legible in all scenarios, and the viewer should be comfortable with this design.
Importance of Typography in Logo Design
There is no doubt about the importance of a typeface in any design. It plays a crucial part while designing the logo of any brand. You can successfully choose a perfect font for any logo design enterprise by keeping the audience and brand message in mind. There are almost endless options of typefaces around the globe; the designers just need to learn the right way to pick this typeface for their design. You will get the right purpose by making your content legible and fancy in a single design.
The role of a typeface and its awareness of any designer is so important in this digital landscape. The designers should be confident in their choice and try to get the right feel for their audience. In this way, they can choose a perfect typeface for their logo designs.
Final Thoughts
Most designers trust such typefaces,which are excessively used by pros and have a rich history. The most popular typeface to fulfill this idea of designers is universfont which most originators prefer, especially in their logo designs.
Designers need to keep their choices simple and according to the demands of their audience. Once they get the real feel of their viewer, then they can pick a perfect typeface in seconds.
Finding the right typeface for any design is crucial as it can easily standout your brand from your competitors and clarify your brand message in a shorter format.