What's the first image that comes to mind when you say Nike, Amazon, or Tesla? Well, in the case of Amazon and Tesla some of you may think about the visionaries who brought these companies to the top, but most people think of their logos.

Screenshot of the Nike, Amazon, and Tesla logos
These three graphic representations are easily recognizable all over the world. In fact, they are so memorable that only someone who has been living in complete isolation from modern media would not recognize them.
Plus, even though they look simple (and they are), the design stands out and the human brain makes a lot easier of what they represent. Of course, part of the reason why these logos are so famous is the company's notoriety. But there are also other factors at play here such as simplicity, elegance, and color combination.
In a nutshell, this is the ideal level of recognition one could hope to achieve for their logo, and in today's article, we are going to give you a few tips and tricks you can use as inspiration for your own company logo.
Tell the Brand's Story
This should go without saying, but we've seen far too many logo designs fail to skip this step. The job of the logo is to represent the brand and what it stands for.
Returning to the logos discussed above, each one is truly representative of the brand. Here's how:
Nike's swoosh sign is supposed to represent the wings of the Greek goddess of victory (Nike). The logo wants to depict the sound of her wings and symbolizes speed, power, movement, and motivation.
Amazon's logo is all about friendliness and variety – the arrow symbolizes customer satisfaction (it's a smiley face) and it reaches from a to z, which represents the sheer variety of products the e-commerce giant has for sale.
Tesla's logo is all about electric technology as it wants to represent the cross-section of an electric motor (if you repeat the logo in a circle).
Now that you know all this, is it true that you see these brands differently? The genius part is that people don't need to know the story behind the brand to recognize what it stands for. Still, when you learn more, it's rather easy to get mind blown.
In conclusion, the logo that will stand out the most is the one that fits your brand's story. For this, you need to find the very essence of your business and translate it into a graphical representation.
Make it Easy to Customize
Your logo should be unique, but it's also important to choose a flexible design that works well in various environments (like on websites, printouts, products, or packaging). Also, there may be situations when you want to customize it to reflect your brand's support for a certain cause or in celebration of various achievements.
For instance, you may want to create a happier, more inclusive version for specific events. You can do so in just a few minutes by using the BeFunky rainbow filters, but you need a flexible logo that works with different colors and blends well with various backgrounds.
Aim for Simplicity and Uniqueness
True simplicity is difficult to achieve, but if you manage to pull it off, then you end up with logos like the ones mentioned at the beginning of the article.
Still, not everyone has access to a team of graphic designers with years of experience in logo creation. On the other side, there is simplicity in finding the heart of your brand and putting it in design form.
For this, think about what customers (existent and future) find appealing about your products or services. Also, consider the features you would want to see represented in the design. What do you want your logo to convey to someone who sees it for the first time? How about someone who is familiar with your products and brand?
Once you figure out the simplicity part, you have to think about the uniqueness part. The only way to create a memorable logo that stands out from the crowd is to combine simplicity with a unique trait that keeps the viewer entertained.
We've already talked about the Amazon logo and how the arrow plays a double role. But there are other similar examples out there, like the FedEx logo.
Do you see the arrow hidden in the design (in the space between E and x)? Once you see it, you can't unsee it! This cute trick attracts people's attention and even gets a discussion going. The FedEx logo is the perfect example of an elegant and simple logo with a hidden and playful trick up its sleeve.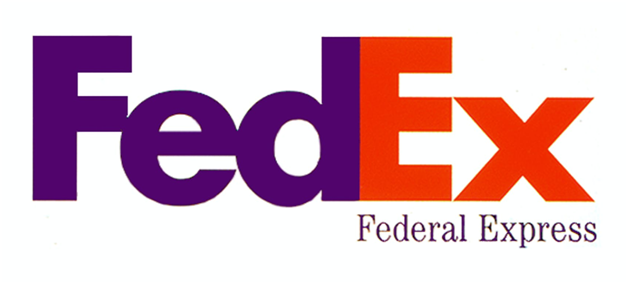 The FedEx Logo
In each of these two examples (Amazon and FedEx), the arrow has a different meaning and brings a bit of quirkiness to the design. In Amazon's case, it's about the huge diversity of products (from A to Z), and in FedEx's case, it's about speed and precision.
Plus, nowadays, you can create your own font, so you can play with different shapes and letter designs!
Use Negative Space and Color to Your Advantage
Graphic designers know and understand the power of negative space (or white space), but if you look at enough professional logo designs, you'll start to see it as well. When used right, empty space keeps everything clean and neat regardless of size.
Plus, if you use a splash of color, you can direct the viewer's eye exactly where you want. Just think of Amazon and its smiling logo or Tesla's minimalist design – both use empty space and color to create a well-organized image that looks good as a favicon and as a banner that covers an entire building.
Speaking of color(s), look for nuances that stand out and communicate your brand's personality. For instance, a bright orange logo inspires feelings of warmth, joy, and happiness while a red logo speaks about boldness. Black and deep blue are old classics that work well with serious businesses that want to impress through their reliability and professionalism first.
Think Long-Term
A logo should age like a fine wine, and soak up the brand's entire identity as the years go by. Symbols (which logos are) have a lot of power in our world because they carry a huge emotional load and can communicate everything about the brand they represent in a fraction of a second.
However, it's not easy to create a time-proof logo if you (or your designer) follow the current trends. This is a mistake that will force the company to redesign the logo once the trend is no longer popular. As a result, customers that already formed an emotional connection with the first design may have a tough time accepting a new logo, which tends to create a rift between brands and customers.
So focus on classic lines, shapes, and designs in order to create a timeless logo.
Quick tip: In order to make sure your design will withstand the test of time and continue to be attractive regardless of the environment, check its appeal in black & white. If the design loses most of its impact and appeal when there's no color, you may want to rethink the concept.
Choose the Right Type of Logo
Depending on the graphics you want to use, your logo could be one of the following:
lettermark (IBM or HBO) – best for abbreviations and short names
wordmark (Google or Coca-Cola) – works well with unique names
graphic mark (Apple)
abstract mark (Pepsi)
mascot (KFC)
emblem (some sort of flag)
combination mark (two types of logos in one)
Overall, the logo should be selected according to the type of products you want to sell and the type of business you operate. Also, the right type can help you stand out. For instance, if your company has a generic name, it's best to avoid the watermark logo. In this case, an abstract mark, a mascot logo, or a graphic mark would work better.
Also, the type of logo you choose should fit your brand personality and overall placement on various products. For instance, the logo of an online store is different from the logo you would create for someone's brick-and-mortar store. That's because the first one needs to fit well in the online world while the latter needs to look good in print, on banners, and even on products.
Wrap Up
In conclusion, a company logo that stands out needs to have a timeless design and combine simplicity and uniqueness in one neat and clean template. Also, in order to create a strong connection with your customers, the right logo must be a representation of the brand's values and aspirations.
A logo that lives through time and gains value as years go by is not easy to conjure (even for a professional). The designer needs to understand your business and its main features in order to compress its essence into a simple but comprehensive symbol.
Also, you have lots of inspiration from companies who have done it time and time again. So don't be afraid to learn from the giants of your field!