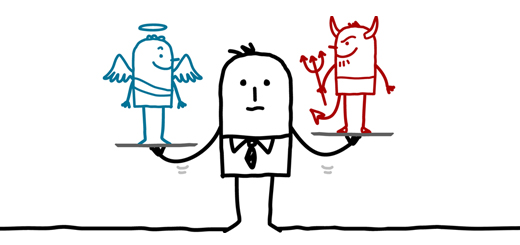 In our blog articles, we have already discussed the power of great graphic design many times. Practice shows that high-quality branded designs can help you increase your sales, make your brand much more recognizable, increase leads, simply become viral, etc., etc. At the end, it depends on what you are expecting from the design and what goals your marketing campaign is facing with. But sometimes a design that seems fine for you may ruin your reputation. Why does it happen? Because the design is not ethical. What are ethical issues in design and why are they so important?
It would take us the whole article or even two to describe what ethics is in general. So let's skip the definition part (check it yourself in Wikipedia or any philosophy textbook). What is important for us here is that there are two aspects of ethics in graphic design – legalities and morality.
Stay legal
Legalities are the rules of conduct which are recognized in respect to a particular class of human actions or a particular group. To specify, in case of graphic design, legalities mean:
– copyright laws,
– piracy,
– plagiarism,
– fair use, and
– photo manipulation.
For example, if you are not following laws, steal someone else's ideas for your designs or use others' designs without permission, you are not ethical. And sooner or later this will be found out by others and with high probability will harm your reputation. To stay ethical and legal, you should avoid doing this. And if there is no way to avoid using designs created by others, don't forget to give a full credit to the copyright owner, ask for their permission, or use copyright free images.
Be moral
You should clearly understand that graphic design is not only about creativity and ability to create nice designs. It is also about the audience for which the design was created.
Thereupon, the second aspect of ethics – morality – means the general nature of moral choices to be made by a person. Here we talk about cultural influence and social responsibility. The ethical design is the one that is moral for any culture and nation. And nowadays we are no longer talking about countries because most of the countries are multinational and multicultural. In such "multi-culti" world what seems fine for Catholics may hurt their next-door neighbors who are Muslims or Jews. Also, your design should be socially responsible, in other words, it shouldn't harm the society in general or any group of people (for example, kids, disabled people, sexual minorities, etc.). So when creating a graphic design you should keep in mind your audience as well.

How to create an ethical design
And even though it may seem quite hard at the beginning to create an ethical design, it is actually not. All you need to do is to be familiar with copyright laws, other laws, traditions and customs of different countries and nations whom you are targeting with your graphic designs. And once your design is created, ask your friends, partners and colleagues to evaluate it. They will definitely give you some valuable inputs which will ensure your final design is ethical.
Now when we are familiar with two aspects of ethics in graphic design, we should clarify why creating ethical designs is important. Your graphic designs make an opinion about you, your company and brand. So it may directly and quite dramatically influence your reputation. Your designs can make either positive or negative impression on others, push people to buy your product or, in contrary, write a negative comment in Facebook or Twitter. Being ethical really worth it! Now it is up to you being a "bad guy" or an "ethical brand".
Order a Custom Logo or Graphic Design to Enhance Your Brand
No matter what type of personal brand, business or organization you are running, having a great first impression means everything. One of the best ways to deliver a lasting impression is through the use of a high-quality logo and professional images and designs throughout all of your products and branding.
Avail our best selling packages and let us help you create the ultimate user experience and company branding message you've always dreamed of! Or contact our graphics design team today, we'll be glad to listen to you out.