Do you own a beer company, or do you just like beer and would like to know how the beer brands created their logo? We've got some examples of beer logos we're going to look at today. Studying specific industry logos gives us a lot of insight as to how we should help our customers create value and beauty with their professional business logo.
Check out the following examples and see how these iconic brands logos of beer crafting giants made their splash in the beer market. Each of them has something unique that they use to communicate their uniqueness to their customers. You'll find it surprising, too, how little their logo has to do with their actual product. It's more about building an image with excellent beer logos.
St. Pauli Girl
The St. Pauli Girl is a well-known logo among beer fans. She represents the St. Pauli brand of beer that originated in Hamburg, Germany. In 1999, the company started using Playboy Magazine models on their beer label, which likely had a significant result in their sales.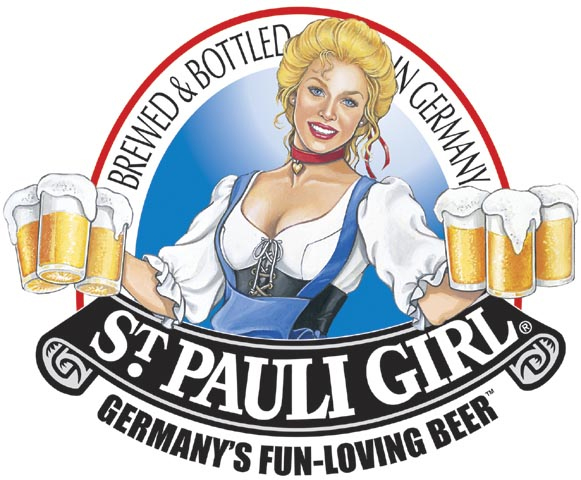 Pabst Blue Ribbon
Pabst Blue Ribbon is a famous beer brand that did a lot of TV advertising in the past on network TV. They created their logo based on the age-old practice of tying blue ribbons around beer bottles. This was a common practice between 1882 and 1916.
There's not much hype associated with their label and logo. It makes one wonder if that is why we don't hear much about this brand anymore on TV.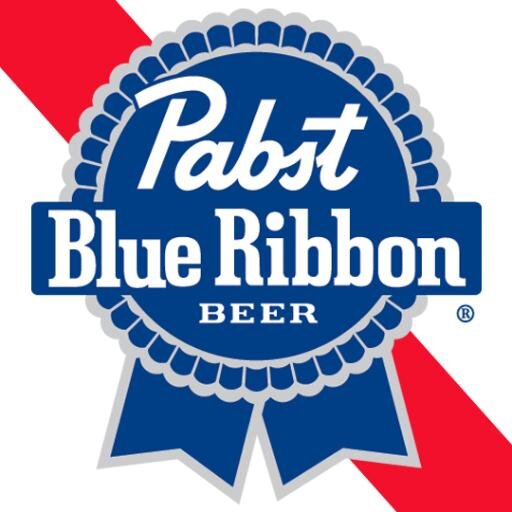 Heineken
Heineken Beer features a 5-point red star as well as a well-designed logo with the letters of the brand. But there is something special about "e's." They are "smiling." Yes, that's right. If you look at the e's, it does appear that they are smiling. This was an idea that the owners had because they wanted the brand to project a more friendly attitude. They just titled the "e's" backward a bit to achieve this effect.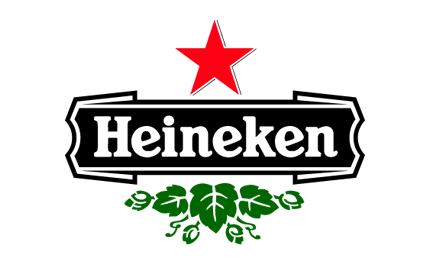 Stella Artois
Stella Artois Beer has a beautiful logo that they created when they initially launched their brand as a "Christmas beer" in the year, 1926. If you look at the logo carefully, you will notice that there is a horn at the top of the logo. This is one of the main symbols of the original Stella Artois beer and is displayed along with a star that is above the logo. The fancy framing around the logo came from and was inspired by Flemish architecture and is an excellent example of powerful logo designs.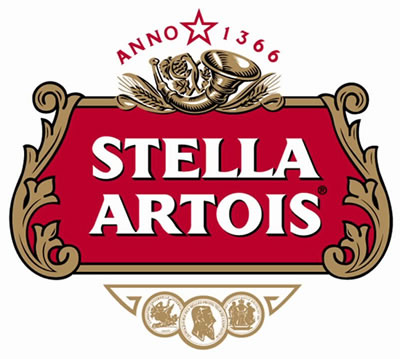 Rainier Beer
Rainier Beer started in 1933 and featured a graphic of Mt. Rainier, one of the highest mountains in the United States. The Rainier Beer brand was influenced by the grandiosity and beauty of the Mt. Rainier, and its greatness inspired them.
The other part of their logo has changed over the years but traditionally has included a scripted font for the brand name with the mountain the background. Rainier Beer was developed before and around the time of prohibition, so the brand sometimes wondered if they would be able to follow through with these plans to get their brand going.
But they are still around and still prefer the mountain as their logo.

Budweiser
The Budweiser needs no introduction among the market of hundreds of beer brands. Based in St. Louis, home of the St. Louis Cardinal Baseball team, they have a partnership with the Cardinal team that has lasted several decades. Their Budweiser Clydesdales which feature a group of well-known Clydesdale horses pulling a Budweiser coach draws crowds from all over during Cardinal Baseball season. Everyone knows the song of this brand, and they quickly recognize the logo when they see it, as well.
The logo features a bold red background for the brand name with a crown that sits on top of the name to illustrate that they are the "king of beers," a point they have demonstrated in numerous TV, radio, and other types of ads throughout the history of their brand. It has a vintage beer logo that has the essence of sophistication within.
The Common Factor in Successful Beer Logos
So what do all of these beer logos and brand have in common? At one glance, nothing. But, if you look closer at the details, you'll see that they all focus on the brand name as well as the most crucial advertising component that they are trying to use for their branding.
For example, the Budweiser brand uses the crown to remind people of their "king of beers" idea. The Rainier brand uses their picture graphic of the famous mountain, Mt. Rainer, located in the state of Washington.
Why did these beer brands, (as well as the others) choose to focus in on these icons within their logos? It's pretty obvious that they are "attention-getters." Some are even what you might call universal symbols.

What is a universal symbol?
If you study art or Art History in college, you'll discover that it focuses on the analysis of an art piece, as well as other things. When you analyze or evaluate a piece of artwork, you need to have an understanding of universal symbols that are used in the art to stand for something else. Something all of these brands also have in common, is that they will often change their logo design over time.
For example, a dark cloud may have the literal meaning of a cloud in a painting. But it also stands for gloom or the possibility of a looming problem or disaster. This is not always the case, but there's a use of universal symbols in many logos.
Such symbols are also found in other media other than art such as literature, film, and music.
The use of the "crown" in the Budweiser logo always symbolizes royalty or prestige, power, or quality. It often stands for "the best of the best." So when Budweiser put the crown at the top of their logo, they were stating that they were #1 in the beer industry. Whether or not they sell more beer than any other brand is beside the point. The point is that the brand considers themselves as the king of beers.
And if they think this, they can convince potential customers of the same thing.
We say all this to remind you that a logo is important because you are communicating something to your target audience that goes beyond the product itself. You are delivering value.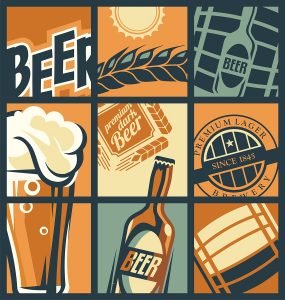 How to Create Value with Your Logo
Value, whether perceived or real, is the reason that brands like Apple and Google are household names and Acer is not. Being able to communicate the value that your brand will add to someone's life is the most important thing you can do to convince people that they should choose your brand over that of your competitor's.
Finally, being able to communicate value is why there are millions of people who buy Budweiser and Milwaukee Beer but may never have heard of Pabst Blue Ribbon, even though it is also considered a big brand.
The founder of Hawaiian Tropic suntan lotion was a former Science teacher who mixed up his concoction of suntan lotion in his basement. He stated that his formula wasn't that special until he added a girl in a bikini on a tropical beach. That's how you sell a brand!
If you think a beer glass logo will help you attain that desired level of achievement in the market, then you need to push your idea a little. Beer glass, of course, is relatable, but your brand has to have the essence of communication. Like for example, you can add you're a caricature of your face beside it or your company name in stylish fonts with the image. That's how you can make your logo communicate with your target audience.
In short, whoever does the best job of communicating value wins the race.
And whoever has the gold, makes the rules.

Seek assistance that help you create…
If you need help deciding how to add real value to your logo, contact us at the Logo Design Team, where we can help you tap into the assets and universal symbols & help your product or service to speak out loud to your audience. Check out our portfolio and make us your extended team of logo making greatness!